Just how dry is Gujarat? Deputy CM Nitin Patel's 'drunk' son deplaned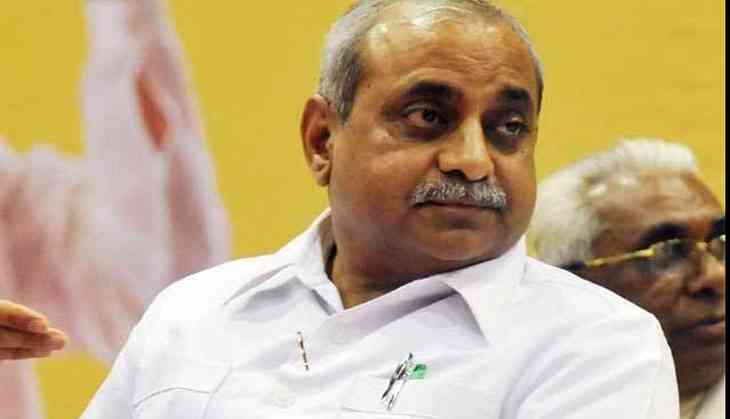 The explanations offered over the disembarkation of a young man from a flight headed out of the country have raised more questions than they answered.
In the early hours of 8 May, Qatar Airways deplaned Jaimin Patel, 30, from its Ahmedabad-Doha-Athens flight for allegedly being in an inebriated condition at the Sardar Patel International Airport, Ahmedabad.
Now Gujarat is a dry state and has been for 57 years. What adds a twist to the story is the fact that Jaimin, a real estate dealer who was travelling to Athens with his wife and five-year-old daughter for a holiday, is the son of Gujarat Deputy Chief Minister Nitin Patel.
Political clout
Unsurprisingly, the junior Patel was not handed over to the security forces at the airport, which is mandatory in such cases of disembarkation. Neither was a breath analyser test conducted nor was his blood sample taken to ascertain the alcohol level in his body.
More so, how did an inebriated man in a wheelchair get past the security check as well as immigration clearances without any one noticing? Why wasn't he handed over to the Central Industrial Security Force (CISF) which is in-charge of overall safety of the international airport.
The 'illness'
Nitin Patel had a ready explanation: he told newspersons that his son had some health issues due to which he needed to use a wheelchair at the airport.
True, people do board a plane in wheelchairs. That's the purpose of wheelchairs at the airports. Isn't it? But, going to a foreign holiday on wheelchair. May not be a farfetched idea for Nagpur inspired think tanks.
If imaginations are allowed to run wild, it may be possible that some doctors owing allegiance to the 'party' are already in the process of cooking up prescriptions justifying some minor ailments that require boarding at Ahmedabad in wheelchair but alighting at Athens after few hours very hale and hearty for a family holiday.
Giving the devil its due
To give the devil its due, Jaimin's wife didn't make an issue out of her husband's deplaning by the Qatar Airways crew, who, by then, had known the political connections of the inebriated passenger in wheelchair.
Though Jaimin's wife didn't show off her husband's political clout to wriggle herself out of the embarrassing situation, the identity of the pedigreed but inebriated passenger probably prevented the Qatar Airways from filing a complaint with the airport authorities or the local police.
Living the high life
Thus it is another case of a 'clean chit' given to India's high and mighty, as they are accustomed to getting, as neither the airlines' staff have complained nor the security forces or immigration people found anything amiss in a 30-year-old man going on holiday abroad in wheelchair along with his wife and five-year-old daughter.
Patel senior, the Deputy Chief Minister who lost the race to the hot seat last year as his wife had jumped the gun in briefing the media about her husband's reported elevation, has summed up the whole episode by saying that his political opponents are trying to tarnish his image by spreading 'false and mischievous' information.