Here's how a 25-year-old law grad is helping Delhi's homeless beat the cold
Even as the residents of Delhi shivered through the recent cold wave that swept north India, 25-year-old Shiven Varma was at the Yamuna Pushta embankment opposite Delhi's interstate bus terminus in Kashmere Gate. Shiven, a young law graduate, was clearly out of place in Yamuna Pushta, one of Delhi's biggest slums. But he wasn't lost. He was there on a mission. Shiven, along with a group of workers belonging to the NGO Centre for Holistic Development, was there to help the area's homeless beat the freezing cold.
The group fanned out, talking to the various homeless people desperately covering themselves with rags and old blankets, identifying the neediest among them. After some deliberation, they went back to their van and retrieved 30 sleeping bags which they gave to the people they deemed to be most in need.
Also read -33,000 homeless people have died in Delhi since 2004
As far as solving the problems of Delhi's massive homeless population goes, it is but a drop in the ocean. But for an idea spawned by Shiven 2 years ago, at just 23-years of age, Project Sleep Well - a crowd-funded effort to equip Delhi's homeless with sleeping bags - has come a long way.
Project Sleep Well
Currently in its second year of operations, Project Sleep Well was originally thought of by Shiven when he was tasked with coming up with starting a community project at a leadership course he was attending. How he helped the community was immaterial, the only stipulation was that he could not spend any of his own money.
"I'd always thought about the poor people on the streets, beggars and homeless, but never really done anything about it," Shiven told Catch. Since it was winter at the time, and he himself was feeling the cold, his thoughts drifted to the simplest possible solution to the task at hand - distributing blankets to the homeless. This plan changed to sleeping bags, however, once a friend pointed out the advantage of sleeping bags over blankets.
Also read -There is Modi. There is Kejriwal. And there are the homeless of Mehrauli
Handicapped by the stipulation that he couldn't spend out of pocket, Shiven went about mobilising his friends from law school and high school to raise money and help with the project. Soon, as the project began to gather momentum, Shiven teamed with the NGO Center for Holistic Development (CHD).
From idea to pilot
With the guidance of CHD executive director Sunil Kumar Aledia and others who work in the homeless sector, Shiven decided that rather than just purchase and distribute sleeping bags, he would instead run a carefully monitored pilot project. While this meant scaling back on his short term ambitions, it was clear that this would hep in taking the project forward.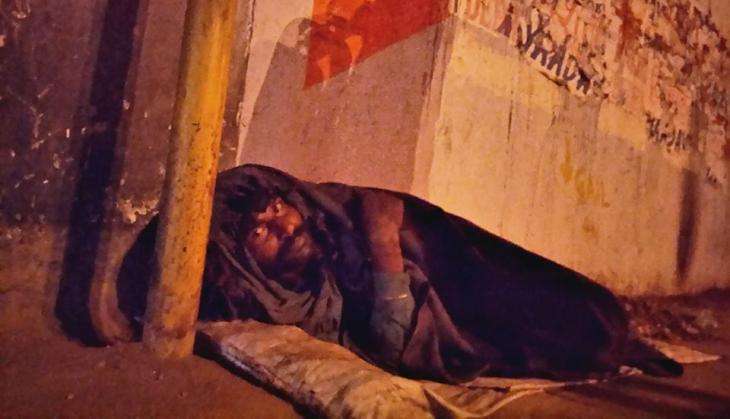 One of Project Sleep Well's many beneficiaries (Photo courtesy Project Sleep Well)
A crowdfunding campaign for Project Sleep Well raised close to Rs 2 lakh, and with it, Shiven and CHD conceptualised a pilot project to distribute 100 sleeping bags.
"Just distributing the bags was not the point. We wanted to ensure that only the neediest got the bags. First we would observe them [the homeless], speak to them, find out more about them, and only then, when we were convinced that these weren't people who would just sell the bag, would we give them the bags," said Shiven, adding that they also checked up on the beneficiaries to see if they actually kept the bags.
"We thought it was a great success, especially when you hear what they [the homeless] have to say about it. One man said it was like a night shelter you can carry with you. Others told us how warm it was. When you see the smiles on their faces it lets you know that you've made a difference and they are going to hold on to these sleeping bags forever," Shiven says proudly.
By the end of the pilot, 85 bags had been distributed, and, buoyed by the success of their initial effort, Shiven, now officially a part of CHD, is currently in the midst of his second winter with Project Sleep Well. This year, the plan is more ambitious - distribute 500 sleeping bags. However, as Shiven readily acknowledges, this is a long way short of the effort needed.
Delhi's homeless problem
Shiven's experiences with Delhi's homeless over the last two years have made him passionate about the subject and when he talks about the situation in Delhi, he makes it clear that he knows the scale of the problem he's attempting to solve.
"Studies show that at least 1% of Delhi's population is homeless," Shiven tells us, clarifying that this does not include people living in tents or shanty housing. That figure in actual numbers is staggering, amounting to over 1 lakh homeless people living in Delhi.
Also read - Cold, hungry, homeless: the tragedy inflicted upon slum-dwellers of Mehrauli
However, the government doesn't acknowledge most of these people, and instead estimates the homeless population at a comparatively paltry 20,000. By providing shelter to these 20,000-odd homeless people, the government washes its hands off the problem, claiming to have done its duty.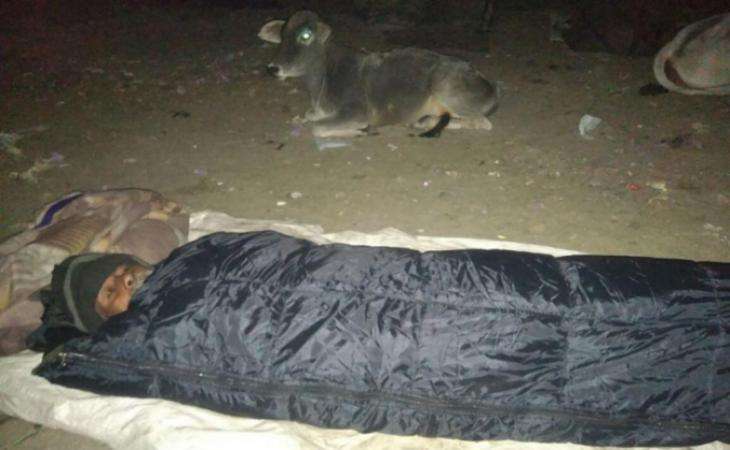 Chagan Lal, a ragpicker from UP in his new sleeping bag. (Photo courtesy Project Sleep Well)
However, as Shiven tells us, besides pretending that the homeless population is only a fraction of what it really is, the government's efforts when it comes to the homeless also leave a lot to be desired. "The shelters in Delhi are pathetic. There is overcrowding and the hygiene is poor as the blankets they offer are unwashed for weeks," says Shiven. He tells us about homeless people who have had to burn their clothes after having them infested with bugs from using a blanket at a shelter, effectively leaving the shelter with less than they had going in.
But if things are bad in Delhi, they are far worse in the surrounding areas. "At least Delhi has shelters, even if they are bad. However, in Noida, there is just one shelter home. In Gurgaon there are hardly 7 or 8, each with a capacity of around 10 people. Faridabad has no government shelter homes, just two privately run ones. So if Delhi is bad, the places around Delhi are even worse," he says, his voice tinged with more than a little frustration.
With shelters in such short supply, you'd imagine the government would be keen on getting involved with Project Sleep Well, but the reality is different. "The government knows we are doing this as the NGO [CHD] is in regular touch with the Delhi Urban Shelter Improvement Board (DUSIB). We've even had someone from the Delhi government come and see us distributing sleeping bags. We've reached out to them, but it seems clear that DUSIB don't want to help in anyway," says Shiven.
Taking it forward
While Shiven still intends to pursue his career in law, he's determined that it will not be at the cost of his pet project. Instead, he's scaling up his ambition for Project Sleep Well. While they currently procure their sleeping bags from a wholesaler, the long term plan is to become self-sustaining.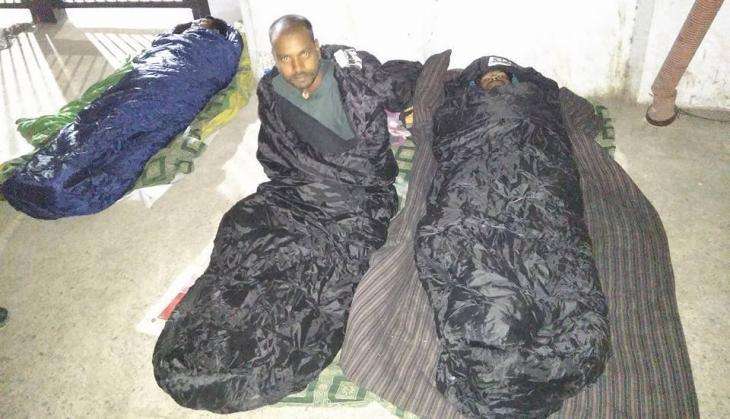 Photo courtesy Project Sleep Well
"We [CHD] want to start a model shelter home in line with the way we think one should be run. Here we intend to run skill development courses for the homeless. The long term plan with this is to teach and enable them to manufacture sleeping bags in house, to further the initiative," Shiven says.
The current problem they're facing is space, but they've been working to overcome this and Shiven says that things are looking promising. Whether that pans out or not, 500 of Delhi's most needy will sleep better this winter, and it will be thanks to a 23-year-old who decided to do something tangible to make a difference.