Hardik Patel to Modi: You used Patels for 2002 Gujarat riots, then back-stabbed them
Rathin Das
| Updated on: 10 February 2017, 1:47 IST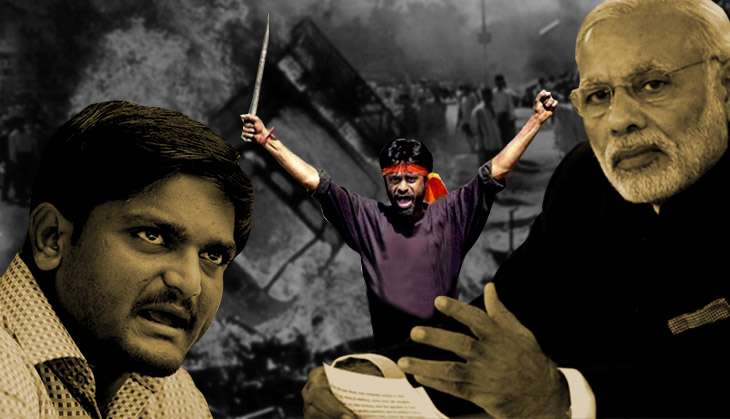 Marking one year of the Patels' agitation for reservations, Hardik Patel has dashed off a letter to Narendra Modi, directly accusing him of orchestrating the anti-Muslim carnage of 2002.
The exiled leader of the agitation - he is staying in Udaipur, Rajasthan, as required by the conditions of his bail in a sedition case - lamented that the prime minister has not helped release the Patels who are in prison for their involvement in the riots.
Hardik's allegations are nothing new; Modi has faced such accusations for years from opposition parties and rights activists. This is, however, the first time they are coming from within the Patel community, which has long provided the foot soldiers to carry out the Sangh Parivar's often violent agenda in Gujarat.
Also Read: The real reason for the Patel mess: RSS's mission to abolish reservation
At the same time, the influential community has been the backbone of the ruling BJP for the past three decades, providing muscle power, money and even logistic supports for the extravagant celebrations that Modi's reign as Gujarat chief minister is known for.
Hardik's note to the prime minister, written in Gujarati, doesn't start with the usual salutations. He aims right for the sensitive spot: "Everyone knows that the 2002 riots were organised by Narendra Modi". The subject of the letter is, "Modiji, you have stabbed Patels in the back".
Now 23, Hardik was nine-years-old during the riots but he learnt about the Patel community's role apparently from his father, a member of the BJP in their hometown of Viramgam.
Also Read: Amit Shah was involved in Gujarat riots, says Sanjiv Bhatt to Supreme Court
In his letter, Hardik argued that Modi enjoyed a long spell as chief minister and became prime minister by "reaping benefits accruing from the communal riots", echoing a charge levelled by human rights activists as well as social scientists analysing the "rise and rise of Modi".
Hardik's allegation that Modi stabbed the Patels in the back is sought to be corroborated on the second page of the letter listing the riots cases for which Patels have been convicted and sentenced, several of them for life, including Sardarpura, Ode, Dipda Darwaza, Naroda Patiya and Mehsana. Modi, he claimed, became prime minister by "using" the 2002 carnage but made no effort to get those convicted for it released from prison.
Betraying an ignorance of the law, Hardik naively suggested, "As prime minister, Modi can recommend to the President to grant pardon and release the convicted Patel youth." The Patel leader is, however, resigned to Modi "not doing anything" because he is trying to "project himself as a secular person" to India and the world.
Perhaps, Hardik forgot that Modi did try to save the riots accused - by appointing VHP and RSS members as prosecution lawyers to get them acquitted - but was thwarted by the intervention of the Supreme Court.
Also Read: 11 reasons why the ghost of Ehsan Jafri still haunts Modi