Happy in MP? Clap your hands for the genius of Shivraj's govt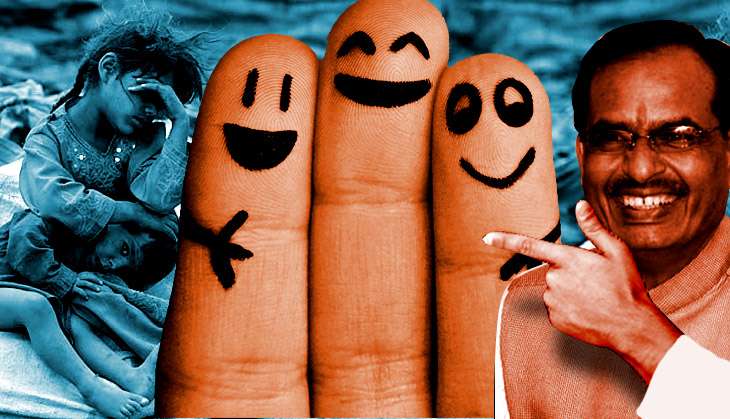 Chief Minister Shivraj Singh Chouhan seems to believe that a motley group of ministers and departments can 'spread happiness' among the people in the state of Madhya Pradesh.
This July, Chouhan declared his intention to set up the country's first ever happiness index for the state's 7.25 crore citizens.
Following up on that promise last week, Chouhan launched a project on happiness, which began on a note that can, at best, be described as ridiculous, and at worst, as delusional.
Mandatory happiness
According to a report in The Indian Express, the 16 ministers present at the cabinet meeting chaired by the Chief Minister went through the process of marking themselves on a five-point questionnaire to test their levels of happiness. "Most of them gave themselves a score of 28 or more," the report states.
Are we surprised that ministers proclaimed themselves to be basking in happiness when the aam aadmi is probably grumbling every day about getting through her life?
Here's a nugget of just how ludicrous the government-sponsored test was, as relayed in the Indian Express report: "
The ministers were asked to mark themselves on the following points, in Hindi: 'My life, on most counts, is closer to the ideals that I cherish'; 'I am satisfied with my life'; 'My life's situation is best'; 'I have got those important things that I wanted in my life'; and 'If I got a chance to relive the life that I have lived so far, I, more or less, won't change anything'."
According to legislative affairs minister Narottam Mishra, most of the 16 ministers scored between 'extremely happy' and 'very happy'.
Clearly, the Madhya Pradesh government, like most governments, seems to believe that it can appropriate the cause of happiness and make it official - as if that in itself would guarantee a turn in the popular mood.
With no real idea of how to go about computing peoples' moods through something like the happiness index, the government has instead vulgarised the question by reducing the matter of happiness to a series of inane government programmes.
The state's Rajya Anand Sansthan (happiness department) has planned a string of official functions like Anand Utsav, Anand Sabhas, Anand Ka Vigyan research wing, Anand Dals and Anandam events - and we are to understand that by attending these functions, unhappy people will miraculously transit into a sphere of happiness.
It's as if the government has promulgated an ordinance on happiness, mandating people to fall in line.
Primary source of misery