Happy in MP? Clap your hands for the genius of Shivraj's govt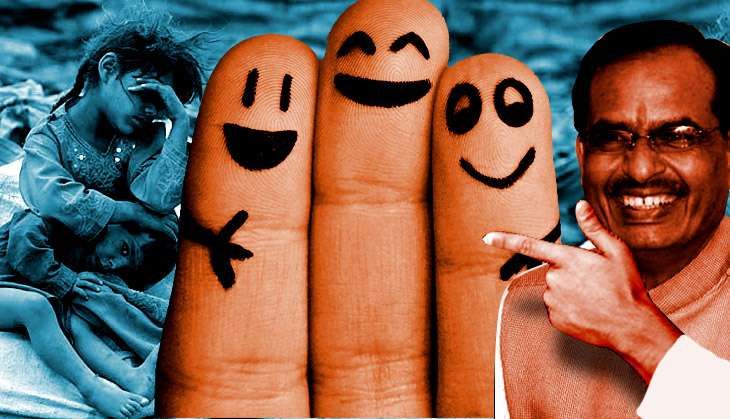 Chief Minister Shivraj Singh Chouhan seems to believe that a motley group of ministers and departments can 'spread happiness' among the people in the state of Madhya Pradesh.
This July, Chouhan declared his intention to set up the country's first ever happiness index for the state's 7.25 crore citizens.
Following up on that promise last week, Chouhan launched a project on happiness, which began on a note that can, at best, be described as ridiculous, and at worst, as delusional.
Mandatory happiness
According to a report in The Indian Express, the 16 ministers present at the cabinet meeting chaired by the Chief Minister went through the process of marking themselves on a five-point questionnaire to test their levels of happiness. "Most of them gave themselves a score of 28 or more," the report states.
Are we surprised that ministers proclaimed themselves to be basking in happiness when the aam aadmi is probably grumbling every day about getting through her life?
Here's a nugget of just how ludicrous the government-sponsored test was, as relayed in the Indian Express report: "
The ministers were asked to mark themselves on the following points, in Hindi: 'My life, on most counts, is closer to the ideals that I cherish'; 'I am satisfied with my life'; 'My life's situation is best'; 'I have got those important things that I wanted in my life'; and 'If I got a chance to relive the life that I have lived so far, I, more or less, won't change anything'."
According to legislative affairs minister Narottam Mishra, most of the 16 ministers scored between 'extremely happy' and 'very happy'.
Clearly, the Madhya Pradesh government, like most governments, seems to believe that it can appropriate the cause of happiness and make it official - as if that in itself would guarantee a turn in the popular mood.
With no real idea of how to go about computing peoples' moods through something like the happiness index, the government has instead vulgarised the question by reducing the matter of happiness to a series of inane government programmes.
The state's Rajya Anand Sansthan (happiness department) has planned a string of official functions like Anand Utsav, Anand Sabhas, Anand Ka Vigyan research wing, Anand Dals and Anandam events - and we are to understand that by attending these functions, unhappy people will miraculously transit into a sphere of happiness.
It's as if the government has promulgated an ordinance on happiness, mandating people to fall in line.
Primary source of misery
One wonders whether Chouhan and his colleagues, who thought up the happiness index, are aware that political parties and governments are the primary sources of misery for most people.
From the absence of quality schools, poor public heath delivery systems, bad infrastructure, rampant corruption, to the arrogance of elected representatives, political, social and religious conflicts, there is little cause to celebrate or be happy these days.
But disregarding these realities, the state government has warmed up to the idea of projecting itself as 'happiness dispenser'.
For instance, as part of a week-long Anand Utsav scheduled to take place between 14-21 January, almost 10,000 gram panchayats have been asked to organise traditional games and cultural activities. And who is to stop such determined politicians in their tracks?
What govt could've done instead
The Chief Minister could have drawn in cerebral people from other walks of life - perhaps established a dialogue with Bhutan, the first country to talk about Gross National Happiness (GNH) - to enrich the project.
In fact, the GNH global project already has a pool of diverse professionals from the fields of economics, psychology, survey analysis, national statistics, health, public policy and more working on it.
But to move beyond a typically 'government mindset', Chouhan would have to grasp the deeper meaning of the so-called happiness index. From the unveiling of the project, it would seem that its complexities have escaped the Chief Minister and his advisors. Perhaps this is hardly a wonder.
Just so that Chouhan is aware of how daunting the challenges before him are, it's appropriate to remind him that India this year, ranked 118th out of 156 countries in a global index of happiest nations.
"The report, released in advance of UN World Happiness Day on 20 March, for the first time gives a special role to the measurement and consequences of inequality in the distribution of well-being among countries and regions," said a report in Hindustan Times.
In fact, slipping one notch down from last year's ranking, India lags behind its neighbours, Pakistan and Bangladesh.
Edited by Shreyas Sharma
More in Catch
MP first Indian state to officially create Department of Happiness
Happy times: Madhya Pradesh government forms Ministry of Happiness
Madhya Pradesh CM Shivraj Singh Chouhan takes human palki. Twitter goes crazy