Hamid Ansari warns India against becoming a majoritarian democracy
Catch Team
| Updated on: 13 February 2017, 9:13 IST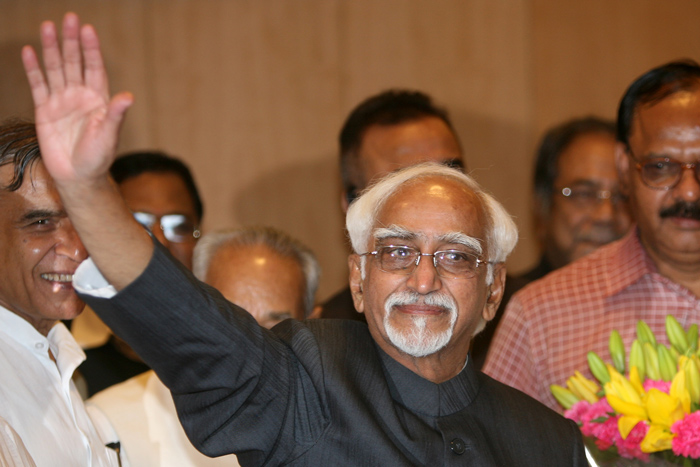 The themes
In his recent speeches, Vice President Hamid Ansari has stressed on communal harmony and the importance of dissent
These are the themes the Narendra Modi government is facing criticism on
The speech
Speaking at a function in Pune, Ansari warned against majoritarianism
He said that no one ideology can be imposed. The right to dissent needs to protected
More in the story
Is he subtly criticising the Modi government?
In the past few months, Vice-President Dr Hamid Ansari has made a number of speeches with two central themes: communal harmony and the importance of dissent.
Incidentally, these are two issues on which the Narendra Modi government has been facing a great deal of criticism. Even though Ansari did not criticise the government, his speeches have added weight to those who are raising their voices against rising intolerance and communal polarisation in the country.
Also read - Indispensability of Dissent: A citizen's right and duty to judge democracy
Ansari has been on the receiving end of attacks from right wingers. He was maligned for "not saluting the national flag" during the Republic Day parade, even though he was merely following protocol. BJP general secretary Ram Madhav questioned Ansari's absence during the government's International Yoga Day function.
The Vice-President has yet again stressed on the need for dissent, speaking at a function on "social innovation" in Pune. Citing Reserve Bank of India Governor Raghuram Rajan, he even said that "challenging authority needs to be encouraged".
Here are a few excerpts from his speech.
Our theme today is social innovation, not mere innovation that may rightly be in the realm of technology and focus on making manufacturing more efficient and or developing new products and services for the consumer.
There should be acceptance of diversity, not just tolerance
Our vision, instead, is wider and emanates from a desire to address the gaps in the developmental chain. It can best be defined as "new Solutions to social challenges that have the intent and effect of equality, justice and empowerment". In other words,
It must be new;
It must address a social challenge;
Its intent must be to create equality, justice and empowerment;
It's end result must be equality, justice and empowerment.
Social innovation therefore gets linked to the levels of harmony, freedom, stability and security prevailing in a society; by the same token, its promotion requires an orientation of values, objectives and priorities towards the well-being of all, and to this end purposeful strengthening and promotion of institutions, policies and practices.
Equality, equity, empowerment and social justice constitute the fundamental values of just and democratic societies. The promotion and protection of these values provides legitimacy to all institutions and all exercises of authority aimed at creating an environment in which human beings are at the centre of concern for sustainable development.
While economic progress is essential for survival and well being, it is neither a substitute nor the panacea for the social challenges that confront us. Every society, including ours, requires its constituent parts to work in harmony.
This principle, universal in nature, was expressed succinctly some years back by the former UN Secretary General Kofi Annan. We must recognise, he said, "that stable societies are built on three pillars. Security, development, and respect for human rights and the rule of law. There can be no long term security without development and there can be no development without security." No society can long remain prosperous or secure without due respect for human rights and the rule of law.
The operative assumption here is that respect for human rights unavoidably includes acceptance of diversity, not merely tolerance of it. This transition from tolerance to acceptance, in actual day to day practice rather than as a mantra in political discourse, is critical for making a society fully inclusive rather than selectively so.
The right to question, to behave differently needs to be protected
Threat of majoritarianism
Consequently, and given that most societies are not homogenous, "If democracy is not receptive to various identities in a plural society, then it remains only a majoritarian democracy that under-privileges minorities." It is for this reason that the Indian Constitution has provisions for the protection of minority rights "as well as balancing group rights with individual rights".
These preliminary observations are necessary to delineate the societal backdrop essential for optimal creativity in a society seeking to maximise its innovative genius and also to make sure that a social consensus around equality, justice and empowerment exists, more so because there is reason today for concern about this consensus and about the emergence of a propensity for intolerance of diversity and dissent.
WATCH - No progress without right to life: Hamid Ansari's subtle message on Dadri
The Governor of Reserve Bank of India, in a recent talk at IIT Delhi, listed out some ways for a nation "to keep the idea factory open". He suggested that the first essential is to "foster competition in the market place for ideas" by "encouraging challenge to all authority and tradition, even while acknowledging that the only way of dismissing any view is through empirical tests."
Imposition of a particular view of ideology is ruled out and all ideas are subject to critical examination. The second essential, was "Protection, not of specific ideas and traditions, but the right to question and challenge, the right to behave differently so long as it does not hurt others seriously. In this protection lies societal self-interest, for it is by encouraging the challenge of innovative rebels that society develops."
Each of the above necessitates a scientific temper and a social ambiance conducive for it.
I wish you success in your deliberation.
Jai Hind.
READ MORE - Other view: on Hamid Ansari's passionate defence of dissent