Hamid Ansari speaks about bigotry, Twitter responds with more bigotry
Catch Team
| Updated on: 10 August 2017, 17:03 IST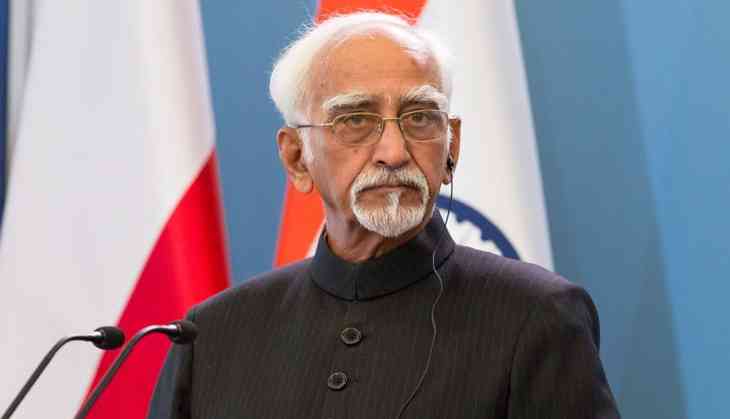 (Mateusz Wlodarczyk/NurPhoto via Getty Images)
Hamid Ansari, the outgoing vice-president of India, gave his parting interview to Karan Thapar on Rajya Sabha TV. In the interview, Ansari referred to the recent spate of lynchings, 'ghar wapsi', and the killings of rationalists as a "breakdown of Indian values". While the concerns he expressed weren't much different from those expressed by former President Pranab Mukherjee earlier this year, the response to Ansari was nothing short of vile and vitriolic.
A breakdown of secular India
Ansari termed recent happenings as a "breakdown of the ability of the authorities at different levels in different places to be able to enforce what should be normal law enforcing work and over all the very fact that Indianness of any citizen being questioned is a disturbing thought," Ansari said.
More damningly, Ansari spoke about how he had held several meetings with Prime Minister Narendra Modi and his cabinet regarding the increase in these violent crimes. According to Ansari, both the PM and his Cabinet showed a lack of seriousness towards these issues.
Asked about whether he agreed with the Muslim community assessment that they are apprehensive and feeling insecure as a result of the various comments made against them, Ansari answered in the affirmative.
"Yes. It is a correct assessment, from all I hear from different quarters, the country; I heard the same thing in Bangalore, I have heard from other parts of the country, I hear more about in north India, there is a feeling of unease, a sense of insecurity is creeping in," he said.
Twitter gets ugly
Ansari's comments are hardly explosive, with the same views being expressed by different people on different platforms. However, coupled with his Muslim identity, Ansari's statements angered Twitter's right wing brigade, with a torrent of abuse subsequently directed at Ansari.
Note her choice of words: "MY Hindu majority nation". A reminder, if any were needed, that #RSS considers India their jaagir. #HamidAnsari pic.twitter.com/vR8PorFxOl

— Anna MM Vetticad (@annavetticad) August 10, 2017
U just made it worse for India's Muslims by being thankless & petty #HamidAnsari while spreading victimhood. Y dont u retire to Pakistan? https://t.co/vnQpn48Wvg

— Tarek Fatah (@TarekFatah) August 10, 2017
How #HamidAnsari sahab performed as VP of India.. we all saw that.. but what worse is that how he decided to end it. Power is Poison..indeed

— Paresh Rawal fn (@Babu_Bhaiyaa) August 10, 2017
History will remember #HamidAnsari as aberration for VicePresidency of India,he always thought himself as Muslim & Communist,than an Indian!

— Ashok Garekar (@DrGarekar) August 10, 2017
Will not be surprised if #HamidAnsari joins #Hurriyat.

— Ashoke Pandit (@ashokepandit) August 10, 2017
Jai Hind Sir @rashtrapatibhvn 🙏

I'm GLAD, national disgrace called #HamidAnsari 😡😠 is being replaced by nationalist Sh @MVenkaiahNaidu Ji https://t.co/5pYxDoJ1mb

— Kapil Kausik 🇮🇳 (@kapil_kausik) August 10, 2017
#HamidAnsari -Feeling Of Unease Among Muslims
This happens when a non deserving becomes VP,does almost nothing & ends up being only a #Mulla

— One Alchemist (@oneXalchemist) August 10, 2017
Sir #HamidAnsari is right when he says Indian muslim is scared..See how a innocent muslim forced to bcm VP for 10 yrs & enjoy luxurious life

— Paresh Rawal fn (@Babu_Bhaiyaa) August 10, 2017
#HamidAnsari just proved that how much ever India gives to Muslims they will never accept it as their own country
Forever cribbing mullahs https://t.co/KH4l9tWGtB

— Archie (@AcridArchu) August 10, 2017
There was some support for Ansari. Sadly, it was drowned out by the deluge of bigoted bile.
Got to work with #HamidAnsari on his book last year. Most erudite,liberal man,always polite. Attacking him is a new low even for right-wing.

— Sayantan Ghosh (@sayantansunnyg) August 10, 2017
By persecuting #HamidAnsari for saying there's a sense of unease among Muslims today, the trolls are only proving him right.

— Sayantan Ghosh (@sayantansunnyg) August 10, 2017
As with any such incident, an army of fake Twitter profiles maligned Ansari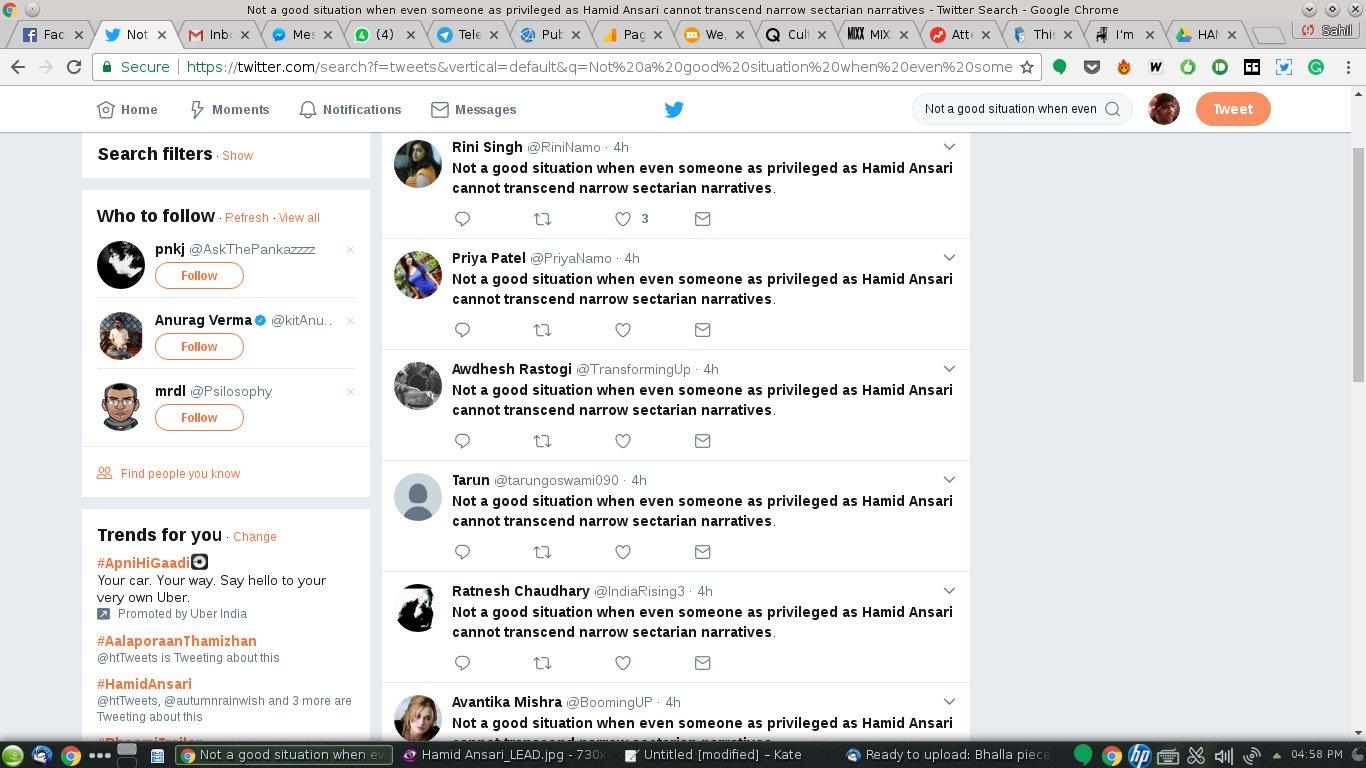 Twitter