Gujarat NGO releases ad for 'upper caste sweeper', gets pelted with stones
Rathin Das
| Updated on: 10 February 2017, 1:49 IST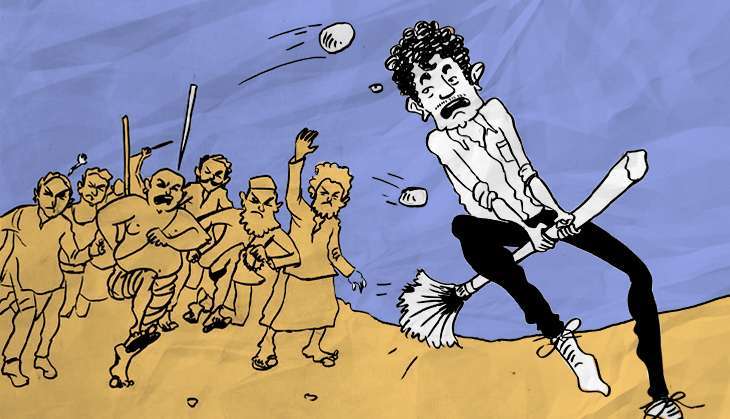 In an apparently innocuous effort to break caste barriers inherent in Indian society, a human rights organisation in Gujarat has landed itself in trouble.
The Human Development and Research Centre (HDRC) has been pelted with stones while its director, Prasad Chacko, has fled to safety simply because they had welcomed upper caste people to fill up a vacancy for a sweeper, a job invariably given to the lower castes.
Also read - Murky floodwater mixes with casteism: Dalits refused relief in Cuddalore
As the state has been under BJP-rule for more than two decades now, the needle of suspicion for the attack would naturally point towards the foot soldiers of the Sangh Parivar, which has always intervened violently in matters like fashion shows, inter-community marriages, art exhibitions and food preferences.
But for a change, this time the attacks on the NGO have come from outfits representing Brahmins, Rajputs and Patels and also the student wing of the Congress, the National Students Union of India (NSUI).
Even the Sunni Awami Forum has slapped a legal notice on HDRC for listing Saiyads among the forward castes to be considered for the sweeper's job. The Sunni Awami Forum says that it is 'denigrating' to offer a sweeper's job to Saiyads as they are considered direct descendants of Prophet Muhammad.
The controversial advertisement, pasted on the notice board of the HDRC premises since 6 April, said that preference for the job would be given to communities which do not enjoy the benefits of reservation (eg. Brahmins, Kshatriyas, Banias, Patels, Jains, Saiyads, Pathans, Syrian Christians, Parsis and so on).
Also read - Access denied to drinking water in school, Dalit boy drowns in well
The image of the advertisement went viral and the very mention of upper castes being considered for a sweeper's job has infuriated these groups.
Explaining the initiative to recruit upper caste people for the sweeper's job, HDRC secretary Dr Jimmy Dabhi said that their aim was to promote the institution's ideology of democracy, social equality and inclusion.
"Normally people think that a sweeper's job is reserved for the Balmiki community (a lower caste engaged in scavenging work)" he said adding that the HDRC just wanted to break away from that stereotype laid down by the caste system.
"Why should only Balmikis have to do all the dirty work?"asks HDRC project director Joseph Pateliya.
"If a mere advertisement for a sweeper's job can hurt the sentiments of the upper castes so much, then think of the humiliation Balmikis have gone through for centuries by doing this job," he pointed out.
Joseph informed Catch that Brahman Samaj and certain caste groups have approached the local police on Friday insisting that action be taken against HDRC Director Prasad Chacko, who is out of town. The Brahman Samaj and other upper caste groups have threatened to stage a demonstration against HDRC on Monday if police action is not taken by then.
Also read - #DalitsBurntAlive: for Haryana's lower castes, it's a fact of life
The whole episode has exposed the level of intolerance upper castes have even at the suggestion that they can be expected to take up jobs hitherto 'reserved' for lower castes. However, many on social media pointed out that the same upper caste people have no inhibitions in becoming sweepers outside India.
Meanwhile, the HDRC is receiving support from various NGOs and other human rights activists in its endeavour to break caste barriers.