Gujarat Model shamed: Yet another Dalit killed in Rajkot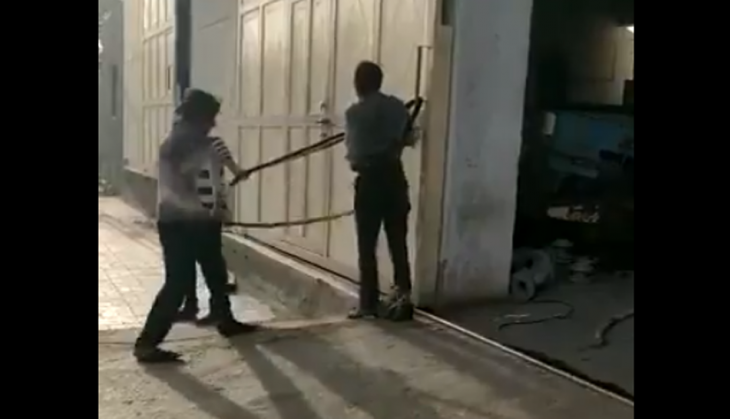 Dalit unrest has been fueled once again with yet another alleged killing of a youth from the community on the periphery of Rajkot city in Gujarat's Saurashtra region. The 'Gujarat Model' of governance that has been played up across the country by Prime Minister Narendra Modi and his close associate Amit Shah, the national president of Bharatiya Janata Party (BJP), stands shamed again.
Agitated Dalits are blaming the insensitive attitude of the state's BJP government for the frequent recurrence of heinous atrocities against them. Dalit leader and legislator Jignesh Mevani tweeted a disturbing video of victim Mukesh Vaniya being thrashed with a rod:
'Mr. Mukesh Vaniya belonging to a scheduled caste was miserably thrashed and murdered by factory owners in Rajkot and his wife was brutally beaten up'.#GujaratIsNotSafe4Dalit pic.twitter.com/ffJfn7rNSc

— Jignesh Mevani (@jigneshmevani80) May 20, 2018
The Saurashtra region has emerged as the eye of atrocities against Dalit though many, including local journalists, dispute this. Surendranagar district in the region is among those referred to as one of the most atrocity-prone districts. Vaniya too was a resident of the district's Parmala village.
Vaniya, a rag picker, was beaten to death Sunday at a factory in Rajkot's Shapar Veraval industrial area, sources said. When he along with his wife and a female relative went looking for scrap they were apprehended on charges of theft by the owner of the fatory and some workers, a source alleged.
While Vaniya was mercilessly beaten up with sticks and belts, the two women managed to escape and went looking for help, screaming all the way. When they returned they found him writhing in pain, crying for help. When they took him to a hospital, it declared him dead, sources said.
The police allegedly took their time making arrests, waiting for the deceased's post-mortem report. Things started moving only when video grabs from closed-circuit television cameras went viral. Eventually, the owner of the automobile parts factory and four others were arrested and charged with murder and various sections under the Scheduled Caste/Scheduled Tribes (SC/ST) (Prevention of Atrocities) Act.
"He went to Rajkot with his wife looking for livelihood only a few days ago. The family members cremated him at his village Monday after an assurance from the Rajkot Collector for due monetary compensation and five acres of land. If the administration dithers, therer would be a massive agitation," said Nattubhai Parmar, a Dalit activist from Surendranagar, who attended the cremation.
The question that has emerged: why is there no decline in atrocities against Dalits in Gujarat in general and Saurashtra in particular?
"The insensitivity of the government fails to curtail atrocities. Perpetrators have got the message that they can get away with anything. Action is taken only after extreme incidents like flogging or killing," Parmar said.
A major grudge Dalits have is that cases of atrocities are diluted or perverted by the police and administration. They remain be peeved at the government for failing to make the report of the probe panel on the 2012 Thangadh killings public despite adverse observations by the Gujarat High Court.
People still remember the public flogging in Una (2016) of Dalits for carrying out their vocation of skinning cattle carcass. In several other instances Dalits have been targeted for issues like sporting a mustache or twirling them in from of those from upper castes, attending garba, riding motorbikes by upper-caste houses, ritual riding of horses during weddings and for using surnames like 'Singh'.
They are often denied hair cuts by village barber shops, served in separate utensils at tea stalls, made to sit separately for mid-day meals in schools, denied entry into temples and denied water from common wells.
Accounting for only seven per cent of the state's population and widely scattered, Dalits in Gujarat are one of the most vulnerable – marginaliSed socially as well as politically.
In March, a Dalit was allegedly hacked for buying and riding a horse at a village in Bhavnagar district. Dalits opposed the police letting off upper-caste 'Darbars' accused by the victim's father. They instead arrested a marginal farmer from other backward classes a month and a half down the line, saying that he killed the deceased for teasing his wife.
The latest instance once again elaborates the ground for Dalit unrest over the alleged dilution of the SC/ST (Prevention of Atrocities) Act across the country.