Gorkha Liberation Army 'claims responsibility' for Darjeeling violence in 'letter'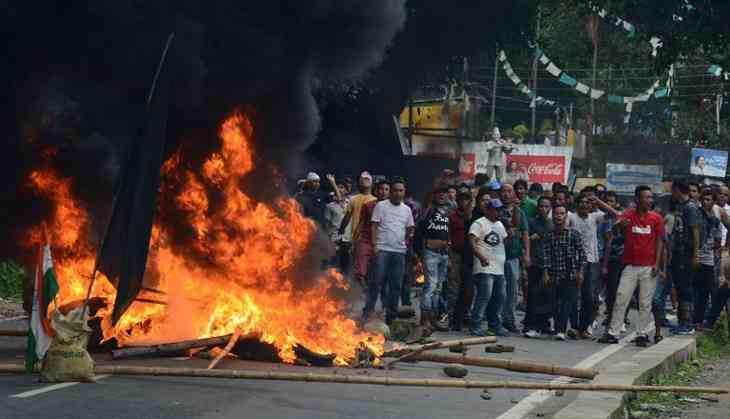 A letter issued in the name of Gorkha Liberation Army, claiming responsibility for all the violence that has taken place in Darjeeling and Kalimpong in the past three months, was found pasted in Darjeeling's Mirik Bazaar.
This comes at a time when the West Bengal CID has issued an arrest warrant against Gorkha Janmukti Morcha chief Bimal Gurung and seven others Asha Gurung, Prakash Gurung , Roshan Giri, Amrit Yonzon, Ashok Chhetri, DK Pradhan and Tilak Roka for inciting violence at Bhanu Bhawan on June 9 which led to a clash with police.
In the letter, GLA took responsibility for the violence in the hills and also threatened GJM leaders that action will be taken against them if they fail to support the movement for Gorkhaland.
"We have found some handwritten letters pasted at Mirik under the banner of GLA, claiming that they were involved in the blasts at Darjeeling and Kalimpong. We are looking into the matter. We are also verifying the signatures that were found in the letter," said ADG law and order Anuj Sharma.
Significantly, the letter came after expelled GJM leader Binoy Tamang organised rallies in Darjeeling and Kurseong on Wednesday in favour of lifting the bandh in the hills. Around 500 GJM supporters joined the movement on Wednesday.
Senior CID officials said that they have conducted raids at various locations in Darjeeling but they are yet to those involved in the blast.
On Thursday, Bimal Gurung released a video from an undisclosed location in which he mentioned that they are not favour of any talks with the state government. He said that GJM has sent four representatives to speak to Union Home Minister Rajnath Singh and urge him to convene a tripartite meeting as early as possible. The leaders who went to New Delhi to speak with Singh include Swaraj Thapa, Dawa Pakhrin and the MLAs of Kurseong and Kalimpong.
In the video recording released by Gurung it was said that GJM leaders won't attend the state government's all party meeting scheduled to be held on 12 September in Siliguri.
However GJM supporters owing allegiance to Binoy Tamang claimed that they are in favour of dialogue and said that they would attend the all party meeting despite the GJM threat.
GJM sources said that Gurung called Tamang and urged him not to give importance to the state government's version as they are trying to divide GJM. He even urged him to join GJM and support the movement for Gorkhaland.
Tamang, however, remains steadfast in his belief that dialogue is the only way out.
"I am in favour of dialogue with the state government to resolve the impasse in the hills and I sincerely feel that the bandh should be lifted to restore normalcy. I am not in favour of any violence. Violence cannot lead to any positive solution."