Go straight to jail: Supreme Court orders immediate arrest of Justice Karnan for 'gross contempt'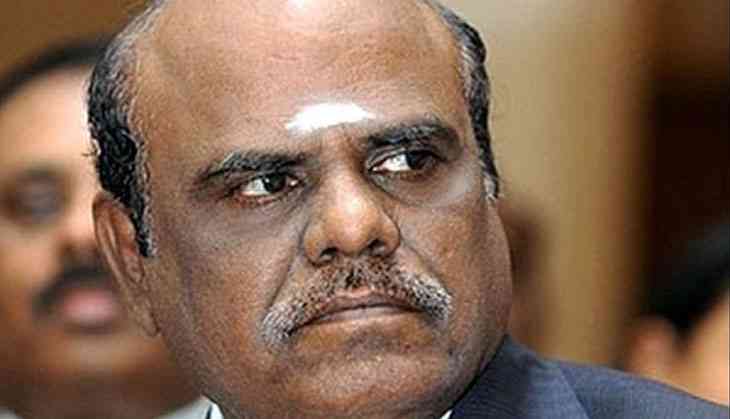 Supreme Court of India created history of sorts Tuesday, ordering "forthwith" (with immediate effect) the arrest of sitting Calcutta High Court Justice CS Karnan for "gross contempt" of court. This is the first time in the history of independent judiciary that a sitting high court judge is being sent to jail by order of the apex court.
A Constitution Bench said in contempt cases there was no question of a "public servant" or any ordinary citizen nor any "constitutional authority". The procedure for "removal" of a judge by a motion in Parliament need not be adhered to in this case, according to the seven-judge Bench that was presided over by Chief Justice JS Kehar.
For the "removal" of a high court or SC judge, an "impeachment" motion has to be passed in Parliament by two-third majority. But this would not be applicable in contempt cases, the CJI said.
In the order, the apex Bench said the Kolkata Police should take Justice Karnan under custody "forthwith" and his sentence of six months in jail starts from Tuesday itself.
In the order, the apex court also said media should not publish or telecast the contents of Justice Karnan's order in which he sentenced seven SC judges.
Just a day earlier Karnan had ordered the arrest of the CJI and the six other judges in the Constitution Bench of the Supreme Court and sentenced them to five years rigorous imprisonment under the SC/ST Act.
This sentencing was based on Karnan's allegations that he had been 'harassed' by these judges for being from a scheduled caste.
Where it all began
The genesis of the case begins from Madras High Court from where Justice Karnan was transferred to Calcutta High Court for alleged misbehaviour with the then HC Chief Justice Sanjay Kishan Kaul.
Karnan called it 'victimisation' on the grounds that he belonged to a scheduled caste and first refused to go to Calcutta High Court.
However, he budged a little, but soon made allegations of corruption against about 20 top court judges. He was stripped off his administrative and judicial work, which he again said was done because he was a Dalit.
Karnan then made criminal complaints against some Supreme Court and high court judges under the SC/ST Prevention of Atrocities Act.
The Supreme Court took suo-motu cognizance of contempt and issued notices to Karnan but he continued to defy them. He suddenly appeared in Supreme Court but refused to apologise.
The apex court then ordered for his medical examination to determine his mental status but Karnan turned down a team of medical experts including psychiatrists contending that he was "fine" and either his wife or children should be present during such medical examination.
Also read: Calcutta HC Judge Karnan refuses to undergo medical examination
As 9 May was fixed for his appearance in the Supreme Court, Karnan on 8 May from his "home court" ordered for the arrest of the CJI and other six judges which included Justices Dipak Misra, J.Chelameswar, Ranjan Gogoi, Madan Lokur, Pinaki Chandra Ghose and Kurian Joseph and awarded them a five-year jail term.
Turn the tables
In Tuesday's proceedings, on the reverse, Justice Karnan has been ordered to undergo a six-month jail term.
As the Supreme Court's verdict is final, the contemnor judge has two options before him now:
– To file a review petition, from jail, seeking a review of the order
– If it fails, he could move a curative petition, seeking that the order be set aside as well as the review order
Normally, the majority of the review petitions are dismissed.
Justice Karnan is due to retire in June this year as he would be completing 62 years in office by then. With just a month to go for his retirement, he has now been sent to jail.
The issue may also generate another debate whether a matter pertaining to a HC judge should be referred to the Parliament for a motion for removal or could be sent to jail by the Supreme Court.
As of now, the apex court has reasoned that in contempt cases no such procedure is applicable.
Edited by Jhinuk Sen