#FreeThePress: Chhattisgarh is not a great place to be a journalist. I'll tell you why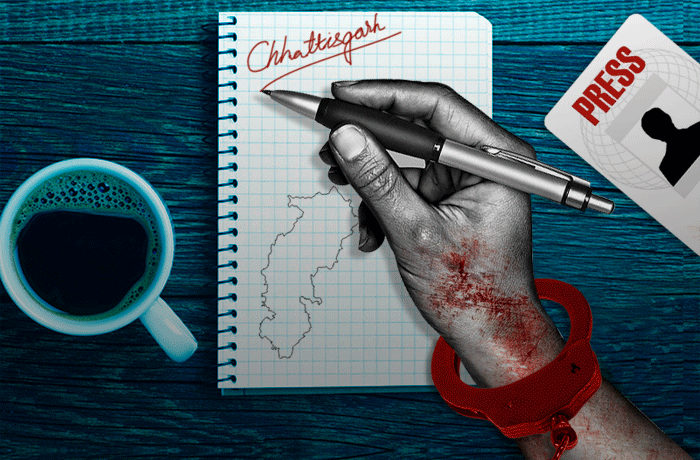 Cause for protest
local journalists in Chhattisgarh are protesting their risky work conditions
the arrest and detention of two scribes led to this mass agitation
state journalists are at risk from Maoists, as well as the police
More in the story
what are the journalists demanding?
Hundreds of local journalists are on a protest and resorting to court arrest in Bastar, Chhattisgarh today.
The trigger: the arrest and continued detention of journalists Santosh Yadav and Somaru Nag.
29-year-old Yadav used to report for several Hindi dailies, including Dainik Navbharat and Dainik Chhattisgarh. Nag was a stringer and news-agent with Rajasthan Patrika. The men were arrested in September and July respectively, for allegedly supporting Maoists.
The allegations: These are of a grave nature, ranging from rioting, criminal conspiracy, murder, and criminal intimidation, to being part of the banned Communist Party of India (Maoist), among other offences. They have been booked under draconian laws such as the Chhattisgarh Special Public Security Act (CSPSA) and the Unlawful Activities (Prevention) Act (UAPA), apart from the Arms Act and Explosives Act.
Read: Chhattisgarh Police seek to gain control in Bastar as Maoist unit weakens
Their lawyer has contested the allegations saying, "These journalists are being targeted for their reports on human rights abuses by the police against Adivasis."
Growing Support
Fortunately, the campaign for the release of the journalists has received some national attention and is gaining momentum. Following the arrest, journalists in the state formed the 'Patrakar Suraksha Qanoon Sanyukt Sangarsh Samiti, Chhattisgarh' (Joint Struggle Committee for Journalists' Protection Law), campaigning for the release of the two men. They are also demanding that the state government enact a law to protect journalists.
On 26 November, more than 100 journalists, activists and academicians petitioned the Chief Minister of Chhattisgarh and the Union Ministers for Home, Information & Broadcasting and Tribal Affairs. They demanded the immediate release of the journalists and investigations into why they were arrested. Unfortunately they have still not received a response.
Yadav and Nag's cases are not the first and they won't be the last. If the government does not ensure protection for journalists and create an environment which allows independent and fearless reporting, such incidents will only continue.
Chhattisgarh government must engage with people and actively protect its local journalists
Journalists in Bastar say that they are regularly targeted for their work. The petition submitted to the Ministers said, "Somaru Nag and Santosh Yadav's arrests have contributed to a deep sense of insecurity amongst journalists in the state and a fear that, not just their work, but their own lives, will be in danger if they venture out to do any independent investigation, or stories that are critical of either the security forces or the Maoists. Either way, they face a threat."
"Journalists of Bastar are often exposed to serious security threats by Maoists who want to release a statement, or by the police who want to gather information," wrote Suvojit Bagchi, a senior journalist at The Hindu, last January after the killing of journalist Sai Reddy.
51 year old Reddy, who worked for the Hindi daily Deshbandhu, was killed by Maoists in Bijapur district in December 2013. They suspected he was colluding with the police against them. Interestingly, in 2008 Reddy was arrested and detained under the CSPSA. At that point, the police accused him of having links with Maoists. He was later released on bail.
Also read- Class divide: how Maoist factions are cancelling each other out
Another journalist, Nemi Chand Jain, was found dead under mysterious circumstances in Sukma district in February 2013. Jain, a freelance journalist for decades, worked for Hindi-language dailies including Hari Bhoomi, Nayi Duniya, and Dainik Bhaskar.
In 2011, two journalists Umesh Rajput and Sushil Pathak were also killed in the Chhattisgarh.
To put it bluntly
Many journalists and human rights defenders in Chhattisgarh live and work under constant threat. We may only come to know about the more extreme cases involving arrest, violence or killings. But the routine harassment, intimidation and the risks that come from working in a hostile environment with limited resources, may miss our attention. Matters become even more difficult when journalists are not associated with the national press or known media organisations.
Journalists in Chhattisgarh need the urgent intervention of the state, including both preventive and corrective measures. First, the state itself should stop harassing and intimidating journalists, and viewing them with suspicion.
Arbitrarily arrested journalists like Santosh Yadav and Somaru Nag must be released and the cases against them dropped.
The government should repeal laws like the CSPSA, which are vague and overly broad and threaten fundamental rights, and are often used against journalists and human rights defenders. Acts like the CSPSA and UAPA not only violate international human rights law, but also contradict the constitutional right to life and liberty. Moreover, the state should play a proactive role in resolving journalists' grievances.
The Chhattisgarh government needs to start engaging with its people, and not ignoring the concerns reported by journalists. Attacking the messengers will never serve any purpose.
More in Catch:
2 crimes a day against tribals in Chhattisgarh, 'another Vyapam' uncovered in MP
15 photos from history that should have been way more famous
BJP MP Azad: DDCA case 'not a personal matter' against Jaitley
Bad food, unused funds: CAG's damning report on the mid-day meal scheme