Found: Rs 92 lakh gift to Sai Baba shrine, body of man killed by mother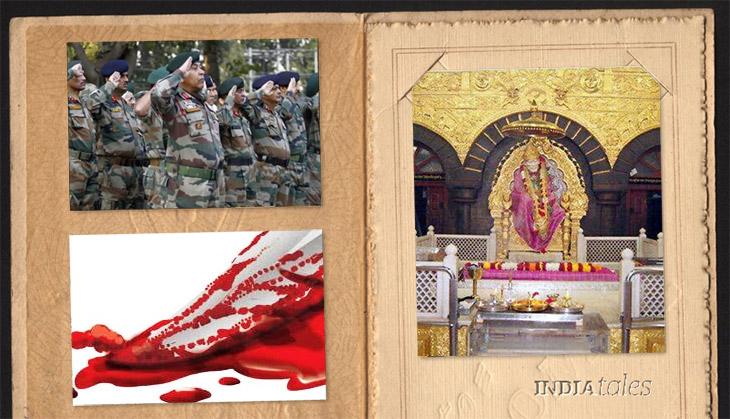 01
Treasure trove: Shirdi Sai Baba Temple gets necklaces worth Rs 92 lakh
Maharashtra's farmers may be dying of hunger and thirst. But the temple of Sai Baba in Shirdi is overflowing with money and precious jewels, literally.
The temple's caretakers have just found two diamond necklaces worth about Rs 92 lakhs in one of the donation boxes.
Although the caretakers are used to finding gold, silver and other jewellery in the donation boxes, they have never before found such anonymously-donated precious items. Normally, "large donations" are made directly to the trustees.
After they were found, the necklaces were evaluated by an expert committee of three members. "The diamonds are extremely valuable. One is 6.67 carats with brilliant cut and the other is 2.5 carats with emerald cut. Together, their value is Rs 92 lakh," Naresh Mehta, a Mumbai-based jeweller and one of the committee's members told
The Times Of India.
The Sai Baba Temple Trust is presently headed by a committee appointed by the Bombay High Court, and according to Bajirrao Shinde, CEO of the trust, the court "will decide what is to be done with the diamonds".
Shirdi Sai Baba is one of India's richest shrines. In just one year between 1 April 2015 and 31 March 2016, it has received donations, in cash and kind, worth Rs 1.06 crore. 
02
Shocker: Ahmedabad woman arrested for murdering alcoholic son
In what has shocked Ahmedabad, the police have arrested a 55-year-old woman for murdering her 35-year-old son.
Jashodaben is a resident of Shaher Kotda area of the city. According to the police, she had asked her son Kishan, an "unemployed liquor addict", to go and stay with his sister Lakshmi in Delhi. He refused.
"The mother and son often fought over this. On 9 November last year, they quarrelled at a relative's house in Aniket Park, and the next morning, Kishan created a ruckus in the house. And while trying to stop her son, Jashodaben pushed him down a flight of stairs," said a police officer.
A few days later, Kishan's body was found near Memco Bridge. Interestingly, Jashodaben herself had filed a missing persons complaint with the police. Her son-in-law has also been arrested for trying to destroy evidence.
03
Another quota row? J&K minister demands Gurjar army regiment
After the Jats, Gurjars are playing the reservation tune. Senior leaders of the community recently gathered at Haryana's Bhiwadi for the All-India Gurjar Conference.
Speaking at the event, Gurjar Mahasabha chief Devendra Singh Patel said that the constitutional right of reservation should be extended to all castes without discrimination.
One of the key topics of discussion was the "condition of Muslim Gurjars in Jammu and Kashmir", where Zafar Khatana, J&K minister and Chairman of Gurjar Bakarwal Development Board Council, demanded a separate regiment for the Gurjars in the army.
Addressing the media after the conference in Gurgaon, Khatana underlined the "role of Muslim Gurjars in defending J&K against external forces". "The Gurjar community has played an important role in the freedom struggle and made sacrifices to defend the country's borders. J&K remains an integral part of India only because of the contribution made by the Gurjars. Therefore, a separate regiment should be constituted for them in the army on the lines of Sikh, Gurkha, Rajput, Jat regiments," he said.
Fellow Kashmiri Gurjar leader and Congress MLA Mohammed Akram Kohli complained, "There is much discrimination against Gurjars in our state. They have been included in the ST category. Yet, there is no reservation for them in Lok Sabha and Vidhan Sabha elections."