For fun: giant sculpture of Ramayana bird, app to talk like Amitabh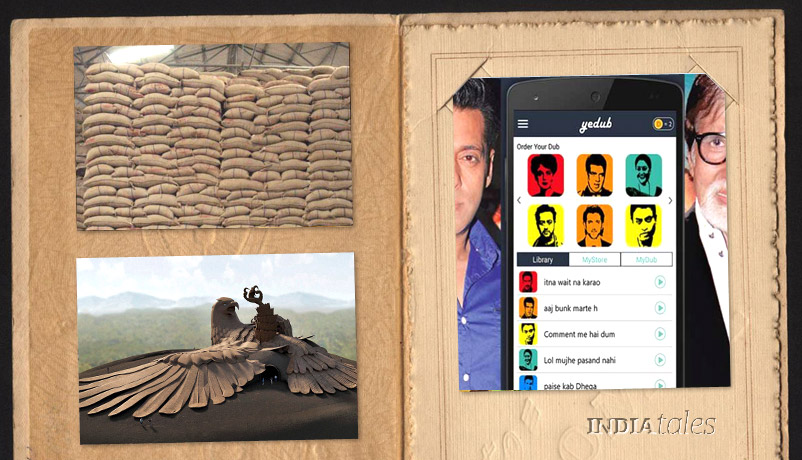 01
Coming to Kerala soon: mythical bird that fought Ravana to save Sita
Kerala is set to get a new tourist destination next year, replete with a mythical bird straight out of the Ramayana.
The first phase of Jatayu Nature Park at Chadayamangalam in Kollam district is likely to open in January 2016. The Rs 100-crore nature park is spread over 65 acres and is aimed "to promote mythological, adventure and health tourism in the state."
Also read - 50% of India is reeling from drought. Here's the impact at a glance
It promises to offer tourists "an unforgettable experience amidst expansive mountains, valleys, cliffs and rock formations".
One of the main attractions is a giant sculpture of Jatayu, a mythical bird from Ramayana that tried to save Sita from Ravana. The 200ft long, 150ft wide and 70 ft high sculpture is touted as the largest bird statue in the world. It took seven years to build and sits atop a hill. Devotees believe Jatayu fell here after an epic battle with Ravana.
A stone in the park apparently has the imprint of a pair of feet, believed to be that of Lord Rama.
But the park isn't all about mythology. The first phase boasts of a 6D theatre and an audio-visual museum. The next phase will include an adventure park and "facilities for Ayurveda and Siddha treatments".
Described by the National Geographic as one of the world's "10 paradises", Kerala is visited by around 10 lakh foreign visitors every year.
02
Farmers reeling from drought, Raipur warehouse mangers loot rice
While the farmers of Chhattisgarh are reeling from a drought, tonnes of grains are just vanishing from the state's warehouses.
The state's minister for Cooperative Societies Dayaldas Baghel recently informed the assembly that in the past three years, rice worth Rs 28 crore "vanished" from 123 warehouses. "Managers of cooperative societies are responsible for this loss," he added.
When Dharmendra Sahu asked what action had been taken against these managers, the minister admitted that "cooperative societies are shying away from taking action against corrupt officials". He, however, added that his department has sent notices to the societies.
[twittable]Cooperative societies are shying away from taking action against corrupt officials: Dayaldas Baghel[/twittable]
Responding to Baghel's disclosure, another Congress MLA Satyanarayan Sharma asked him to "also look into financial irregularities that have taken place in the warehouses of Abhanpur, Kharora, Jonda, Rajim, Tilda".
Sharma urged the minister to "hold district food and marketing officers accountable for the loss".
In response to a query, Food Minister Punnulal Mehle informed the assembly that "60 rice mill owners have failed to deposit rice worth about Rs 60 crore with the government during past four years".
Also read - Rice scam trail is catching up with 'Chawalwale Baba' Raman Singh
Don't we just love to repeat the dialogues of our favourite movie stars? But imagine if superstars like Shahrukh Khan and Amitabh Bachchan said your dialogues instead?
Well, there is a mobile app that can make it possible. Yedub is being touted as India's "first app that can dub the user's dialogues in the voice of her favourite movie stars".
[twittable]Want to speak like Amitabh or Salman Khan? Or do you fancy talking like Sunny Leone? Get Yedub[/twittable]
The app, developed by Yepaisa, can dub "dialogues for various moods, ranging from romantic, emotional, funny, party, angry". You can choose to dub in the star voices of Amitabh Bachchan, Salman Khan, Paresh Rawal, Ajay Devgn, Nasiruddin Shah, Irfan Khan, Akshay Kumar, Pran, Amrish Puri, Sunny Leone, among others.
That's not all. You can create "selfie videos" of your star-voiced dialogues and share them on the social media. The app allows you to dub dialogues in Hindi, English, Punjabi, Marathi, Malayalam, Telugu, Gujarati and Marathi.
The big downer is that the app doesn't dub your dialogue in a star voice instantly, but takes several hours.
More in Catch - Between diary entries and Raman Singh, what's cooking in the Chhattisgarh rice scam?