For no fault of hers: how a Hyderabad professor was hounded by Dalit students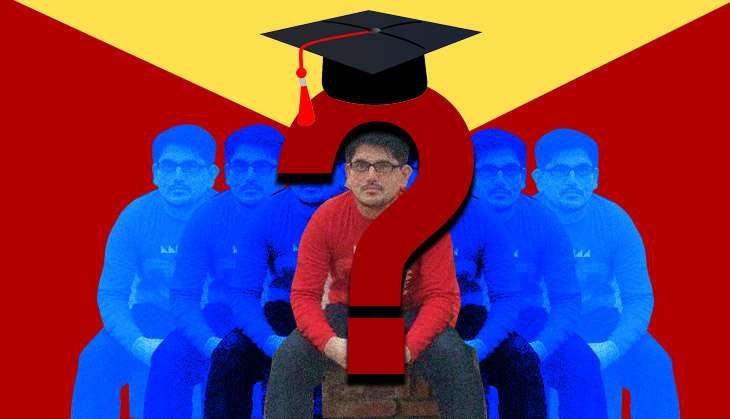 "I am just an accused. You will have to talk to my advocate," says Muvanth Sriramulu, 27, almost as an opening line to guard himself against a possible interview, when he picks up the phone.
A student of German at the Hyderabad-based English and Foreign Languages University (EFLU), an independent University, Sriramulu was slapped with charges of criminal defamation by his professor, Meenakshi Reddy, in March 2013 because she felt "threatened" by him and four of his friends - all Dalits.
On Tuesday, the five Dalit students - Sriramulu, Bathran Ravichandran, Mohan Dharavath, M Upender and N Satish - were each sentenced to six months in jail. The Fourth Additional Chief Metropolitan Magistrate of Hyderabad, however, granted them bail and gave them a month to appeal. On Friday, 16 December, the trial court issued the final judgement pronouncing the students guilty of defamation.
Also Read: What killed Hyderabad university Dalit scholar Rohith Vemula?
"Considering the economic and family backgrounds of the accused, this court is of the view that it is not a fit case to impose any fine,'' the court said.
Seeds of discontent
Sriramulu was admitted in the EFLU as a student of German in 2010. Although his advocate claims his marks were "on a par with the top ten performing students", he was given admission under the ST quota - an "indirectly discriminatory" action.
Prof Reddy, now 64 and a year from retirement, taught Sriramulu in his first semester. Reddy remembers him as soft-spoken, polite, humble and "always present in class". "He had no streak of belligerence," she recalls.
But despite his interest and dreams to go abroad, dreams he had shared with Prof Reddy, his grades were poor. "Dalit students, like all students, come in a mixed bunch. Some are exceptionally bright, some are average and some are lazy. When I enter the class it isn't my job to find out which student belongs to which caste. I go in to teach all equally and help those who need help after class," she says, mincing no words.
In the second half of the first semester, Reddy got sick and went on a long leave.
When she returned in the fourth semester, Sriramulu sought an urgent meeting with her. He had failed two of the four modules in his second semester and three modules in his third. These weren't the semesters Reddy had taught him. On 20 June, a little over a month before his final semester exam, Reddy recalls a desperate Sriramulu standing at her door. "He had a backlog of eight courses and only 40 days left for the final exam. He wanted me to coach him. I said it was impossible. I was always there for the students but he should have woken up to this earlier. Yet, I managed to get a colleague to coach him," she says.
The court found that remedial classes were indeed provided but not availed by the students.
According to Reddy, it was at this point that four senior Dalit students - Ravichandran, Dharavath, Upender and Satish - influenced Sriramulu to "play the caste card". Reddy claims she never taught them. But as head of the department, she was the one wielding power over their education, counters Advocate Jai Bhim Rao, who represents Sriramulu. And to the four of them, too, remedial classes were never given.
Remedial action
Rao says their case is very simple.
"The court is wrong when it says remedial classes were provided. They were not provided to my client. He was offered tuition. That isn't the same as remedial classes," he contests.
But did Sriramulu ask for them in his earlier semesters? "My client had no knowledge that he could avail them earlier. The Avinash Bhadri rule, which allows weaker sections to avail remedial classes, has to be displayed publicly. It is the university's responsibility to mention this benefit, especially created for the benefit of weaker sections. Nowhere is it mentioned on the campus. How will students know?" he asks.
Here on, things only got ugly.
Sriramulu filed an FIR against Reddy under the SC/ST Atrocities Prevention Act, alleging that she, as a teacher, had discriminated against him because of his caste.
Then he wrote to the Human Rights Commission that she had been harassing him since the first semester.
Also read: Caste-based UP school: where section A is Upper Caste, B is OBC, C is SC
According to Reddy, posters were put up on the EFLU campus calling for her arrest, describing her as "Hitler's daughter" and "Chor Chor", and demanding that she "change her attitude or face the music". Local newspapers carried articles about her practising discrimination. Dalit Camera, a freelance group that champions Dalit rights, put out videos of students who had allegedly faced caste discrimination by her with titles incorporating words like Feudal, dictator and Hitler. These were widely circulated on social media.
In 2012, Sriramulu wrote a sarcastic letter to the vice chancellor thanking him for the coaching classes and saying he was ready to appear for his final exam. In the exam, he returned his answer sheets blank for all eight courses.
"The students had even staged a half-naked protest. Sriramulu enjoyed a celebrity status on the campus. Imagine how a woman my age would feel with half-naked men screaming abuses at you. They wanted me to apologise. I refused," says Reddy.
In March 2013, after spending nearly 40 years teaching at EFLU, and three years fighting what she calls "reverse caste-based harassment", Prof Reddy decided she couldn't handle the daily abuse and firefighting that diverted her attention away from teaching.
"I had had enough. I decided to file a criminal defamation case against all five students. My colleagues told me to keep a low profile, but how much lower could my profile get?" she says.
Mysterious degrees
Sriramulu didn't get a degree from the EFLU. Yet on Friday, after refusing a phone interview with Catch, he's quick to send successive WhatsApp messages with photos of his accomplishments.
In July 2016, he claims to have become "the first tribal Dalit student to clear the NET and become an assistant professor in a single attempt".
Don't you need a master's degree to appear for NET? And how could someone who failed his BA become an assistant professor?
His advocate has no answers. "You will have to ask my client that. That is outside the purview of the case I am fighting," Rao replies curtly. "All I can say is that the principles applied by the court in this conviction are irrational to the facts of the case. We will appeal."
Prof Reddy retires next year. She is proud of being the first non-Brahmin to write an abridged version of the Valmiki Ramayana. She also single-handedly prepared a German-English-Telugu dictionary. "I fully support the SC/ST Atrocities Prevention Act. Students must be encouraged to use it to protect themselves. But it needs to have one more clause: misuse of the Act should be made punishable by law," she asks.
"I wasted five years of my life fighting false allegations against me. Who will give me back my reputation?"