Fired up: will the plan to home deliver LPG cylinders put out the Chulha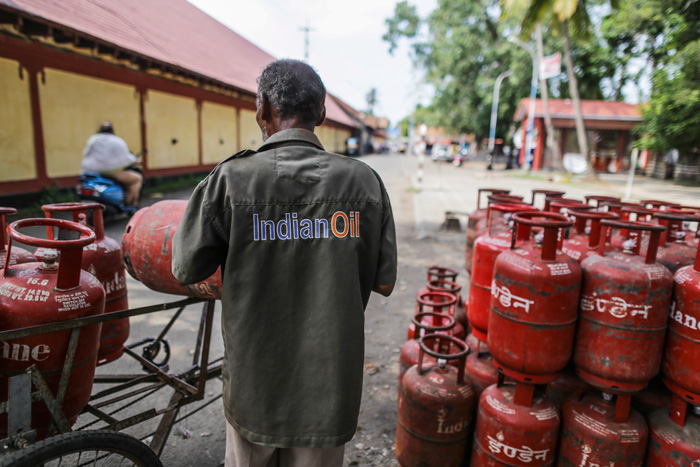 Early this year, the Centre had launched the #GiveItUp campaign to provide poor rural households greater access to clean fuel. But it didn't do as well as expected.
To compensate, the oil ministry is working on a plan to home deliver LPG through dealers in rural areas.
It's urgently needed, too. As per a study by the Global Alliance for Clean Cookstoves, a development advisory, only 12% Indian rural households use LPG.
According to another survey by the Council of Energy, Environment and Water, a non-profit policy research institute, only 14% rural households across six most energy deprived states use LPG, electricity or biogas for cooking.
The survey, titled 'Access to Clean Cooking Energy and Electricity: Survey of States Report' and released on 1 October, covered 714 villages in 51 districts of Bihar, Jharkhand, Madhya Pradesh, Uttar Pradesh, Odisha and West Bengal.
The findings give the lie to claims made by oil marketing companies such as HPCL, IOC and BPCL that 26% households in Jharkhand and Odisha and 50% in Uttar Pradesh have LPG connections.
Rural India has 7 crore LPG consumers, 4,900 dealers; cities have 12 crore users, 11,800 dealers
Asked about this huge discrepancy, oil ministry officials said they will share the findings with oil companies to ensure they better identify households with access to LPG.
Given this, will the government's latest move mitigate the clean energy crisis in rural India?
Fuelling the fire
It should to some extent. As per the survey, 74% of rural households don't use LPG due to a "lack of distributors" in their areas.
India has some 19 crore LPG consumers, 7 crore rural and 12 crore urban. But while 4,900 distributors cater to rural consumers, a staggering 11,800 dealers serve the cities.
Most dealers cater to a cluster of 5-6 villages. "This can be increased to 8-10 villages, the demand would be enough to make it viable," Satwant Singh, former executive director of the Indian Oil Corporation, the country's largest distributor of LPG cylinders, told the Economic Times.
But it isn't only a paucity of dealers that keeps rural consumers from using LPG. For one, the cost of securing an LPG connection is high. Indeed, 95% of the households surveyed cited this as a key reason for not using LPG, while 88% also mentioned high refilling cost.
0.74% rural households use smokeless stoves and just 0.21% use biogas for cooking
The other factor is lack of awareness. Nearly 45% households were unaware of the health benefits of using LPG over a traditional Chulha.
Another interesting insight revealed by the survey is that people generally see LPG as a costlier fuel though that may not always be the case. For instance, the households that use traditional fuel and pay for some or all of it - 33% in UP, 38% in MP and over 60% in Bengal, Jharkhand and Odisha - end up spending more than those who use only LPG.
This is also a major reason why efforts to popularise smokeless cookstoves in rural areas through various schemes haven't met much success. As of now, 0.74% rural households use the improved stoves and even fewer, 0.21%, use biogas.
As the government works out ways to scale up LPG use in rural India, it has its task cut out.