Faced by an apathetic govt, rural India bears the brunt of demonetisation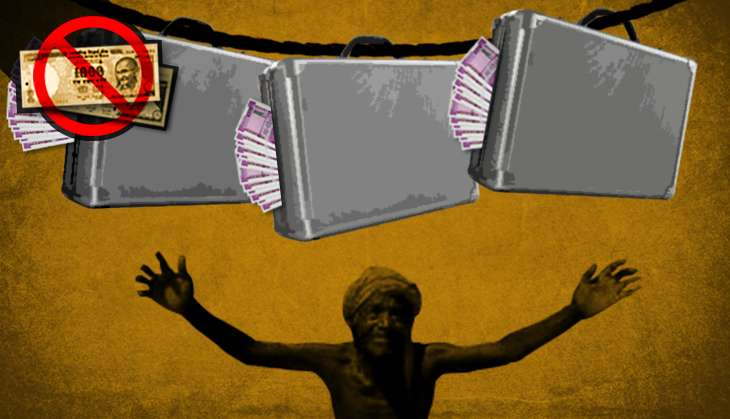 Rural India always stands last in queue when it comes to the provision of facilities or redressal of problems. It's no surprise that it now stands lands last in line to get any relief from the chaos caused by the government's sudden move to demonetise Rs 1000 and Rs 500 notes.
An apathetic approach
The government is now facing tremendous pressure from the District Central Cooperative Banks (DCCBs) to allow the exchange and deposit of old currency notes of Rs 500 and Rs 1000 along with withdrawal of money. The DCCBs are the institutions catering to the masses in the extreme rural areas across the country.
But the government wants to go slow on this demand.
A senior functionary from the government's financial set up disclosed that the reason for the government's lackadaisical approach is the lack of an effective monitoring mechanism in the remote villages of the country. "It cannot be ruled out that there is no counterfeit currency in circulation in these villages. Also there is black money that has been hoarded in the villages. Since agricultural income is tax free, there are no income tax details available," he said.
Saying that it's nothing new that villages are at the end of the line in getting facilities and relief, he says, "Look at power connections, markets, roads and even the ATMs. The villages get it last. There is nothing new in this phenomenon."
Also read - The plight of the rural Indian: standing in a vacuum outside the bank
According to him, if the DCCBs get the power to exchange and deposit old currency, it would not only provide relief to the rural population but will also keep the economy going because of the money being in circulation.
Hard questions
The government needs to answer this: if rural India has a poor monitoring mechanism, who is responsible for such a situation? In remote villages of India, particularly in states like Himachal Pradesh, Uttarakhand and Jammu and Kashmir, people are mainly dependent on the co-operative banks for their banking needs.
These people have been facing a lot of problems on account of the trickling cash flow available for withdrawal to the co-operative banks from the Reserve Bank of India (RBI) chests. The cold weather has been adding to their woes in the hilly terrain in particular.
"We have been convincing people to accept small withdrawals so that there is currency available for everyone. We have been telling them that if they just withdraw Rs 1,000 or Rs 500 there would be money available for more people to address the issues pertaining to their daily needs. Thankfully, the people because of the close knit society in the small villages have been co-operating till now," said a functionary of a co-operative bank in Sandhol area of Mandi district of Himachal Pradesh.
In Punjab and Haryana also, the small farmers and farm labourers have been the worst hit as they are unable to exchange their old currency while new currency and notes of Rs 100 denomination are not being paid to them by their employers who are themselves cash starved and the commission agents.
Banking on help
Meanwhile, RBI officials claim that things are getting streamlined slowly and will improve over the next few days.
"We are getting a small but first consignment of new Rs 500 currency notes today along with Rs 2,000 notes. We are sending available cash to our chests in different states for further disbursements to banks. As the cash flow improves even the co-operative banks will get money according to the demand raised by them," said Nirmal Chand, Regional Director of RBI at Chandigarh.
The matter also came up for discussion at a national seminar on 'Financial Inclusion: Achievements and Challenges Ahead' organised by Centre for Research in Rural and Industrial Development (CRRID).
Chief general manager of State Bank of India (SBI) Anil Kishora pointed in the presence of chairman of National Bank for Agriculture and Rural Development (NABARD) Harsh Kumar Bhanwala that there are difficulties in Jammu and Kashmir and Himachal Pradesh on account of communication. "We are trying to install VSATs but finding right people for the exercise is proving to be a problem," he said.
The outsiders
He pointed that the recent demonetisation has added another aspect to financial inclusion that those not familiar with digital channels will feel excluded. He said the SBI has helped in rolling out mobile vans armed with swipe machines selling groceries and vegetables in Punjab, Haryana and Chandigarh. He said that the farmers are picking up digital usage very fast.
Even Bhanwala accepted that there is a problem of communication in remote areas. "In around 4,000 branches, there is no communication on regular basis either through telephone or mobile," he said.
He expressed his concern over the problem of financial inclusion of small and marginal farmers because of diminishing land holdings in the light of oral leasing out of land by the bigger landlords.
"The problem is that the landlord does not want loan as he is not interested in farming and has leased out his land orally to the smaller farmer and the smaller farmer will not get loan as he is not the owner," he pointed. He said that the solution lies in forming of Joint Liability Groups (JLGs) on the lines of Self Help Groups (SHGs) and these JLGs can cross guarantee each other. He said the oral leasing of land is touching 20% in certain states.
It remains to be seen over the next few weeks and months how the situation changes and whether rural India gets its due.
Edited by Aleesha Matharu
More in Catch - Exams, ATMs and long queues: Students hit hard post demonetisation
India's jugaad: Modi's demonetisation brings back the ancient barter system