Excess crop loans worth Rs 17,600 cr in Punjab: Amarinder asks Centre to probe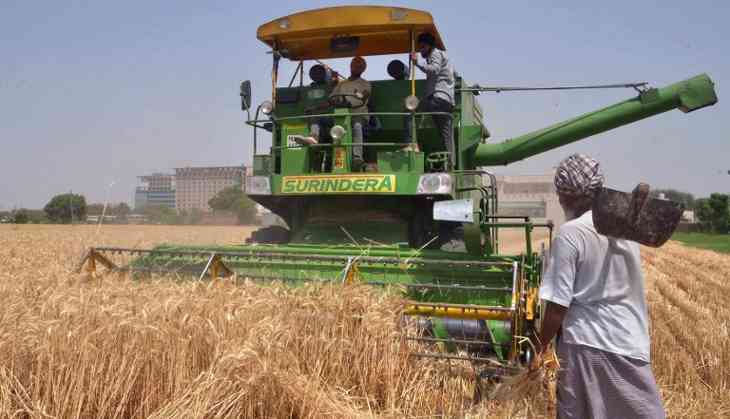 The loan waiver announced by the Captain Amarinder Singh led Congress government in Punjab for small and marginal farmers has opened a can of worms. The Punjab government has asked the Union finance ministry to probe private banks for advancing excess crop loans worth more than Rs 17,600 crore with the extended loan exceeding the actual value of crops procured.
Prior to this, the Congress leadership had claimed that 36,000 big farmers in the state had been given loans equivalent to that extended to four lakh marginal farmers and this was the reason why the loan waiver does not cover all the farmers in the state. Experts point out that there are many more things related to crop loans that need a thorough probe.
Coming first to the Punjab government asking the finance ministry to probe over extension of crop loans worth more than Rs 17,600 crore. Media reports say that farmers were given far more loans as compared to their land holdings.
Most of these advances have reportedly been given by private banks. These banks while trying to meet the priority sector lending norms allegedly flouted rules and increased the loans extended to farmers for which the latter were ineligible.
A report in The Tribune said that as much as 18% of the total lending has to be done in the agriculture sector as advances to farmers. Since crop loans attract three per cent interest subvention, it is possible that these banks are pocketing the interest subvention and giving retail or personal loans in name of crop loans. It has been pointed that instead of bringing more marginal farmers into their fold, these banks have allegedly been increasing the limits of the existing farmers who seek loans.
It was while analysing data for the recently announced loan waiver that the government officials reportedly realised how three leading private banks extended crop loans given for one crop cycle worth over Rs 10,000 crore each to farmers.
The officials have been quoted saying that the government purchases crop worth Rs 42,000 crore in Punjab every year and the crop loan cannot exceed this figure. However, the total crop loan revealed by the state-level bankers' committee is Rs 59,620 crore which results in a mismatch of Rs 17,620 crore.
Experts point out that there is a need for a detailed investigation into how subvention is being misused in the farm sector. Dr RS Ghuman, an expert in agriculture economics based at Centre for Research in Rural and Industrial Development (CRRID), points out that the practice of over extending of loans has been going on since the present form of subvention was introduced some years ago. He points out that private banks go in for aggressive lending without taking into account the repaying capacity of the farmers. "They rather take into account the land value. In Punjab the cost of agricultural land varies from Rs 15 lakh to Rs 25 lakh per acre," he said.
He further pointed that many times big farmers take huge crop loans and use the money for some other purposes and hence take benefit of low interest on crop loans to meet other expenses. If they take personal or retail loans, the rate of interest would be quite high. He also pointed out that such practice is also rampant among some industrialists and even bureaucrats who own agriculture land that has been leased out to tenants. "As there is no concrete data available on this aspect, the practice thrives. But all this is not in the interest of the agriculture sector," he said while pointing that this is why the misuse of subvention needs to be investigated on priority basis and a long term solution must be found to it.
Many economists have also been pointing to the misuse of subvention by some medium and small farmers as well. They have been pointing that many a times these farmers take crop loans and use it for some social commitment for which there are no returns. This mismanagement of funds often lead them to failures in repaying the loans and they may resort to extreme measures like suicides.
Another expert in agricultural economics Professor Gian Singh of Punjabi University in Patiala looks at this over extension of loans from a different perspective. He says that it is not that the previous Shiromani Akali Dal (SAD) – BJP combine government could not have been aware about it and so has been the present regime under Amarinder.
However, he feels that the state government is now trying to put pressure on commercial banks to help it ease the financial burden that it has accumulated by announcing the farm loan waiver. The Congress leadership including the Punjab Congress chief Sunil Jakhar has been going around saying that it has taken the loan of the farmers on itself and the banks would now be dealing with the government instead of the farmers and it is a well known fact that the coffers of the government are in a dismal state. "It will now have to prolong this repayment to the banks and this is one way of pressurising them for extension of the time span," said Gian Singh.
Reports say that the Congress government would require nearly Rs 24,000 crore to fund its loan waiver for small and marginal farmers and this may push Punjab's fiscal deficit higher by 4.8 percent.
Jakhar has reportedly said that the state government will fully back the loans and repay them over 10 years.
This is not the first time that over extension of loans causing a financial mismatch has come to light in the farm sector. In 2013, just a few months before Narendra Modi relinquished the office of the chief minister of Gujarat to become the prime minister, a similar thing had come to light in his home state where the government was eventually compelled to adopt a Modified National Agricultural Insurance Scheme (MNAIS) from the Kharif season of 2014.
There had been a stand off between the Gujarat and the then UPA government at the Centre over payment of agriculture insurance for the losses suffered by the farmers of Saurashtra region due to water scarcity in 2012-13. The standoff had resulted from discrepancies with regards to the area that was insured and the actual area where the crop was sown in 45 talukas of Saurashtra.
While insuring and extending loans, the agencies reportedly did not check whether the same amount of area was being sown. This had led to the Union agriculture ministry forming a four-member committee to check loopholes in implementation of existing National Agricultural Insurance Scheme (NAIS).