Essar tapes: Jaitley, Mahajan, Deve Gowda feature in old PIL transcripts
In what's set to fan the controversy over phone tapping allegedly done by Essar, it has emerged that many people might have known about the illegal act for years. Possibly, both the NDA and UPA regimes were informed, but neither took any action. Subsequently, a PIL was filed in the Supreme Court, but it was never pursued.
Suren Uppal, the lawyer whose complaint to the Prime Minister's Office earlier this month brought the issue to the fore, told Catch he was recently contacted by one Mikkael Maher Alwalley, who claimed to be the chairman of a curiously-named NGO called International Civil Enforcement Group for Anti-Terrorism Ethics, or ICEGATE.
Also read: Amar Singh Essar tape: were JPC members bribed to save Reliance?
Alwalley told Uppal he was in possession of some recordings of the alleged tapping and he had mentioned it in a PIL filed in the Supreme Court in 2014. He also claimed that his NGO had, back in 2013, sent some 160 letters to the offices of the president, prime minister, home minister, defense minister, CBI, NHRC and even the Supreme Court, but got no response. Such letters were also sent to several prominent politicians, but to no avail.
Ruia, Basit Khan as respondents
Finally, ICEGATE filed a PIL in the Supreme Court in February 2014, in which Prashant Ruia, then managing director of Essar Telecom, and Basit Khan, then Vigilance Officer of Essar Telecom, were made the respondents. Basit is the central figure in Uppal's complaint to the PMO. The lawyer has claimed it was Basit who had supervised the tapping, and later provided the tapes to him.
The PIL, bearing diary number 3954/2014, was eventually found to be defective by the Supreme Court, and Alwalley did not pursue it further because, he claimed, his lawyer wasn't "transparent" with him.
Also read: There's a lot of pressure on me: Suren Uppal, the lawyer behind Essar leaks
He has now offered to join Uppal's fight. Uppal, however, told Catch he was not interested in "activism"; he just wanted to hand over the case to the SC to get the tapes, allegedly given to him by Basit, off his back.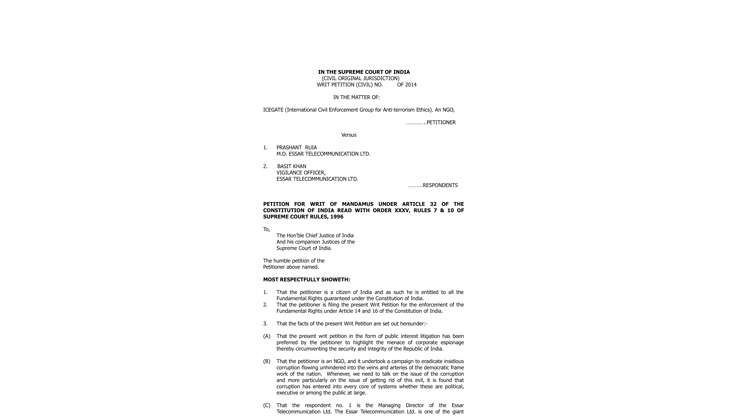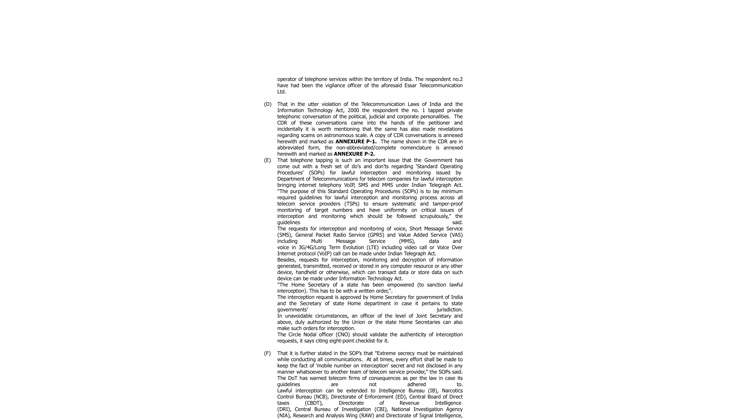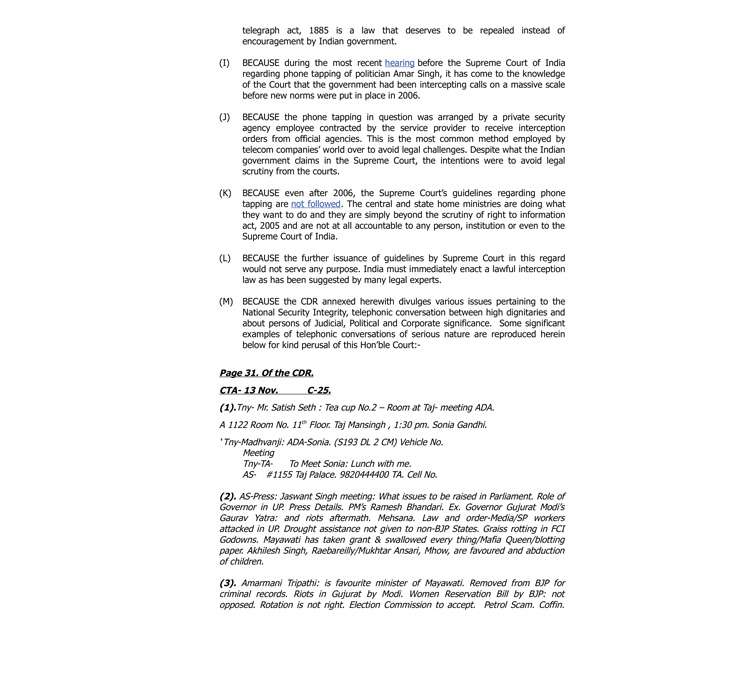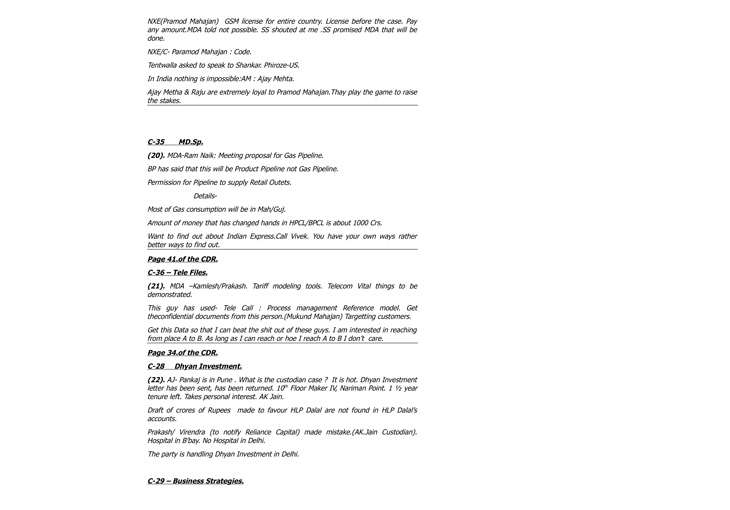 Shocking conversations
ICEGATE's PIL, which was accessed by Catch, includes transcripts of 30 conversations among individuals named Tony, Satish Seth, ADA, MDA, AS, SS, Ram Naik. Here are some portions of the transcripts which feature people with similar names as current and deceased politicians. Catch cannot identify these individuals or vouch for the authenticity of the transcripts.
"Jaitley, Supriya has been given 10 crores. How much money is Pramod giving? Five crores. Ask for 25 crores.
"Deve Gowda wants to join your party, for Karnataka. Help each other. Vijay Mallya paid Deve Gowda. When I know your feelings for Vijay & Gowda, I will not go."
"Restructure at my level & don't tell Arun Jaitley. Talking to Arun Jaitley means Malkin/Van all will know. Malkin is giving lot of gaali. King of streets. Take money/offered 5 Cr. Nera is saying not to take. Do the job. Ask for 25 Cr. Supriya has been given 10Cr. Don't quote me. Are you smaller than him or what."
"Governor/ Finance Ministry being hauled up. People have come on to this scam. Creating havoc. They are building this to cover up Tehelka. Money has been taken. It is with the consent of company law board SEBI. RBI has given company a clean chit - GTB. Kirit Somia is behind it. Prem Chand Gupta/ Praful Patel are to be told that if GTB has to be saved then Governor and Fin Ministry also have to be saved. We can't say that GTB is right and Governor/ Fin Ministry is wrong. So agree to Prakash Mani's line. We have made an adjustment with Prakash Mani that they will do nothing to Reliance and GTB."
"Prakash Mani's son is working in Reliance. And anyway Prakash Mani is fearful of me. He is also weak in his area."
"BJP wants 5 crore. In the larger interest, sometimes we should do it. Dy PM & PM will support this settlement. If the govt looses money and takes some allegations, it will not be a problem. Such allegations have come before."
"Teach Sunil Mittal a lesson at this moment. His services are stopped for now. Network of Bharti is closed in the sense the interconnectivity with MTNL is stopped/broken down so he is in the tight spot as it is. Teach him a proper lesson. Nobody is coming on line with him. Neither am I (Ajay) nor Narendra Sharma coming on line with him and Boss (Pramod Mahajan) has refused to accept his calls. Remove his chaddi and count his hair. Completely (Laugh). We are in full mood to give interconnection but want to make sure that Boss (Pramod) gets the credit for the whole thing. We cannot stop you from doing what you want."
"MDA-Ram Naik: Meeting proposal for Gas Pipeline. BP has said that this will be Product Pipeline not Gas Pipeline. Permission for Pipeline to supply Retail Outlets. Details - Most of Gas consumption will be in Mah/Guj. Amount of money that has changed hands in HPCL/BPCL is about 1000 Crs. Want to find out about Indian Express. Call Vivek. You have your own ways, rather better ways to find out."
"SS-ADA: Meeting at Matoshree at 3:30. Jaswant Singhji. Indian Express is by us and we are behind all this. We should make it clear how Indian Express has written against us. Tony told to pull out all the anti-Reliance articles in 6 months. So I can give it to Jaswant Singh. They have all the investigation agencies in control. They can find out who is behind it all."
Also read: Essar tapes: the incriminating conversations and the bigwigs involved