8 RSS think tanks that are competing for intellectual space in Delhi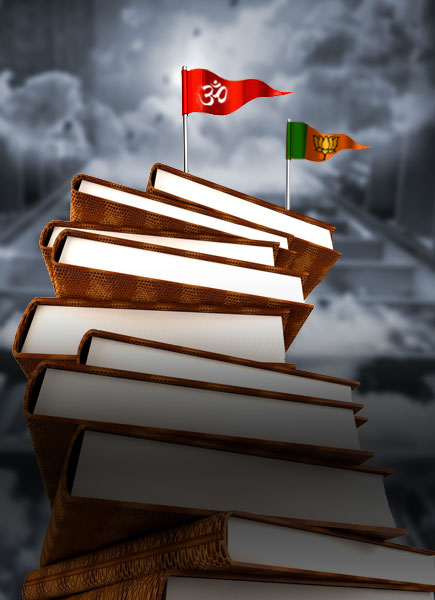 In the decade that it took the BJP to come back to power at the Centre, the Sangh Parivar appears to have been busy setting up an intellectual factory in Delhi.
At least eight think-tanks have been established in the national capital from 2004 and 2014, all supported by prominent members of the BJP and its fountainhead, the RSS.
While some of them make no effort to hide their ideological affiliation and some do, all of these organisations dabble in public policy.
Here's a look at these think-tanks.
01
Vivekananda International Foundation
Founded in 2011, VIF claims to be "an independent, non-partisan institution that promotes quality research and in-depth studies and is a platform for dialogue and conflict resolution".
A lot has already been reported on how the NDA government has handpicked many names associated with VIF in the past year. These include National Security Advisor, Ajit Doval, principal secretary to the PM, Nripendra Mishra, additional principal secretary to the PM, PK Mishra and NITI Aayog members Bibek Debroy and VK Saraswat.
VIF claims that it strives to monitor social, economic and political trends that have a bearing on "India's unity and integrity". It also says that universities and institutions of higher learning have not been able to fulfill these objectives that "fall under a broad head called 'nation-building'".
VIF believes that many of these institutions cannot be expected to work better, unless academia, think tanks and civil society engage with them and critique them on a regular basis.
The latest in the series, India Foundation was founded only in 2014. It claims to be "an independent research centre focussed on the issues, challenges and opportunities of the Indian polity".
It also strives to bring out 'Indian nationalistic perspective' on various issues and says that its vision is to be "a premier think tank that can help understand the Indian civilisational influence on our contemporary society".
Like VIF, India Foundation, too, is deeply connected with the NDA government. On its board of directors are Union Railway Minister Suresh Prabhu, Minister of State for Commerce Nirmala Sitharaman, Minister of State for Finance Jayant Sinha, BJP spokesperson MJ Akbar, BJP national general secretary Ram Madhav and NSA Ajit Doval's son Shaurya Doval.
The Economic Times had reported on 3 August that the foundation "is beginning to have the same influence on Modi government's policy thinking that the National Advisory Council had on UPA-1's".
03
Forum for Integrated National Security
Established in 2004, FINS describes itself as an 'apolitical think tank' that believes 'a secured nationhood can provide peace and prosperity to citizens', 'keeping national security at its core'. Its secretary generals are Seshadri Chari, an old RSS hand and BJP national executive member, and advocate Bal Desai.
The organisation is said to be promoted by influential RSS leader Indresh Kumar.
The subjects of some of its recent publications and events include:
Islamic State vs Armies of Rome In The 21st Century - "Is the IS a product of the environment brought about by religious texts, social and psychological factors that impacted the psyche of the jihadists or are jihadists themselves the creators of such environment and circumstances?"
Intelligence: An Insider's View - A book that talks about "how the intelligence community is invariably blamed by state administration, police forces and even by military units sent to aid the states whenever they are caught unaware, but no one is ever told of the IB's success stories, which are many."
Rethinking the Nuclear Doctrine - A paper that urges the BJP to rethink India's nuclear doctrine, because even though "India shall never attempt or endorse the first strike policy, but to counter countries that have nuclear weapons, India needs a reasonably large and dependable nuclear war-heads and efficient and not-so-long-range delivery systems."
Shaheed Swaraj Dweep Samooh Naman Yatra - An event to commemorate Netaji Subhash Chandra Bose's formal takeover of the Andaman and Nicobar Islands from the Japanese as the first independent territory of Azad Hind in 1943, and the renaming of the islands as 'Shaheed' and 'Swaraj' Dweep Samooh (island groups).
Engaging Bangladesh for Lasting Peace In North East - A lecture that mentions how there are "indications that the Chief Minister of Assam by 2026 will be a person of Bangladeshi origin or a person claiming to be from Assam from a specific community, duly supported by illegal migrants who have acquired voting rights and continue to expand their influence and strength". It also talks about how this situation must be prevented.
04
Dr Syama Prasad Mookerjee Research Foundation
Set up in 2008, the SPMRF professes to be a forum "committed to the nationalist ideological vision and thoughts of Dr Syama Prasad Mookerjee and Pandit Deendayal Upadhyay" that "strives to strengthen and to uphold issues and positions in tune with India's national interest."
The line up of its office-bearers and advisers reads like a list of who's who in the BJP:Honorary Director: Tarun Vijay, Rajya Sabha MP, BJP
Secretary: Arun Singh, national general secretary, BJP
Treasurer: Shyam Jaju, national vice-president, BJP
Trustees: Ram Lal, national general secretary (organisation), BJP; Prabhat Jha, MP and national vice-president, BJP; Vinay Sahasrabuddhe, national vice-president, BJP
05
India Policy Foundation
Established in 2008, IPF describes itself as a not-for-profit think-tank engaged in "high quality research, influential thought leadership, educated debates and policy recommendations to issues of national importance for India".
It also "aims to strengthen democracy and egalitarianism", with "utmost adherence to national interest".Its honorary director, Prof. Rakesh Sinha, is often identified in television debates as a "Sangh ideologue". According to IPF's website, he is credited with "breaking the ice on the Sachar Committee report, minority report, Dalit studies, media reporting and independence".
[twittable]Prominent RSS and BJP members are part of eight think tanks set up in Delhi over the last decade or so[/twittable]
On Twitter, he claims to have authored the biography of RSS founder Dr KB Hedgewar and says he stands for cultural nationalism and egalitarian social order.
The subjects that IPF's events and publications are occupied with include - Organised Violence against Hindus in Bangladesh, A Uniform Civil Code-Necessary Step Towards National Integration, Intellectuals in Contemporary Society, Hindus Betrayed, Census 2011- Blinkered Vision Fragmented Ideas, Integral Humanism - A Response to Neo-Liberalism, the Ranganath Misra Commission's "outrageous recommendation to provide reservation to new converts from Hindu religion to Islam", Dr Hedgewar and Indian Nationalism.
06
Forum for Strategic and Security Studies
Set up in 2010, FSSS claims to be an "independent, non-profit making, non-political institution" that provides "a platform for research, analysis, option formulation and evaluation of national security policies of, and security relationships between, states, particularly those in South Asia and the Asia Pacific region".
Seshadri Chari is also a director of this organisation.
The institute's areas of "special research" include Nuclear Proliferation Review - Ripple Effect on Global Nuclear Strategies and Arms Control, Missile Defence, South Asian Security Environment, Global War on Terrorism, India's Security Matrix, Conundrum in Afghanistan, Indo-Bangladesh Relations and Climate Change and Environmental Security.
07
Public Policy Research Centre
Established in 2011 and fully launched in October 2013, PPRC honestly declares that it is a "unique initiative supported by the Bharatiya Janata Party (BJP)" to address "the emerging challenges of 21st century".
It says it started with the initiative of Union Transport Minister Nitin Gadkari, and gets 'strong support' of Home Minister Rajnath Singh and Parliamentary Affairs Minister Venkaiah Naidu.
Its board of directors is led by BJP's national vice-president Vinay Sahasrabuddhe.
08
Centre for Policy Studies
There could be many more think-tanks in Delhi, in addition to these, whose direct links with the BJP and the larger Sangh Parivar are not obvious. Like the Chennai-based Centre for Policy Studies, whose Delhi wing was established in 2003.
The centre was established in 1990 and its trustees include RSS economic ideologue S Gurumurthy, former RSS ideologue KN Govindacharya and senior BJP leader Balbir Punj.
It claims to be "an institute for research and study aimed at comprehending and cherishing the essential civilisational genius of India, and to help formulate a polity that would allow the Indian genius to flourish and assert itself in the present day world".
The subjects of its publications include Ayodhya and the Future India, Changing Religious Demography of India and Sanatana Bharat Jagrita Bharat, among others.
One can't be sure whether the objective behind the spurt in the number of these organisations is to answer the search for right-wing intellectuals, or to shape public opinion towards the right. What is clear is that some of them have definitely begun to shape public policy under the NDA.