Dry run: Bihar bans liquor in rural areas, restricts sale in urban centres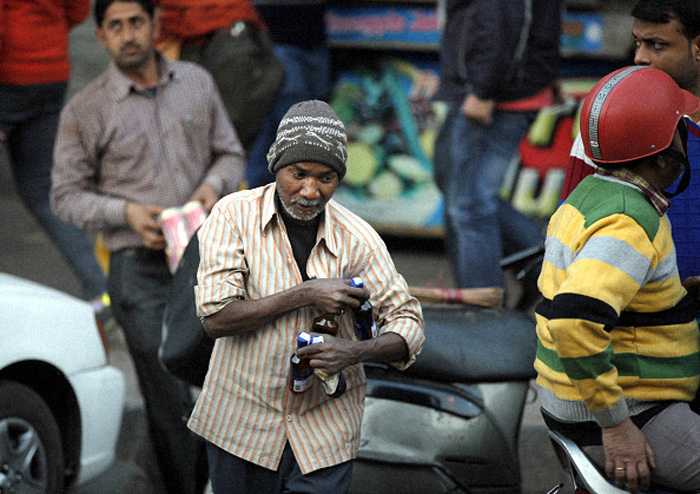 It was a day of rare solidarity in the Bihar Assembly on 30 March. After unanimously passing the Bihar Excise (Amendment) Bill, 2016 banning countrymade liquor, all MLAs vowed to give up alcohol and encourage others to do so.
The liquor ban was one of Chief Minister Nitish Kumar's main campaign promises, and one of the first he had reiterated after winning the assembly election last year.
The new law imposes a blanket ban on the trade of countrymade spiced alcohol in Bihar. It provides for stricter punishment, including the death penalty, for the makers and distributors of illicit alcohol in the event of a "hooch tragedy".
Also read: Soon, liquor will be cheaper than water in Telangana
The sale of Indian-made foreign liquor- known locally as English liquor - in rural areas, too, is an offense now. It can only be bought from state-approved shops in urban areas.
'Charity begins at House'
To mark the passing of the strict law, the assembly put on a show to match. The BJP members demanded an oath from the ruling party's legislators and ministers that they would not touch alcohol in the future. The speaker Vijay Chaudhary promptly approved the proposal. The chief minister seconded him: "Charity begins at home. This demand shouldn't be ignored. All the MLAs should take a vow that they would not take liquor."
Charity begins at home. All the MLAs should take a vow to not take liquor: @NitishKumar
The speaker then administered the oath to the MLAs - even those who face charges of eve-teasing and committing rape, often in an inebriated state. The Nitish government was left red-faced recently when pictures of a ruling party MLA, Gopal Mandal, showering currency notes on bar dancers went viral. He was said to have been intoxicated at the time.
First step towards complete ban
Participating in the debate on the bill, Nitish assured the assembly that his government "will eventually enforce a complete ban on liquor in Bihar".
Also read:Tears flow, alcohol dries up in Bihar as Nitish imposes ban on sale of liquor
"There should be no doubt in this regard. We will enforce a total prohibition as soon as the situation is favourable. The first line of the bill makes it clear that we intend to ban liquor completely. In the first phase, we are imposing a complete embargo in rural areas and partial interdiction in urban areas. Only foreign liquor will be available in government outlets in urban areas. And we have reduced the number of liquor shops from 5,500 to 655. The government will run all these shops," he said.
The chief minister said the police and excise departments have "formulated new guidelines" to implement the law. "All officials have been instructed to proactively enforce the provisions of the bill," he added.
The police and excise departments, Nitish informed, have already set up a "joint control room where common citizens can register complaints". The complaints would be sent to local police stations, which are obligated to investigate them and report back to the control room.
Also read: Alcohol ban to cost Bihar a whopping Rs 4,000 crore annually in tax revenue
Furthermore, CCTV cameras would be installed at all border checkpoints to curb liquor smuggling, and electronic locks and GPS systems would be fitted in vehicles transporting the liquor. All supply vehicles bringing in liquor from other states would have to leave Bihar within 24 hours or face police action.
New law: vehicles bringing liquor from other states must leave Bihar within 24 hours or face police action
'Death penalty for hooch tragedy'
In the rural areas, even serving liquor will be a crime from 1 April, attracting a maximum punishment of five years in prison. "Creating a ruckus in a public place after drinking" will also be punishable by up to five years in jail. The latter provision will apply to urban areas as well.
People caught buying or selling countrymade alcohol can land up in prison for 8-10 years. The most stringent provision of the law is aimed at "curbing hooch tragedies". Any person "found guilty in such an incident" can get the capital punishment while "any hooch tragedy leading to disability in victims" could be punished with a "life term for the convicted persons".
Edited by Mehraj D Lone
Also read: Nitish Kumar promises to ban liquor in Bihar if re-elected