Disaster map: how the spreading drought has ravaged India
The ongoing drought covers a vast area of India, affecting nearly 33 crore people, or about a third of the country's population.
Read- #DroughtDiary: Farm loans rise in Maharashtra; water supply schemes fail in Gujarat
According to an affidavit filed by the central government in the Supreme Court - in response to a petition by Swaraj Abhiyan on drought relief - at least 256 districts in 10 states are affected by drought. This map shows the geographical extent of the drought.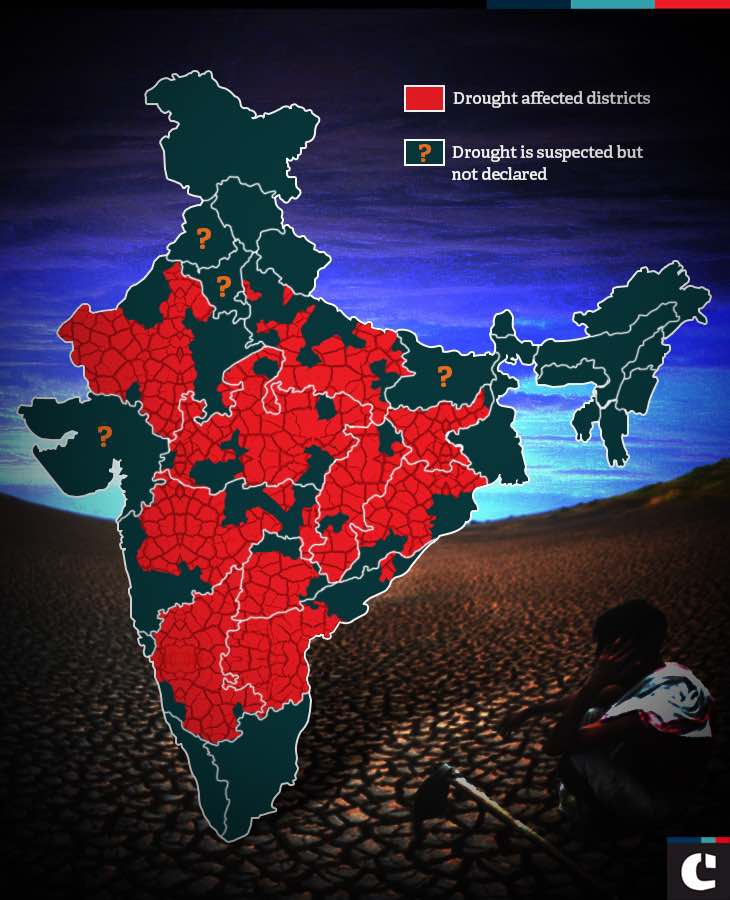 Arya Sharma/ Catch News
Some states haven't yet declared a drought or submitted official data. Here's a fact sheet on the drought in the rest of the country.
Uttar Pradesh
Districts affected: 50 of 75
Villages affected: 72,014
People affected: 9,88,54,225 (= to the population of Philippines, the world's 12th most populous country)
UP has the highest number of people affected by the drought. Seven districts are a part of the Bundelkhand region. The drought was declared in November 2015. The declaration was criticised for having come too late as the monsoon had failed by September, and even the 2014 monsoon had failed.
MGNREGA work is available for 150 days, and the National Food Security Act has been implemented. The Prime Minister's Office recently set up a high-powered committee to review drought relief.
Madhya Pradesh
Districts affected: 46 of 51
Villages affected: 42,829
People affected: 4,00,00,000 (= eight times the population of Norway)
Madhya Pradesh declared drought in 35 districts in October 2015, and in the other 11 in subsequent months. These include six districts of Bundelkhand. The state was slow in implementing MGNREGA in affected districts, but has done better in ensuring cheap foodgrain through the NFSA.
Check out: These photos show us what it's like to live without water in Latur
Maharashtra
Districts affected: 21 of 36
Villages affected: 15,747
People affected: 3,68,77,505 (= the population of Canada)
The state's Marathwada region is one the worst affected by drought in the country. The drought for this year was declared in October 2015. Last year, the government launched a scheme to build farm ponds, which was widely acclaimed. However, construction has been slow and just a tenth of the ponds are said to be ready for use. Farmer suicides are very high in this region, with more than 3 suicides a day in 2016.
Jharkhand
Districts affected: 22 of 24
Villages affected: 29,639
People affected: 3,17,28,726 (= population of Malaysia)
Jharkhand declared drought in December 2015. There are reports of water shortage in the capital Ranchi.
Karnataka
Districts affected: 27 of 30
Villages affected: 22,759
People affected: 3,11,91,173 (= three times the population of Portugal)
Karnataka declared drought in a series of announcements from August 2015 to April 2016. This is said to be one of the worst droughts the state has faced. Many farmers have committed suicide. The central government has approved Rs 753 crore for relief although the state had demanded twice as much.
Also read- #DroughtDiary: Marathwada reservoirs at 3% of capacity, 11-year-old dies while fetching water
Andhra Pradesh
Districts affected: 10 of 13
Villages affected: 6,974
People affected: 2,35,37,861
The drought was declared in October and November 2015. Most reservoirs feeding Andhra Pradesh and Telangana have fallen to dead storage levels, and the crisis has caused mass migration of people. There is also acute shortage of cattle fodder.
Chhattisgarh
Districts affected: 25 of 27
Villages affected: 16,878
People affected: 1,99,45,901
The state declared drought in September and November 2015, and demanded Rs 4,000 crore from the Centre for relief. Recently, the state preponed school timings and said midday meals will continue to be served during the summer vacations.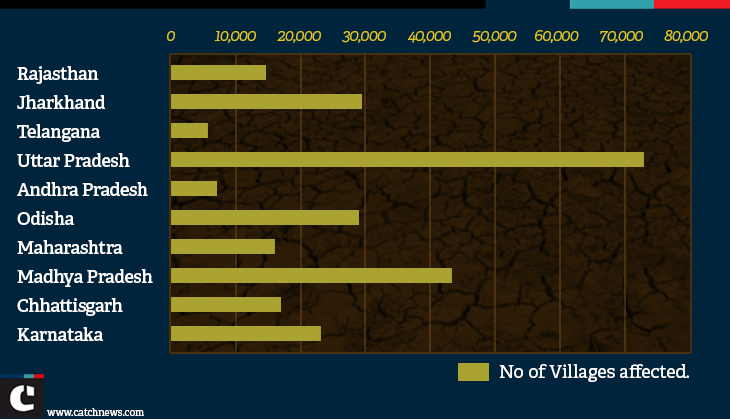 Arya Sharma/ Catch News
Rajasthan
Districts affected: 19 of 33
Villages affected: 14,487
People affected: 1,94,69,000
The state declared drought in December 2015, with over a quarter of all its villages facing water scarcity. The state has begun supplying water by trains and tankers.
Telangana
Districts affected:7 of 10
Villages affected: 5,519
People affected: 1,78,33,289
The state is reeling under drought for the second straight year. This time, it was declared in November 2015 after the monsoon failed. At 1.78 crore, the state has more people affected by drought than Odisha although it has only a fourth of as many affected districts.
Read more: The world's having a meltdown, and these 10 cities are proof
Odisha
Districts affected: 27 of 30
Villages: 29,077
People affected: 1,67,51,862
The state declared drought in most of its districts in March. It has received about Rs 276 crore in drought assistance, although it had demanded nearly four times as much.
Other states
During court proceedings on Swaraj Abhiyan's petition, it emerged that at least three more states could be affected by drought, but they have either not declared it or not filed an affidavit in court. As a result, there is little data on the drought situation in these states.
The Supreme Court has come down heavily on Gujarat for filing official notes instead of an affidavit. Once an affidavit is filed, exact numbers will be clear. The state is reported to have told the court that it has declared drought in 526 villages in three districts. It implemented the National Food Security Act on 1 April, although the drought situation was clear in September 2015.
Also read- Drought vs IPL: The show must go on. Let the poor be damned
The Gujarat government reportedly supplies water through tankers to 317 villages in 14 districts, and the number may rise to 468 villages. The state has doubled the amount of water supplied by the Narmada dam to smaller dams, and paramilitary forces have been posted to prevent theft of water from the Narmada canal .
Bihar hasn't declared a drought despite poor monsoon. Punjab and Haryana haven't either although both had over 30% deficient rainfall last year.
Edited by Mehraj D. Lone
More in Catch:
Mind = blown. Plants may have memories too, says game-changing new research
Varanasi can never be just one colour: Ghulam Ali's concert a success
Heritage at risk: is NGMA another inferno in waiting?
#DroughtDiary: Farm loans rise in Maharashtra; water supply schemes fail in Gujarat