Digvijaya Singh may have a point: Entrapment in terror cases is a scary reality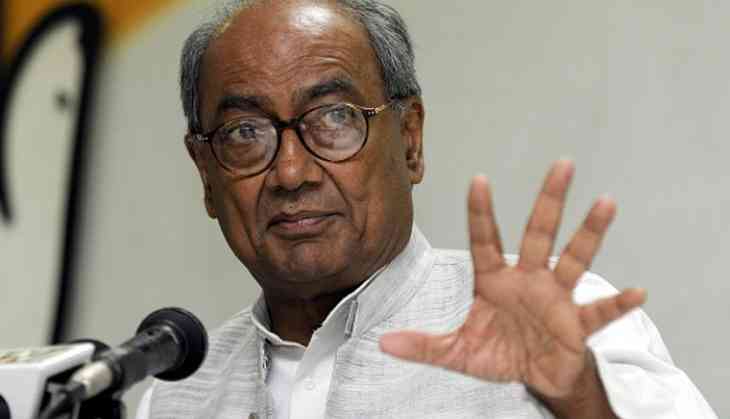 Senior Congress leader Digvijaya Singh sparked a controversy with a series of tweets on Monday, alleging that the Telangana police has set up a 'bogus ISIS site which is radicalising Muslim youths and encouraging them to become ISIS modules'.
Telangana DGP Anurag Sharma was quick to react on Singh's allegation and said, "Unfounded allegations from a senior leader will lower the morale and image of police engaged in fighting anti-national forces".
Telangana minister KT Rama Rao, son of CM K Chandrasekhar Rao also debunked the allegation saying, "Most irresponsible and reprehensible thing coming from a former CM. Request you to withdraw these comments unconditionally or provide evidence".
A prominent English news channel, known for its jingoism, even went to the extent of labelling Singh a traitor by running a hashtag "#DigvijayBetraysIndia".
It is possible that the Congress leader posted these tweets to gain some political benefit for the Congress party or woo a section of the Muslim community. After all, Singh has recently been relieved of his responsibilities as the party in-charge for Goa and Karnataka. It could also be to put the TRS and the AIMIM on the back foot after the state government gave 12% reservation for backward Muslims.
It must also be remembered that Singh has some supporters among North Indian Muslims. Perhaps he made these allegations after being shown some evidence. The allegations are very sensitive in nature as they directly involve state agencies, not non-state actors. If proven wrong, the chances of the allegations backfiring are also high.
Entrapment in terror cases
While one can debate and investigate what led him to make these serious allegations, it is also a fact that entrapment has been used by the various state agencies in the name of 'counter terrorism' for long now, globally as well as domestically.
Several writers and organisations have documented it over the years. A report published in The Guardian five years ago, shows how USA's Federal Bureau of Investigation (FBI) uses paid informants to run "a sting operation across America, targeting vulnerable people by luring them into fake terror plots". This was also confirmed by a report by the Human Rights Watch (HRW) in 2014.
The 214-page report, "Illusion of Justice: Human Rights Abuses in US Terrorism Prosecutions" noted, "The FBI often targeted particularly vulnerable people, including those with intellectual and mental disabilities and the indigent. The government, often acting through informants, then actively developed the plot, persuading and sometimes pressuring the targets to participate, and provided the resources to carry it out."
Similarly, Dr. Shamshad Ahmad in his book Rounded Up: Artificial Terrorists and Muslim Entrapment After 9/11 (2009) documented how two of his friends were entrapped by the FBI after the September 11 attacks.
Moreover, in this regard, writer and novelist Amitava Kumar's book, Evidence of Suspicion: A writer's report on the war on terror is a telling one as it illustrates Indian cases as well. Both these books demonstrate how security agencies use their networks of informants to entrap innocent people and manufacture 'terrorists'. Given the growing reliance on the internet, it is quite possible that now these networks have been moved to online spaces from physical ones.
Cases in India
Among the Indian examples, the case of Mohammed Amir and Irshad Ali are most significant. Mohammed Amir of Delhi was approached by the Intelligence Bureau to act as an informant when he was visiting his relatives in Pakistan in 1997-98. Amir was visiting Pakistan to meet his relatives. He was assigned by one "Gupta ji" of IB, to take photographs of the Naval Headquarters at Karachi's Shah Faisal Road and meet a man named Chaudhary to collect a bag of documents.
He took up the work because he was excited to visit a foreign country. But when he eventually failed in his assignment, he was put in jail and framed in various terror cases. He had to spend 14 long years in Indian jails in order to prove his innocence. Amir is yet to come out of the trauma that he and his family had to go through because of the cases he was implicated in.
Similarly, Irshad Ali worked as an informant of the Delhi Police Special Cell and Intelligence Bureau since 2001. But in December 2005, when Ali refused to join a militant camp in J&K, he was 'abducted' by Special Cell and IB officials, kept in illegal custody for days, tortured severely and eventually branded as dreaded terrorist of Al-Badr.
It took Ali and his friend Maurif Qamar 11 years to prove that they were not terrorists but police informants. And this despite the fact that a CBI investigation report cleared them in November 2008.
There are several such stories. So while it is incumbent upon Singh to prove his accusations, they cannot be dismissed entirely.
It can argued that entrapment is an acceptable method in counter terrorism operations. But we should also not forget that it comes with certain conditions. It has to be in accordance with the law, which is not the case most of the time.
Entrapment, in the name of counter-terrorism, cannot be allowed to become law unto itself. It should be preventive in nature rather than inviting people people to indulge in acts of terror or crime. There has to be some mechanism of accountability.
Meanwhile, Singh should also explain on what basis he made the allegations and cooperate with the state government so that the problem can be solved. Otherwise, it will only be seen as a political gimmick.