Did Rao Inderjit try to push for failed Beretta guns as MoS Defence?
Catch Team
| Updated on: 10 February 2017, 1:48 IST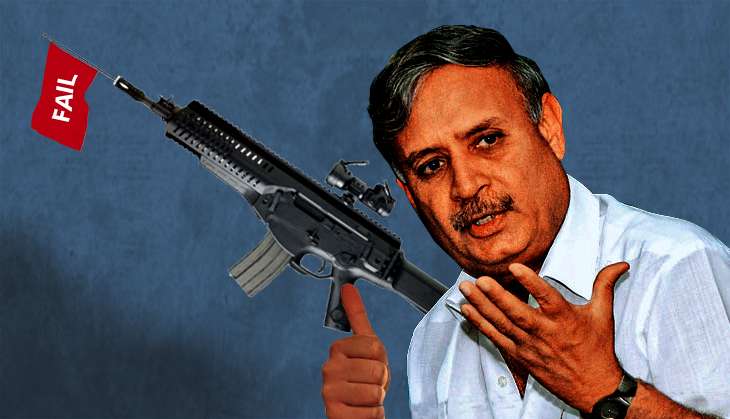 The allegations
Minister of State Rao Inderjit Singh was recently moved from Defence to Urban Development
Reports suggest he had been arguing for the army to procure Italian Beretta guns
The shortfall
The Indian Army has been facing a severe weapons and equipment shortfall
It had floated a tender for 44,600 carbines, and Beretta had failed the field tests
The stories behind Prime Minister Narendra Modi's mega Cabinet reshuffle are continuing to trickle out, three days after it took place.
On Friday, newspapers carried reports about the possible causes behind Minister of State for Defence, Rao Inderjit Singh, being shifted to the Urban Development ministry.
According to one report, the cause was a fight he picked up with senior MoD officials, regarding his insistence that his department had been 'unfair' in its selection procedure of choosing guns for the army.
The selection process
The Indian Army had, in 2010, issued a tender for 44,600 carbines, after several problems had been reported from its standard issued rifles. Even an upgrade could not help matters, after defects like broken plastic cartridges were noticed on it.
Five companies participated in the bidding for these guns - Swiss Sig Suer, Italian Beretta, American Colt, Czech Ceska and Israeli IWI.
However keeping in mind the army's specific requirements - for instance, an interchangeable barrel which can fire both INSAS and AK-47 bullets - only three manufacturers were shortlisted - Beretta, Colt and IWI.
The laser sights of two of these manufacturers - Beretta and Colt - were reportedly not up to the mark, and they were disqualified, which just left the Israel Weapon Industries. IWI's guns passed all tests.
Arguing for Beretta
But Beretta had been pushing for retrials. It is learnt that Singh was pushing Beretta's case all along.
In February last year, Singh asked the army to conduct retrials, against which the army raised several objections.
Then in June, he asked Beretta guns to be brought back to the negotiation table, and for the laser sights to be manufactured separately.
The Defence Acquisition Wing (DAW) is learnt to have raised objections to this demand, saying that such a move would not stand legal scrutiny.
In a meeting on 25 June last year, Singh is learnt to have got into a heated argument with senior MoD officials over the issue, and even threatened them with a CBI inquiry. Defence Minister Manohar Parrikar is said to have personally intervened to cool down high tempers. This final episode is said to have not gone down well with the PMO.
The episode - an MoS bickering about and, reportedly, pushing the agenda of an arms manufacturer which has proven to be a failure, comes at a time when the army is battling, of all things, a severe crunch in resources.
Beretta's controversies in India
Beretta has had quite a troubled history in India. Four years ago, the company ran into trouble with the Border Security Force (BSF), for shipping substandard guns. The BSF was also looking to replace the aging INSAS rifles with better and more modernised weapons.
In a contract with the BSF worth Rs 200 crore, Beretta had agreed to supply the BSF with 30,000 sub-machine guns. When the BSF tested some of the first 17,000 guns that were shipped to it, the paramilitary force found severe defects with the guns.
The arms manufacturer, well known for its handguns, had shipped high-tech MX4 9mm Storm assault rifles. However in field trials the gun's barrel was found to bulge.
In an internal memo, senior BSF officers, who'd tested the gun, said the quality of the barrel was so bad that it would not only be ineffective after several rounds were fired from it - it was a potential hazard for soldiers, in whose hands it could at any time blow up.
Several of these rifles were found to be corroded; several others had tool marks on them, and others were not even in a serviceable condition.
Army battling limited supplies
While the controversy over guns for the army continues to rage, the truth is that at this moment, the army is suffering from a huge equipment crisis. The tender for 44,600 carbines is the tip of the iceberg when it comes to the actual number of guns the world's third largest standing army needs.
The army desperately needs modern assault rifles, close-quarter battle carbines, light machine guns and sniper rifles. While the army has just placed an order for bigger, Bofors design guns, till they come, it will have to deal with an obsolete stock of 155mm guns, which were procured 30 years ago.
The army is also suffering from a shortfall of about 1.9 lakh bullet-proof vests, and about as many light weight ballistic helmets.
The deficiency in the ammunition department of the Indian Army is well known. The army has ammo to only to deal with 20 days of 'intense fight', not 40, which is what is prescribed.
And while all other modern defence forces have equipped themselves with night-fighting capabilities, the Indian Army has a severe deficiency in this department as well. It has not procured any new helicopters and no anti-tank missiles, which will be crucial in times of a field attack.
Edited by Shreyas Sharma
More in Catch
Govt okays huge gun deal, India to purchase 145 Howitzers
Defence forces short of even ammunition, leave alone high-tech equipment
Arms race: India's expenditure on defence has never been higher