Did Modi silently visit Kashmir? Govt's PR arm messes up big time
Did you know that Prime Minister Narendra Modi was in Jammu and Kashmir on Monday, 7 November? And that he visited Srinagar and Ramban, and addressed public gatherings there? You didn't know, did you?
Now go back to that newspaper you thought you had read enough to know about Monday's biggest developments. What? No reports in your newspaper? That's okay. Your newspaper is not trustworthy enough. Trust only the government's news and PR wing, the Press Information Bureau.
If you logged on to PIB's website on 8 November, you might have been tricked into believing that the PM finally ended his self-imposed boycott of J&K.
"English rendering of the text of PM's remarks at the public gathering in Chanderkote, Ramban, in Jammu and Kashmir," said one of the press releases on the homepage.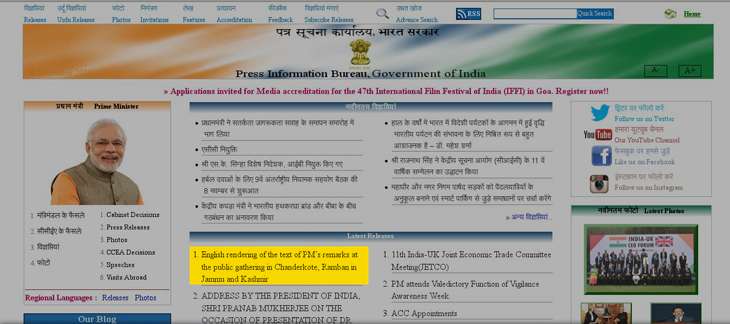 Screenshot of the PIB homepage with the link to PM Modi's speech highlighted.
Clicking on the link took one to the detailed transcript of the speech dated 7 November 2016, 17:49 IST.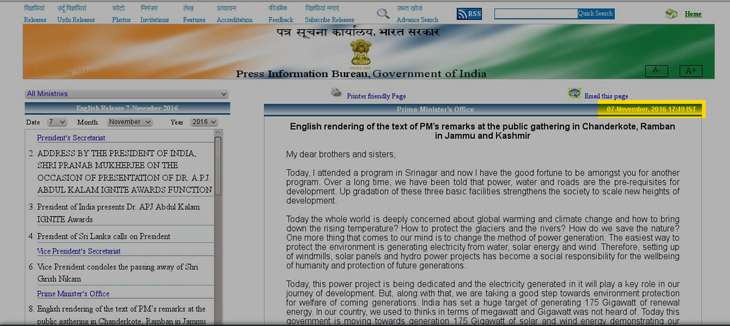 Screenshot of PM Modi's speech on the PIB, with the date (7 November 2016) highlighted.
The release was baffling because no other source corroborated Modi's visit to the state. No newspaper, no TV channel and no website had carried any related reports.
Was it that Modi visited J&K and the entire media decided to boycott him, in solidarity with the protests against the government's ban on NDTV? Maybe. But, if the social-media savvy PM did indeed visit the state, he would surely have tweeted about it. There were no tweets on the visit either, including from Modi's own Twitter handle.
What really happened
What really happened was that the PIB committed a major blooper by re-posting an old speech. Modi had visited J&K exactly a year ago, and the speech referred to in the PIB release was from that visit.
PIB realised its mistake later in the day and quietly removed the post from the homepage.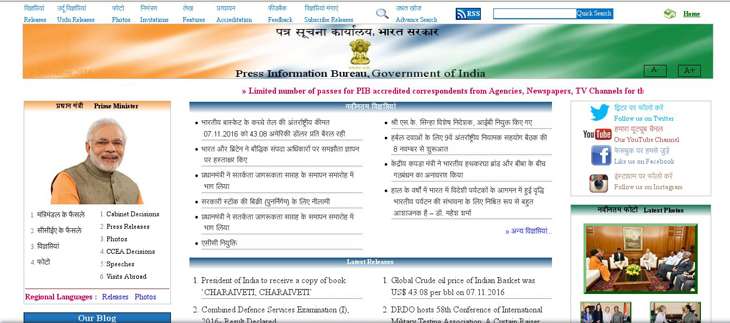 Screenshot of the PIB homepage, after the link to PM Modi's speech was removed.
It also changed the date on the transcript from 7 November 2016, 17:49 IST, to 7 November 2015 17:49 IST.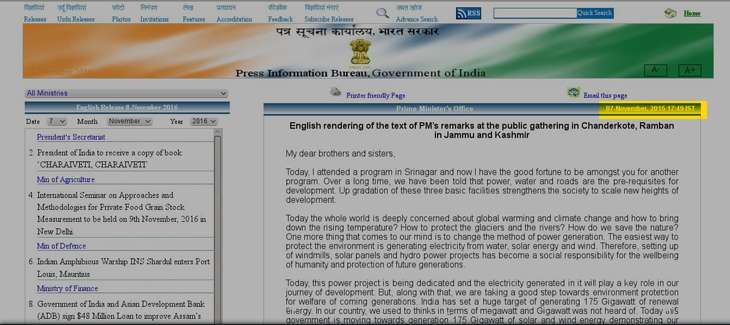 Screenshot of PM Modi's speech on the PIB, with the date (7 November 2015) highlighted.
There was no acknowledgment of the blunder, or that it was being corrected - either on the PIB's website or on its Twitter handle.
Nevertheless, there are two lessons to be learnt from the incident - one, that the PIB is not being manned by alert personnel, and two, the Prime Minister's Kashmir boycott continues.
Edited by Shreyas Sharma
More in Catch
Why, oh why did PIB do this to Prime Minister Narendra Modi?!
'Photoshopped' Information Bureau? Not just Modi, PIB also tampered Manmohan Singh's images
Laughs guaranteed: epic memes on PIB's doctored image of the Prime Minister