127 dead in Indore-Patna Express crash: was sabotage behind fractured track?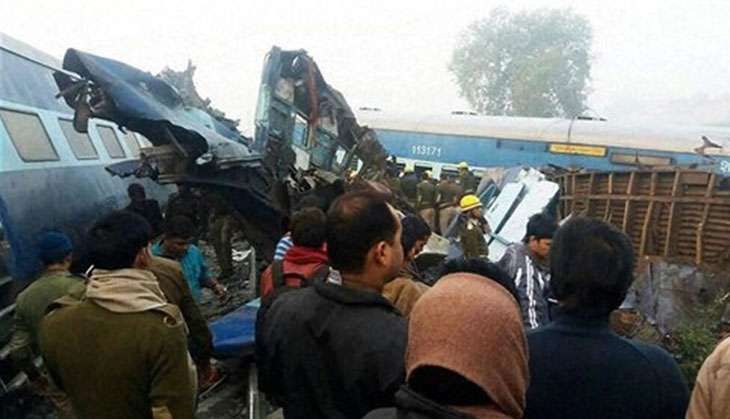 Suspected foul play has emerged as a cause of the derailment of Indore-Patna Express, in which at least 127 people were killed on Sunday.
Nearly 200 passengers were also injured, in what was one of the worst train accidents of recent times.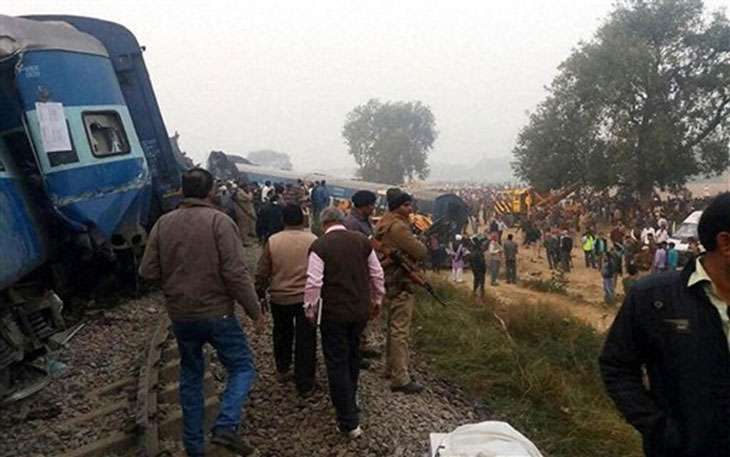 PTI photo
The tragedy occurred at around 3am on Sunday when 14 coaches of the Indore-Patna Express derailed at Pukhrayan station of Kanpur Dehat, when the passengers were fast asleep.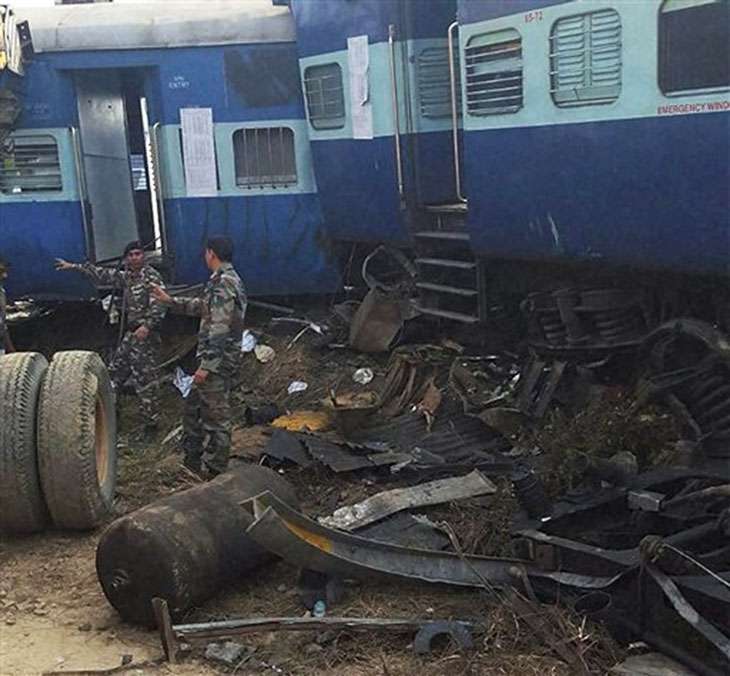 PTI photo
Although coaches S1 to S6 of the train were badly damaged, S2 and S3 were mangled, as one of them had telescoped into the other. Four AC and four general coaches also derailed, but the damage to them was not severe.
The driver of the train was said to be missing.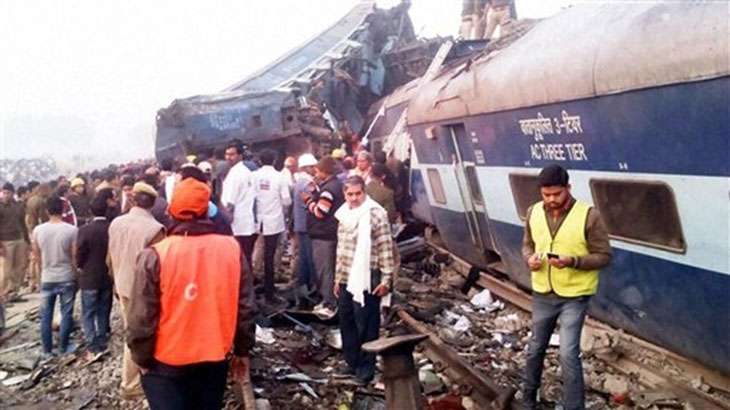 PTI photo
Sabotage?
Union Minister of State for Railways Manoj Sinha said a 'fracture' in the track may have caused the unfortunate tragedy. He said a high-level inquiry had been ordered and responsibility will be fixed. "Anyone found guilty will not be allowed to go unpunished," he said.
Although the railways authorities said the exact cause of derailment was yet to be ascertained, Bharatiya Janata Party MP from Kanpur and senior leader Murli Manohar Joshi said that if 14 coaches derailed in one go, one needed to see if the rail was broken by someone out to defame the Ministry of Railways. Joshi sought a thorough probe into the accident.
A former divisional railway manager of Northern Railway, however, ruled out sabotage. On the condition of anonymity, he said the 'jumbling up' of coaches happens when rails contract, mainly early on winter mornings. If welds in the rails are not good, they crack.
"The fatigue point usually comes after a few bogies have passed. Once the rail breaks, it blocks the subsequent coaches, resulting in their jumbling up."
The weld at this particular part of the track may have gone undetected, he said.
Rescue operations
Sinha had reached the accident site around 2 pm, while rescue operations were underway to save still trapped in the coaches, which had toppled over, necessitating use of gas cutters. Sensors were also being used to track passengers.
Teams of the National Disaster Relief Force, the army, and local policemen were busy in relief and rescue efforts. Uttar Pradesh's ADG, law and order, Daljeet Chaudhary, was in Kanpur to monitor the operations.
Uttar Pradesh Chief Minister Akhilesh Yadav, in fact, promised all assistance in rescue operations. "Politics can wait," he said.
Compensation
The families of each person who lost his or her life in the accident will receive a total of Rs 14.5 lakh from various arms of government.
Railway Minister Suresh Prabhu announced an ex-gratia of Rs 3.5 lakh for the families of each deceased in the accident, and Rs 50,000 each for those seriously injured.
Prime Minister Narendra Modi, meanwhile, announced Rs 2 lakh and Rs 50,000 each from the Prime Minister's Relief Fund.
UP CM Akhilesh Yadav announced an ex-gratia of Rs 5 lakh for each deceased person, and Rs 50,000 for the injured, while his Madhya Pradesh counterpart Shivraj Singh Chouhan announced Rs 2 lakh and Rs 50,000 each respectively.
Bihar Chief Minister Nitish Kumar, too, announced compensation for the victims - Rs 2 lakh for the dead and Rs 50,000 for the injured.
MP passengers suffer
The derailment took a heavy toll on passengers from Madhya Pradesh, as many of them were travelling in the worst-affected S1 and S2 coaches.
Sources said that 150 passengers had boarded the train from Ujjain and another 52 from Dewas.
Madhya Pradesh Chief Minister Shivraj Singh Chouhan visited Kanpur's Hallet's Hospital, where injured passengers from the state were undergoing treatment. While expressing satisfaction with the arrangements at the hospital, Chouhan said he had asked a team of doctors to stay put in Kanpur, just in case help was needed.
A local journalist said 517 passengers had boarded the train in Varanasi, but so far, there was no news of any casualty, barring that of five of a family from Ghazipur.
Some of the injured were also taken to hospitals in Lucknow.
Worst accident in a long time
This is the worst railway accident in terms of number of casualties since 2005, which actually saw two terrible tragedies.
The first of these happened when some coaches of the Repalle-Secunderabad passenger train fell into the Musi river after derailment in the Nalgonda district of Andhra Pradesh in October 2005. At least 100 people had died in the tragedy.
The other accident involved the Mandovi Express, and took place in November 2005, when in a tunnel near Ratnagiri, some coaches and the engine were crushed under rocks.
Edited by Shreyas Sharma
More in Catch
100 dead, 150 injured as Patna-Indore Express derails in Kanpur; helpline numbers issued
Patna-Indore train tragedy: Death toll rises to 100; PM Modi, Rajnath Singh express grief
Indore-Patna Express tragedy: UP CM Akhilesh Yadav announces ex-gratia for kin of victims