Dholahat violence: empty streets on Eid, but normalcy restored
After Mamata Banerjee's stern message on 12 September that she wouldn't allow for any disharmony and disruption of peace in West Bengal, normalcy is returning to Dholahat in South 24 Parganas where violence had erupted on 11 September over the brutal murder of a cattle trader.
What happened?
It all started when the body of affluent cattle trader Abdul Rauf Laskar was found in Lakshminaryanpur in South 24 Parganas, 4 km inside Dholahat on 5 September. Then on 11 September, when Muslims from various villages gheroaed the Dholahat police station enquiring about police investigation into the murder that things took a nasty turn.
When the police failed to give a satisfactory answer, the villagers torched two police vans and also pelted stones inside the police station. In order to pacify the mob, the police then opened two rounds of fire and as a result of the firing a 28-year-old boy Abdul Salam Laskar was killed.
Also read - Bengal: Tension prevails in Dholahaat after murder of alleged cattle smuggler
While the family members of the victim allege that youth belonging to cattle protector outfits from Bhajna village - predominantly a Hindu village - murdered Laskar, villagers from Bhajna claimed that miscreants associated with cattle smuggling were responsible for his murder.
Police action
So far, 49 people have been arrested in connection with the attack on the police station. Of the 49, three people - Hanif Mollah, Saifuddin Haldar, Haider Ali Sordar - have been sent to police custody by a court in Kakdwip. The rest have been sent to jail for at least 14 days.
Bhajna speaks up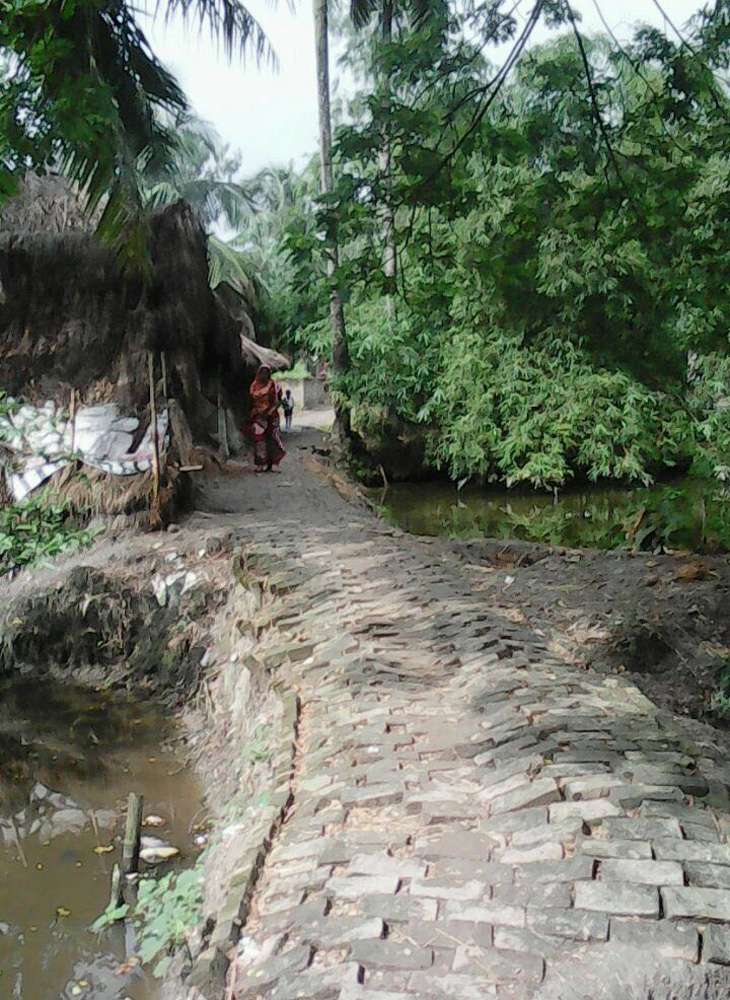 A number of youths from Bhanja are associated with cattle protection outfits backed by right-wing organisations. (Sulagna Sengupta)
Bhajna, a village located 5 km inside Dholahat, is predominantly a Hindu bastion with people mostly engaged in farming and jari work. The women of that village mostly work as household helps and come to Kolkata to earning their livelihood.
Subodh Saha, 26, a resident of Bhajna village who owns a grocery shop, says, "After the murder of Rauf Laskar, there was tension in the village as some miscreants barged into our village at night and tried to threaten us, saying our community had been responsible for Laskar's murder. Villagers are no only feeling safe ever since police patrolling began on Tuesday."
The RAF has cordoned the entire village, which has around 1,500 residents. On Tuesday, Trinamool MLA Jagaranjan Halder visited the village to assure them that the area would be back to normal in no time.
Rabi Mondal(23) a resident of Bhajna village who stays with his wife and one five year baby boy said " For last few days since we heard about the murder, we could not sleep peacefully as the fear looms large . But police came and controlled the situation and now we are getting confidence slowly."
A hollow Eid in Dholahat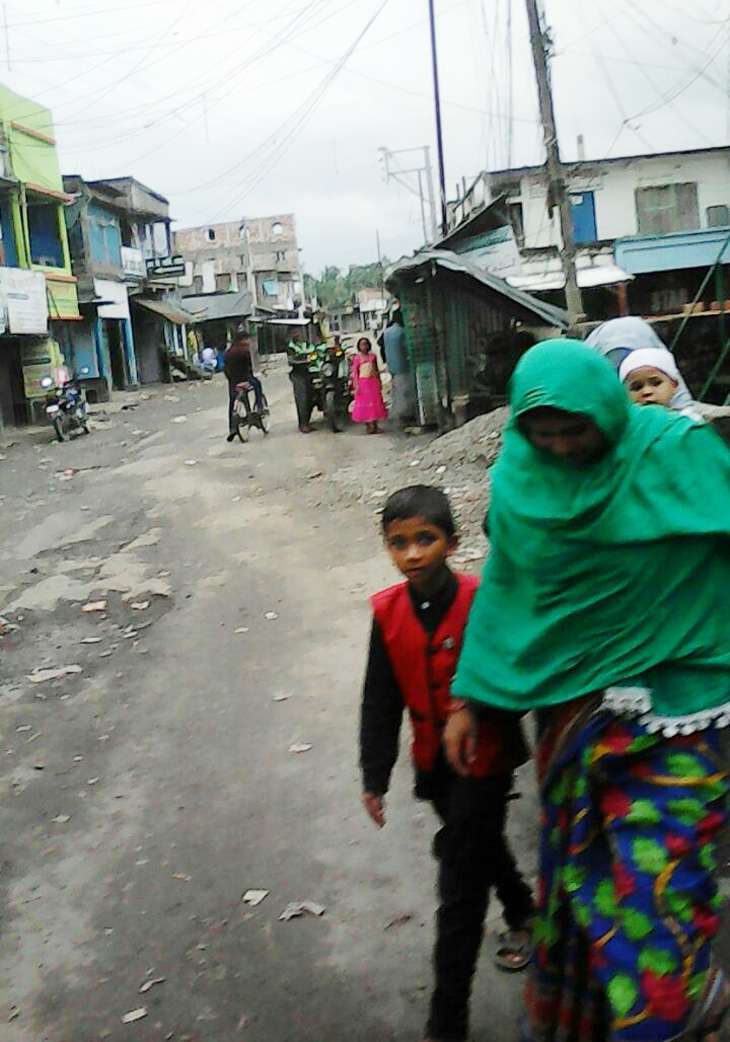 Shops had their shutters closed in Dholahat on Eid. (Sulagna Sengupta)
While Bhajna village is comparatively calm and peaceful, in Dholahat some communities are celebrating Eid in their own way. However, a pall of gloom has descended on the family members of both Laskar families.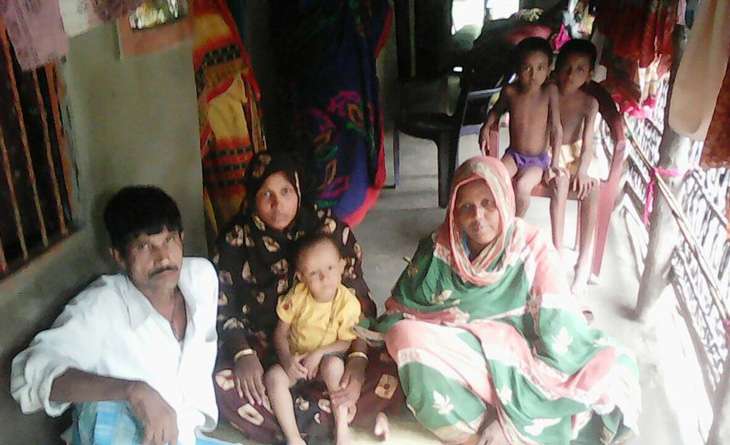 Saifuddin Laskar, uncle of Abdul Salam Laskar, said, "Police atrocities have increased after the incident of 5 September. We urge the chief minister to conduct an impartial enquiry into the death of Abdul Salam Laskar."
Abdul Rauf Laskar's wife Roshnara Begum says, "We want a proper enquiry of the incident as we feel that one community of Bhajna village is responsible for her husband's murder."
The family also claimed that a number of youths from the village are associated with cattle protection outfits backed by right-wing organisations.
Begum, who has a three-year-old child said, "I lost my husband, I want proper justice."
Repercussions
On 13 September, Banerjee said that she would not spare the cow vigilantes and that she will not tolerate the dirty political game being played by them. She even threatened that she wont spare people if they play with religious sentiments.
Without naming the Dholahat incident, she said that those who damage government property would have to pay the compensation and that the state government is framing an act regarding that which will be brought up during the next assembly session.
The BJP's stand
BJP party president Amit Shah has asked the Bengal BJP unit to submit a report on the Dholahat incident. BJP state president Dilip Ghosh took to Twitter to say: "I am really worried about the situation at Dholahat, South 24 Parganas as people are not safe and police have failed to deliver their duty."
Edited by Aleesha Matharu
More in Catch - In South 24 Parganas, TMC represents the good, the bad & the ugly
Kolkata: BJP's Roopa Ganguly attacked in South 24 Parganas