Despite blinded Kashmiris, pellet guns aren't going anywhere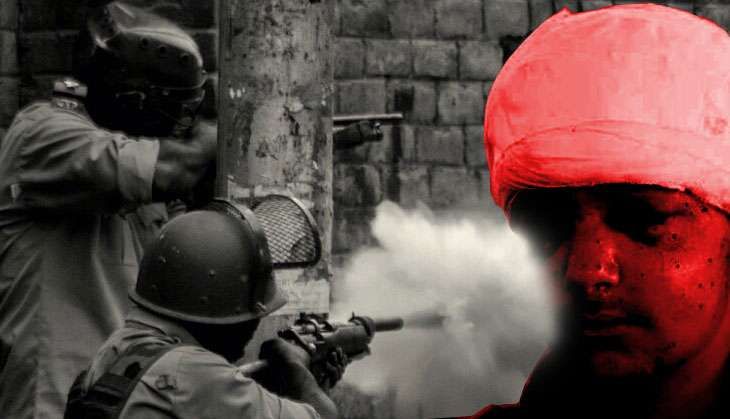 Despite all the talk about reducing their use, security forces are unlikely to stop the use of pellet guns in Kashmir. Senior officers in the security establishment say that because of the especially violent nature of crowds in Kashmir, and for the lack of effective crowd control mechanisms, they will have to stick to pellet guns in Kashmir for now.
The senior-most officers in paramilitary say that, unlike 2010 protests in Kashmir, when pellet guns were used for the first time in Kashmir, this time round some people taking cover of the crowds have opened fire on security forces three to four times.
The officers also admitted that the security personnel using 'non-lethal' weapons were not adequately trained in using their weapons, due to constant work pressure.
The Director General of CRPF, K Durga Prasad, in a small measure, blamed the J&K police for not being able to anticipate such a big unrest in the valley to give paramilitary forces some time to prepare.
"We do train our men in handling all sorts of weapons during their induction, but it is true that the annual training exercises have suffered due to our people being deployed in elections after elections, Amarnath yatras after Amarnath yatras...For instance our training companies are deployed for Amarnath Yatra this time in Kashmir," said Prasad.
Also read - Kashmir unrest: What are pellets and why it's wrong to call them non-lethal
According to one officer, CRPF had to air-lift 'non-lethal' crowd control tools like smoke and stun grenades overnight, all the way from BSF's Tear Smoke Unit (TSU), in Tekanpur, right after agitation began in the Valley.
On the question of whether his men were prepared enough to take on protests that began across the valley after the encounter of Burhan Wani, Prasad blamed the state police for the lack of intelligence inputs.
"To begin with, there was no input from the state that violence of this magnitude will break out. Secondly this time around, some members of the crowd, perhaps in a bid to provoke us, have open fired on our soldiers three to four times. And let me tell you 50 of my soldiers have been injured in grenade blasts," said Prasad.
Another officer, on the question of the use of pellet guns, said that they were unlikely to stop the use of pellet guns in the valley any time soon.
"It's not as if we haven't tried looking for alternatives. We've looked at every option. Some vendors have also approached us with their crowd control mechanisms. But we've found that none of them worked on the ground, in hostile conditions of Kashmir, for us. We have looked at global practices also but let me tell you nowhere do people stand up and resist security forces as they do in Kashmir," the officer requesting anonymity said.
The officer also gave examples of the available 'non-lethal' crowd control mechanisms available with security forces.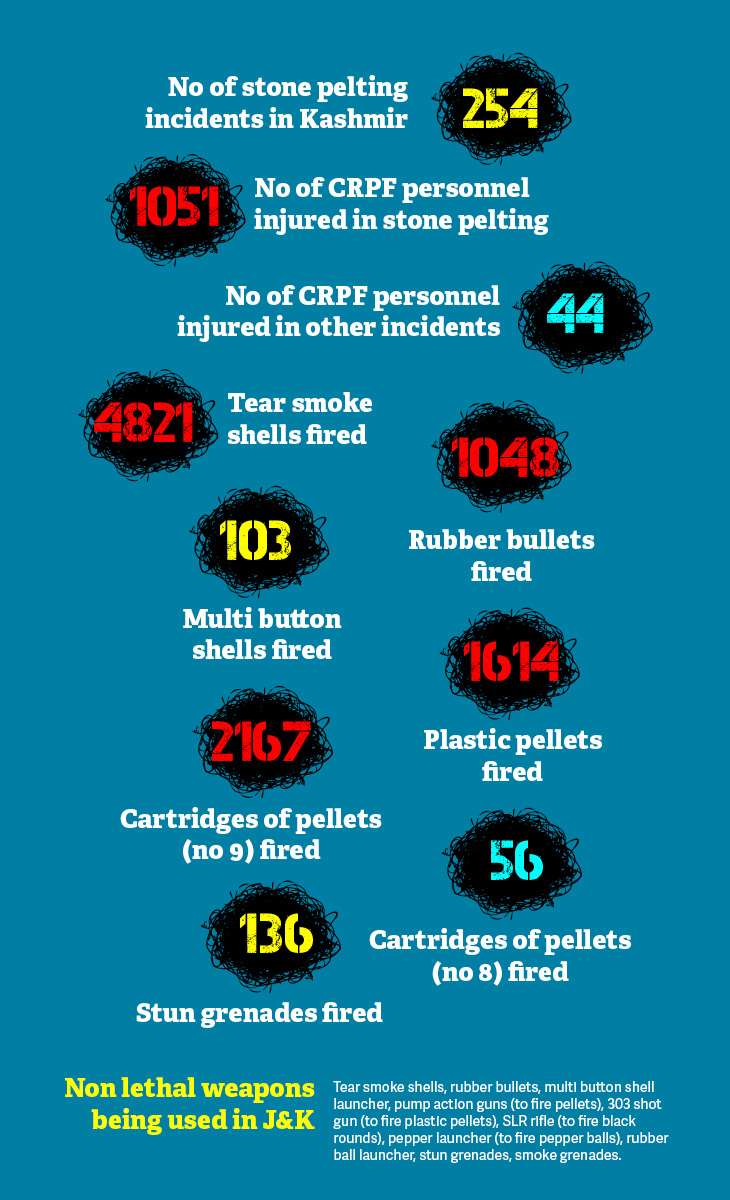 No alternatives
"Tell me what other options do we have? Water cannons cannot be used in narrow bylanes or open fields. Water cannons work for 'sophisticated' crowds in cities. In Kashmir they are useless. Rubber bullets, although we've used them sparingly, can be lethal when fired from close distance as we found out during 2010 agitation."
Colouring agents, which marked people and helped security forces identify those who had participated in protests, and caused skin irritation are useless these days, the officer said. These agents helped disperse crowds earlier for the fear among the protestors of being marked and harassed by security forces later on. "At that time protestors used to cover their faces so we used this to find them out. This time they have left their masks behind. So this too is useless."
The officer added that paramilitary personnel deployed in Kashmir are using everything from tear gas to stun grenades in Kashmir "but all this does not work when these people come for a long haul, fully prepared, throwing stones on us all day".
The only option that remains is for the forces to consider using smaller sized pellets, said the officers. "We used size four pellets in 2010, which were bigger and caused some fatalities, so this time we used the biggest available sized pellets which are smallest in size - number 9. The only way forward perhaps is to see whether we can reduce the size of pellets even further so that serious injuries can be avoided."
There has been a huge outcry in the past few days over the use of these guns, which are known to have blinded at least 100 people in the valley so far. The Union Home Minister Rajnath Singh had recently, in a debate over the Kashmir unrest, promised to review the use of pellet guns.
Following this he set up a committee to look into possible alternatives to pellet guns, which has been asked to submit its report within two months. Singh has also asked security forces to minimise the use of pellet guns.
But this is neither the first time that pellet guns have caused grievous injuries, blindness and death in Kashmir, nor is it the first time when a study to look into their harmful effects has been commissioned.
The 'non-lethal' pellets were first used in 2010 simmer agitation in the valley and were found to have killed six people and caused complete or partial blindness in 98 people. The then UPA II government under Manmohan Singh had also set up a review by security experts.
And the review committee and reportedly recommended 'using other non-lethal weapons, not pellet guns,' but it was never ignored and not implemented. And in some way is perhaps responsible for more and more people joining protests in the valley during the past fortnight.
More in Catch - In photos: Pellet guns maim, these Kashmiris are proof
Govt will look at non-lethal alternatives to pellet guns: Rajnath Singh