Desperate times & measures: Punjab arhtiyas making farmers convert their black money to white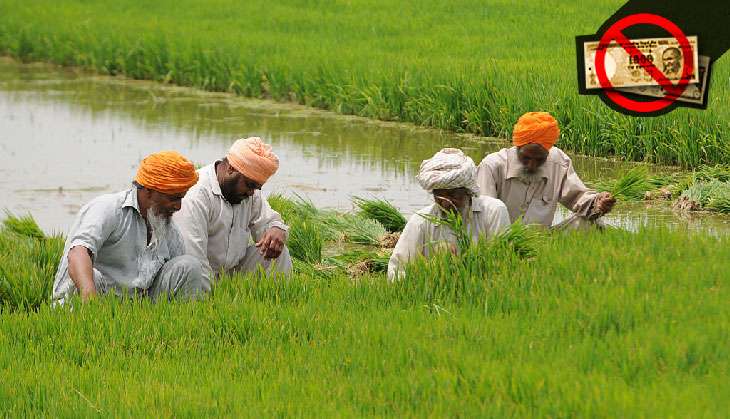 Photo by Bharat Bhushan/Hindustan Times via Getty Images
The cascading effects of demonetisation on the Indian economy and the populace continue to reveal its woes on a daily basis. In Punjab, agriculture and rural economy have been badly hit by the fallouts of the decision.
The latest in the series of impacts that this unpopular decision is having is that the arhtiyas, or commission agents, are persuading and even coercing the farmers to convert their black cash into white by depositing huge amounts of cash into their own bank accounts.
A visit to the villages in Sanaur area revealed that the arhtiyas are resorting to this practice knowing that the farmers' agricultural income is tax free. Their premise is that no one would be questioning the farmers if they deposit sums like a few lakhs in their accounts as the farmers have just sold off their paddy.
Added trouble
Farmers in the villages told Catch News that the arhtiyas are offering up to 22% cut for doing this job. In simple terms, if a farmer is ready to convert Rs 1 lakh of the arhtiya's black money into white, he can keep Rs 22,000 for himself.
"Almost every medium and big farmer is getting calls from the arhtiyas these days. They are desperately trying to find ways and means to convert their black money into white and with every passing day their problem is compounding," said a farmer in Sanur village.
He said that a large number of farmers are falling into the trap for a windfall gain knowing that no one would give them such a deal otherwise.
However, a large number of the farmers are also reluctant to be a part of this exercise. Most of such farmers are the middle-level or lower-level small ones. They are of the opinion that sooner or later law would surely catch up with them.
Sweet revenge?
But many of them are drawing sadistic pleasure from the arhtiyas running from pillar to post looking for ways to legitimise money that they have stashed away in old notes Rs 500 and Rs 1,000.
"When we go to these arhtiyas for our money or for loans and advance payments, they make us sit for the whole day for even a paltry amount of Rs 5,000. How do they expect us to convert their black money worth lakhs into white overnight? While we are bearing the brunt of this anti-poor decision of the government led by Narendra Modi, why should they be spared? And the irony of the entire thing is that it is the community of traders, arhtiyas and industrialists that form the support base of Modi," said another farmer of Ballian village.
"No arhtiya has approached my family with any such offer yet and even if they do I would not accept it. Won't the bank officials ask me that when I could never ever deposit even Rs 20,000 in my account in one go, how come I am depositing a heavy amount of lakhs? We would never want to be caught on the wrong side of the law. We are poor but we have a reputation of being honest," pointed Pal Kaur, as she tied bundles of garlic in the field that her husband has taken on lease at the rate of Rs 50,000 per acre.
Her family is under tremendous economic stress as the vegetables being produced by them are not fetching any money in the market because of the currency ban.
"With cauliflower selling at Rs 3 per kilogramme, do you think I will be able to even meet the input costs of my farming operations? We have no money to send our children to school and college as they need cash for their daily needs like paying local bus fare and food besides paying the fees," pointed out her husband Pritam Singh.