Demonetisation after drought: Bundelkhand's cup of woes runs over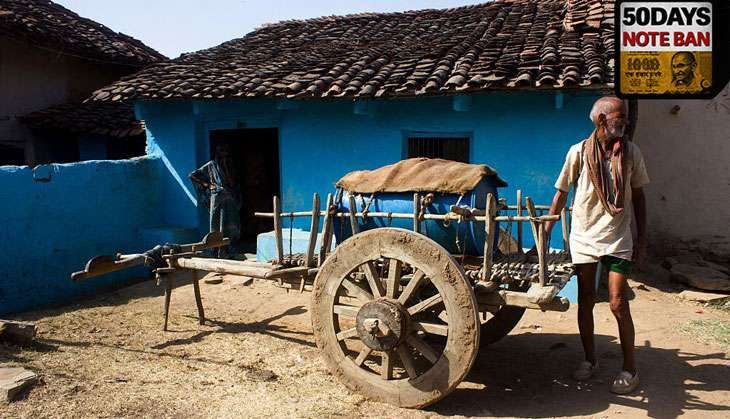 The arid Bundelkhand region spread across Uttar Pradesh and Madhya Pradesh is home to 8.2 million people, most of whom depend on agriculture for survival - they are either farmers, sharecroppers or farm labourers.
But over the last almost 50 days, the hand-to-mouth existence they face on a daily basis has got compounded by another crisis - Prime Minister Narendra Modi's demonetisation drive.
When the PM announced the new policy on 8 November, he had promised that the cash crunch would subside within 50 days. However, with the deadline almost up, hardly anyone would agree that his assurance has come to fruition on the ground.
Banking system non-existent
Ashish Sagar, a Banda-based farmer and social activist, is among those viewing the note ban with scepticism. Speaking to Catch over the phone, he says: "Nothing has changed in Bundelkhand during the past 50 days. Poor people are still struggling to get cash.
"Around 3,000 labourers were employed in Mahoba's famous stone market. The market has been closed for the past 25 days, leaving most of these people jobless. The situation may have improved in large cities, but, it would be foolish to hope for the same in this region."
Ashish believes it would take a lot more time for the situation to normalise in Bundelkhand. "This cannot happen in 50 days, as the banking system in the region is non-existent. There are only a handful of banks. Most of these are gramin banks," he complains.
Ashish recounts how Bundelkhand was reeling under severe drought till not long ago. According to him: "The drought had ruined the agriculture sector in Bundelkhand. Whatever little crop they had managed to produce is rotting in the market. The farmers are forced to sell it at throwaway prices. The length of the bank queues outside empty banks cannot be the measure of the gravity of the situation in Bundelkhand."
We have no alternative
Shiv Narayan Parihar is a native of Bundelkhand's Jhansi district. He has been raising farmers' issues for a long time.
Parihar was on his way to Tehrauli tehsil in Jhansi when this reporter contacted him. Villagers from over 30 villages are sitting on a hunger strike in Tehrauli for the past 12 days. They are demanding electricity for irrigating their fields.
When asked about the situation after demonetisation, Parihar says: "The government is promoting a cashless economy. But, farmers here are not even getting electricity. The government can take any decision; people have no option but to accept and adapt to it. This is what is happening on the ground. The farmers are trying to get used to the new system. They have no other alternative."
A deep sense of helplessness shines through in Parihar's words. Every person standing outside the banks to get his own money shares the same anguish.
Barter is back, and that's not a good thing
Shafiq Ahmed lives in Riwai village of UP's Mahoba district. He earns his living running a small grocery shop in this village. Things have turned worse for him since 8 November, and he has no idea how to cope with the situation.
"Many people are bartering food grains for essential goods in my shop after the note ban. I have not refused, as I had to sell my goods, and most of the buyers are personally known to me," Shafiq says.
"I have accumulated so much of foodgrains during the past month that it is not possible for me to sell it all to get cash. It is not possible for me to repeatedly visit the market for this purpose. I don't know where to store this foodgrain and how to buy the goods," Shafiq adds.
Edited by Shreyas Sharma