Despite Cabinet order, 92% of Union ministries don't publish monthly reports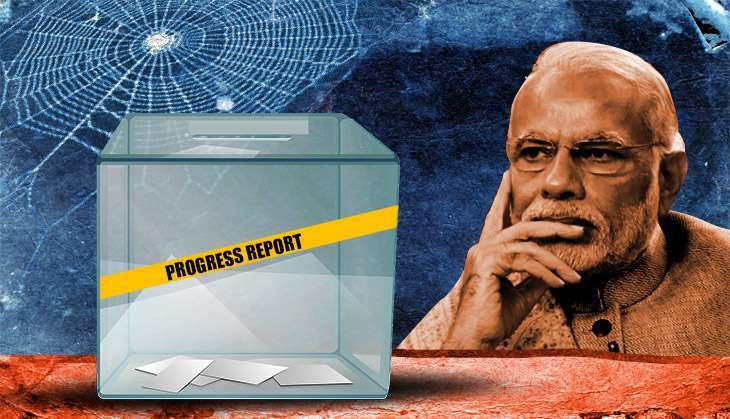 Malik/Catch News
On 23 June, India's Cabinet Secretariat sent a directive to all the ministries and departments of the Union government to publish a monthly performance report on their respective official websites.
However, more than 11 years after the Right to Information Act (RTI) was enacted, it has come to light that more than three-fourths of the ministries and departments have been flouted this directive.
The information was accessed by the Commonwealth Human Rights Initiative (CHRI), an NGO founded in 1987.
Here are some snapshots from the CHRI report:
The percentage of Union ministries which did not display their performance reports.
As per a Cabinet ruling from 1987, every ministry and department is required to send monthly reports to the council of ministers by the 10th of every month.
Significantly, some reports may be 'classified', but apart from the coal ministry, no other ministry or department publishes monthly reports under the 1987 ruling.
Number of Union government departments which did not publish monthly reports.
Last year, the CHRI's attempts to make these reports public through RTI were refused by the Cabinet Secretariat, saying the effort would lead to the disproportionate diversion of its resources. However, the CHRI said this reason for refusal was invalid, as per the law.
The matter finally went to the Central Information Commission (CIC), and the CIC recommended to the Cabinet Secretariat in April 2016 to consider publishing 'unclassified' reports. It also advised the Cabinet Secretariat to put in place a mechanism that would make ministries and departments abide by the 1987 ruling.
"In order to ensure greater transparency and availability of information in public domain about the activities of the ministries/departments, it has been decided that henceforth, all ministries/departments may upload, on a monthly basis, the major achievements, significant developments and important events for the month in respect of their ministry/department, on their official websites," the Cabinet Secretariat ordered two months after the CIC directive.
The number of ministries that published monthly reports in the quarter preceeding the Cabinet Secretariat directive. These were the ministries of Home Affairs, Rural Development, Textiles, and Medium, Small and Micro Enterprises.
Only eight departments published their monthly progress reports. They were: the Department of Personnel and Training, the Department of Administrative Reforms and Public Grievances, the Department of Animal Husbandry, Dairying and Fisheries, Health and Family Welfare, Industrial Policy and Promotions, Public Enterprises, Social Justice and Empowerment, and the Investment and Public Investment Management department.
However, the NDA government at the Centre publishes a fortnightly report. Additionally, ministries table their annual reports in Parliament, apart from discussing crucial issues. Some have even started publishing e-books focussing on the two-year progress made by the NDA government. But irregularity and 'confidentiality' still remain major issues.
Edited by Shreyas Sharma
More in Catch
The next Indian PM should be a paanwala to strengthen RTI
Mumbai man files RTI to check if govt's prepared for zombies and aliens, because what if?
'Government policy' kept Muslims out of World Yoga Day: RTI response
SUBSCRIBE TO OUR NEWSLETTER
and get Fresh Catch daily