Death knell sounds for DCW, the end might come by 31 December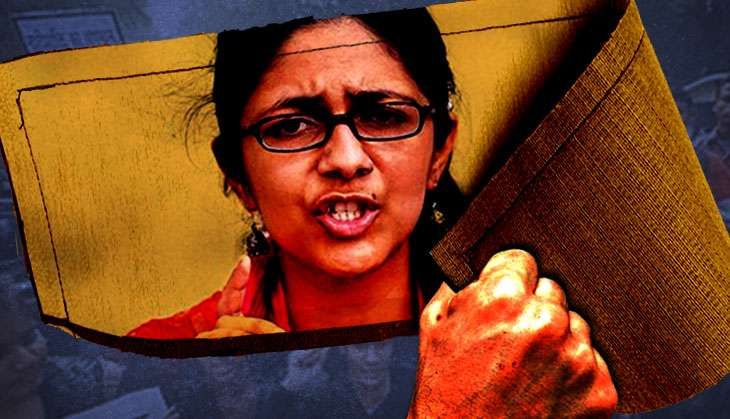 Swati Maliwal is a woman on a mission. She's busy trying to set up a safety net for what looks like the inevitable fall of the body she heads, the Delhi Commission for Women.
Nowadays, Maliwal is holding one-on-one meetings with the local, national and international press, and her message is desperate: the DCW is being suffocated by Delhi's Lieutenant-Governor Najeeb Jung.
If nothing is done to revive it by 31 December, the city infamous as India's 'rape capital' might wake up to a 2017 without a commission to protect its women, six of whom are raped daily on average.
The process of scuttling
On 27 July, a 14-year-old girl, who had been kidnapped, serially raped and force fed acid, died in Delhi's Burari area. But before she died, the DCW had taken up the case and tried to get the victim treated at a private hospital.
The commission had also issued a notice to the SHO, Burari, for not lodging an FIR, despite the family's repeated attempts.
In communicating her death to the media through the DCW's WhatsApp group, its media coordinator accidentally revealed the name of the victim. Within seconds, an apology was issued to the group, followed by a request to not to use the name.
Maliwal nevertheless claimed she had the permission of the victim's family to use her name posthumously.
Despite this, the SHO of Burari filed an FIR against the DCW on the same day for revealing the victim's name.
Within weeks, former DCW chairperson Barkha Singh Shukla lodged a case of corruption with the anti-corruption bureau (ACB), alleging the DCW made illegal appointments within the commission.
According to Maliwal, there was an urgent need to hire contractual staff to fulfill the expanded role the commission had set out for itself.
For instance, when the 181 helpline was transferred to the commission by the Delhi government, the DCW found it needed to employ 16 more staff members to cut its existing call drop rate of 35%. "35% was reduced to 4% almost with immediate effect," says Maliwal.
The ACB began its investigation, spending days at the DCW office, knocking at the homes of several of its employees, who are acid attack victims, orphans and mostly from disadvantaged sections of society.
"While we supported the investigations and laid out all the information threadbare, our employees felt intimidated to see the ACB land up at their neighbourhoods creating a scene, as if they were caught being involved in something scandalous," says Maliwal.
Maliwal says the commission has employed its staff just as it always has since its inception. While some advertisements were issued, several contractual staff were given jobs through NGO recommendations and word of mouth.
The beefed up team helped the commission handle 12,000 cases in one year, take 2.16 lakh calls on 181, deal with 5,733 cases at the rape crisis cell and 1,869 sexual assault cases by crisis intervention centre counsellors, and undertake 7,500 field visits.
In March this year, 22 cars were bought and women drivers and counsellors were employed to provide SOS help within minutes, landing at the doorstep of victims of violence and sexual abuse.
Today, the DCW is a team of 110 people, with 94 of them being contractual staff. Its recommending powers cut across the boundaries of all Delhi government and Central government institutions in the capital.
A blow to autonomy
But even as Maliwal cooperated with the investigations and battled an FIR, the real threat to the DCW's autonomy came in October, when the L-G overruled the Chief Minister's nomination for a member secretary and instated Alka Dewan, an IAS officer with the Income Tax Department, as a part-time member secretary.
While a member secretary's job is primarily to approve budget spending, Dewan put a freeze on spending even a rupee out of the commission's budget of Rs 7 crore. The money first had to be approved by the Finance Department, she said, refusing to sign on any expenditure, including salaries to be paid to contractual staff.
"According to the DCW Act section 9(2) and 11(2), the commission has power to spend its funds as it deems fit. There are various clarifications that we are autonomous. Also, the commission is a transferred subject, and it is the L-G who is bound by the aid and advice of the Delhi government while nominating a member secretary. This is unconstitutional and illegal. We refused to send our files to finance, because the commission has never functioned that way," explains Maliwal.
Dewan's tenure ended in three months, and on 1 December, the L-G again overruled the nomination made by Chief Minister Arvind Kejriwal and instated Dilraj Kaur, secretary in the women and child development ministry and the social welfare ministry of the Delhi government.
Kejriwal declared this appointment null and void. Instead, he appointed PP Dhal, long time legal advisor to the commission.
In a series of events that could pass off as political satire, Kaur joined office despite the Delhi government's pronouncement, and refused to sign her approval on anything from visits to night shelters to budget approval for tea for the staff, to approving salary payments.
Maliwal also calls the appointment a conflict of interest, because the DCW has issued notices to her about the condition of the Nari Niketans, Asha Kirans, rehabilitation of trafficking victims, and several other issues under the purview of the WCD ministry.
"I cannot question them if my files have to go to them for approval. My hands are tied. If you crush the autonomy of commission, you're crushing the efforts of women's movements over the years," says Maliwal.
It's been three months since the entire contractual staff of the DCW, including people who have been around for 20 years, have been paid their salaries. "My driver has been in the commission for 20 years, and now, just because they don't like my face, they have stopped his salary," says Maliwal, who has, in solidarity with her staff, stopped taking her own salary of Rs 30,000 per month.
Confusion and preparing to shut down
"Presently there is utter confusion and a general mood of dejection. There are no funds to start new projects like mahila panchayats. We can barely keep our work going because we have no right to monitor the staff when their salaries aren't being paid. The L-G refuses to meet us to take stock. This is a mockery of democracy," says Maliwal
In the time of demonetisation, there can't be more dejecting news for employees anywhere. Borrowing money to sustain themselves, the employees are scraping through each day. If the bureaucratic logjam continues, 94 contractual staff will stop coming to work from 1 January 2017.
"Without them, we have just three employees, apart from us DCW members. How can eight people handle 12,000 cases in a year? The rape crisis cell, 181, rehabilitation for trafficking victims will all have to shut down," says Maliwal.
The DCW has done unprecedented work in the past year and a half under Maliwal. From being a commission that had handled one case in an entire year, Maliwal made it an effective, responsive women's commission that took suo motu action, and worked on mission mode to bring justice and rehabilitation to Delhi's women.
There are 11 days to go till 31 December. If the commission is indeed allowed to shut down, Delhi will be deprived of one of its only thriving institutions that tirelessly works to protect its women.
Edited by Shreyas Sharma
More in Catch
DCW in a mess: is Najeeb Jung appointee to blame or Delhi govt bureaucracy?
Who will pay DCW helpline staffers? Or is Najeeb Jung's office trying to 'shut it down'?
ACB summons Manish Sisodia for questioning on DCW recruitment discrepancy