Darjeeling violence: Police intensifies crackdown after Gurung's ominous threat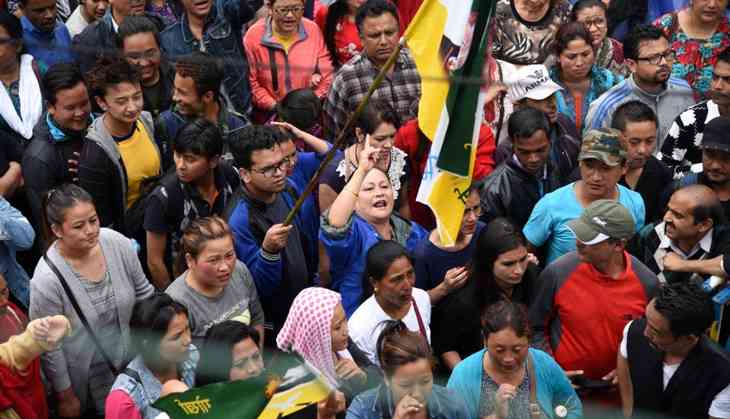 (Tanmoy Bahadur/Nur photo via Getty Images)
A day after Gorkha Janmukti Morcha chief Bimal Gurung threatened to forcibly close down shops and offices in the Darjeeling hills, fresh violence broke out in Kurseong on Friday. A clash took place between GJM supporters and the police in the evening.
Three companies Central paramilitary forces were pressed into service late in the evening to restore normalcy in the area.
"Shops were forcibly shut down by GJM supporters and we are unable to open our shops. Even bus services from Siliguri were stopped midway. Stranded tourists had no other option but to walk," said a local.
Sources inside the hill parties said that a clash took place between GJM supporters and the police at Domborchowk area in Kalimpong. The police set up barricades and did not allow anyone to enter the area. Some GJM supporters pelted stones, targeting police vehicles in particular. The police lobbed tear gas shells to disperse the mob. A GJM councilor was arrested for allegedly inciting violence.
GJM supporters also blocked an ambulance near Darjeeling and urged school authorities to close down their schools.
Senior officials of the state government said that they have intensified police presence in various parts of Kalimpong, Kurseong and Darjeeling. The police are paying particular attention to violence prone areas like Domborchowk.
Anuj Sharma, ADG law and order said "We have already arrested a Morcha councilor for inciting violence and we are in search of other Morcha leaders who have been involved in the violence. We are still in search of Bimal Gurung and Roshan Giri".
The decision to increase police presence was taken in a late night meeting. In the meeting, it was decided that the police will provide protection to people who want to open their shops. Even school authorities have been urged to inform the police if they need additional police force during school hours.
According to expelled GJM leader Binoy Tamang, "We have urged the state government to increase police force especially in Darjeeling, Kalimpong and Kurseong. We are not in favour of such violence and we will continue oppose violence perpetrated by Morcha leaders close to Gurung . We want democracy to be restored in the hills".
State tourism minister Goutam Deb said, "We have sent a detailed report of Friday's violence to chief minister Mamata Banerjee and the police have intensified their presence in the area".
On Thursday, GJM chief Bimal Gurung released a fresh audio clip from an undisclosed location demanding tripartite talks as early as possible.
"Tripartite talks have to be held as soon as possible, otherwise the situation in the hills will deteriorate with every passing day and the state government will be responsible for it," Gurung added.
In the audio clip, Gurung also threatened, "I appeal to the bandh supporters to beef up picketing from tomorrow. If something goes wrong, the government of West Bengal will be fully responsible for it."