Darjeeling unrest: Cops find 200 gelatin sticks as manhunt for GJM leaders continues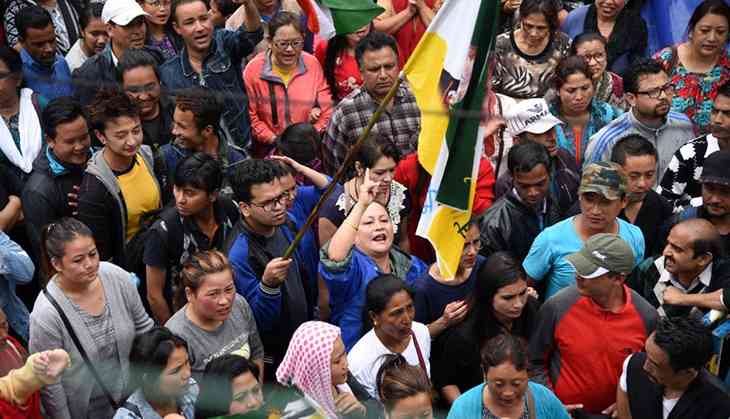 (Tanmoy Bhaduri/NurPhoto/Getty Images)
As Darjeeling continues to be a battle ground as the West Bengal police searches for Gorkha Janmukti Morcha chief Bimal Gurung and other GJM leaders, a huge cache of 200 gelatin sticks was recovered on 4 September from Lebong.
"We have identified two houses in Lebong where bombs were prepared and other arms were kept before being sent to Darjeeling. The houses have already been seized and police surveillance has been increased in that locality," a source in the state police said.
Three GJM supporters have also been arrested for their alleged involvement in the IED blast that happened in Kalimpong, sources in the state CID said.
"We have learnt that GJM leaders accused in the blast received training in subversion and sabotage from Naga militants. More so, we learnt that two leaders - Rajani Rai and Puran Tamang - were involved in the recent violence. A factory at Daopani at Lebong in Darjeeling was also located on Monday evening where equipment for making IEDs were found, leading to the recovery of cartridges and detonators," says Akhilesh Chaturvedi, Darjeeling superintendent of police (SP).
Not just jelly
Gelatin sticks are highly effective as they manage to push on the shrapnel, metal bits and ball bearings in the bomb, and hurtle them out with the chance of causing maximum damage to victims.
Sources in state CID say that preliminary investigations revealed that some gelatin sticks have also been sent to Sikkim and have been kept at an undisclosed location.
Agitation for peace
While the police continues its manhunt for three senior GJM leaders - Bimal Gurung, Prakash Gurung and Roshan Giri - it also made an appeal to the SP of South Sikkim to hand over GJM member Sabitri Rai, who stands accused of inciting violence at Darjeeling and Kalimpong a few days ago, to the CID.
GJM, under expelled leader Binoy Tamang, claims that it will launch an agitation in the hills demanding that schools, colleges, markets and business places be re-opened to recover from losses incurred over the last few days.
"We are going to launch an agitation before 12 September in Darjeeling. We urge the people to defy Gurung's order and withdraw their strike to maintain normalcy," Tamang told Catch over the phone.
Meanwhile some shops opened their shutters on Monday at Panighata in Kurseong after almost three months.
"Our business has been affected badly due to the strike. For three months now, business has been so severely affected that we do not even have money to buy new clothes for Pujas. When we do open our shops, we get threats from GJM supporters that they will be burnt down. How can we continue like this?" asks Biswaranjan Saha, a grocery shop owner in Panighata More.
Buzzing political channels
BJP has made its opposition clear as to how things are being handled and has said that the state government is resorting to undemocratic means to arrest the leaders; essentially treating them as terrorists.
"We urge the state government not to treat GJM leaders as terrorists. GJM is launching their agitation in a democratic manner, the state government cannot break their democratic movement," said state BJP president Dilip Ghosh.
Countering the BJP's claim, state tourism minister Goutam Deb had this to say: "BJP is fuelling GJM leaders to continue their 'undemocratic movement'."
"The state government will take action against the accused," he said.