#DalitWriterAttacked: Is this how you teach humanism, Mr Bhagwat?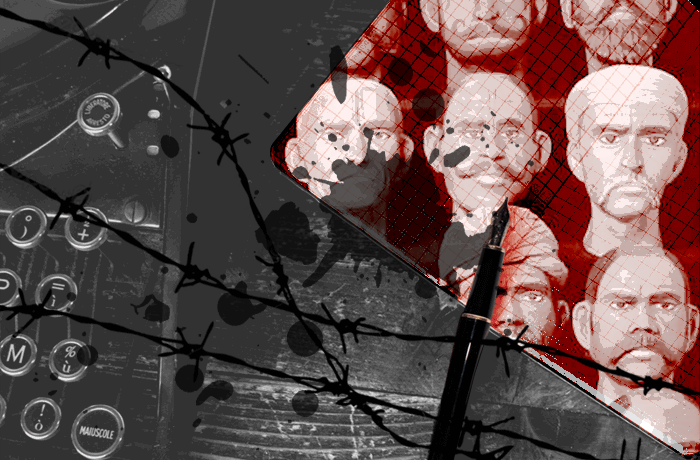 Under attack
Dalit writer Huchangi Prasad was attacked in Karnataka
He says the attackers were \'obviously from a right wing group\'
They called him anti-Hindu for writing against the caste system
Under threat
Writers say Karnataka\'s tradition of dissent is being eroded
Prof Rao: RSS wants a society where only upper castes have a voice
\'Drastic action is needed to stop the rabid elements\'
Mohan Bhagwat's Dussehra speech, telecast live by DD, couldn't have been more ill-timed.
Around the time the RSS chief was urging Hindus to "fight discrimination and teach humanism to this world grappling with challenges", his followers were doing exactly the opposite in Davangere, Karnataka.
In the wee hours of 22 October, someone knocked on the door of Huchangi Prasad, a young Dalit writer staying in the SC/ST hostel of the Davangere University, and told him his mother had been hospitalised after a heart attack.
Rattled, Prasad followed the stranger, who offered to take him to the hospital. Instead, the writer was led to an isolated place, where 8-10 people surrounded and assaulted him. They also abused him, saying he was "anti-Hindu" for writing against the caste system.
"They put vermillion all over my face. One even pulled out a knife and said he will cut off my fingers so that I can never write again," Prasad told The Hindu.
He pulled out a knife and said he'll cut off my fingers so I can never write again: Huchangi Prasad
He said he managed to shove them aside and run to nearby woods, where he hid until the attackers left. The police have lodged a case against "unknown persons" for attempt to murder and under the SC and ST Prevention of Atrocities Act, 1989.
Though the attackers did not identify themselves, Prasad said, he could guess who they were. "By their behaviour, it was obvious they were from a right wing group."
Empty rhetoric?
In his speech, Bhagwat had recalled BR Ambedkar's "lifelong struggle against injustices of social inequality." A Dalit writer like Prasad is fighting precisely this social inequality though he may not even be a blip on the RSS chief's radar.
The son of daily wagers from Santhebennur in Davangere, the young Prasad had been sold as a bonded labourer. He was rescued and put in a school under the state's Chinnara Angala programme.
Now 23, Prasad is studying journalism at the Davangere University. In April 2014, he published a collection of essays and poems, Odala Kichchu (The Burning Inside), which largely depicted caste discrimination and the pains he himself had experienced as a Dalit.
Huchangi Prasad: By their behaviour, it was obvious the attackers were from a right wing group
The book was released by KS Bhagwan, a rationalist writer who has faced threats for his radical views on Hinduism and the pantheon of gods. He was provided police security after Prof MM Kalburgi's murder.
The attack on Prasad is the latest instance of a campaign to stifle free speech in Karnataka. What is astonishing and saddening about this is that the state has a liberal tradition dating back centuries.
Lost tradition?
In the 12th century, Basavanna, the prime minister of King Bijjala, fought against the caste system and launched a socio-political movement that lifted thousands of lower castes into a "casteless" conglomeration later identified as Veerashivas or Lingayats.
A prolific writer with amazing clarity of expression, Basavanna's Vachanas electrified the society and spawned a tradition of reformist literature that was carried forward by writers like Allama, Akkamahadevi, Basavaraj Kattimani, Ta Ra Subba Rao, Shivarama Karanth, Kuvempu, Poornachandra Tejaswi, Chandrasekhar Patil, Devanur Mahadeva, Siddalingaiah and many others.
Siddalingaiah, one of the most prominent Dalit writers whose Holemadigara Haadu (The Song of the Dalits) created a sensation in the 1970s told Catch: "When I wrote Ikkrala, odirala, charma sulirela (bash them up, kick them, tear their skin), referring to the upper castes, nobody took offense. A number of upper caste writers felicitated me for opening their eyes and I was made to recite those poems at a number of literary conferences."
RSS wants to build a society where only the upper castes have a voice: Prof GK Govinda Rao
"Karnataka was known for its liberal views and tolerance. But now I feel very sad that a young Dalit boy is not allowed to express his pain and anguish."
Siddalingaiah said the recent incidents of intolerance are a challenge to India, which has long been known for communal harmony.
He recalled that Davangere, where Prasad was attacked, was a Communist stronghold for many years and had elected CPI's Pampapathy to the assembly thrice.
Call for drastic action
Davangere was also where the Progressive Writers' Front was founded in the mid-1970s. Its formation led to the flowering of Dalit literature and Bandaya (rebel) literary conferences in the state.
Prof GK Govinda Rao, a convenor of the Writers for Communal Harmony, sees the attack on Prasad as "part of an all India pattern" that has emerged after Narendra Modi came to power.
"The RSS wants to build not just a Hindu Rashtra, but a society where only the upper castes have a voice," Prof Rao told Catch. "They will not tolerate the writings of Dalits, Muslims and women."
He warned that unless Modi takes "drastic action" to stop the rabid elements in his ideological camp, he will have to contend with a strong "resistance movement".
Not just the BJP and the RSS, the people will have to take on the Congress as well to curb the growing intolerance, Prof Rao said. He pointed out that the Congress regime of Siddaramaiah has failed to catch the killers of Kalburgi even three months on.
"There is not much difference between the BJP and the Congress," Prof Rao said. "And we will have to fight both."