Dalit groom takes out wedding procession in Kasganj after 80 years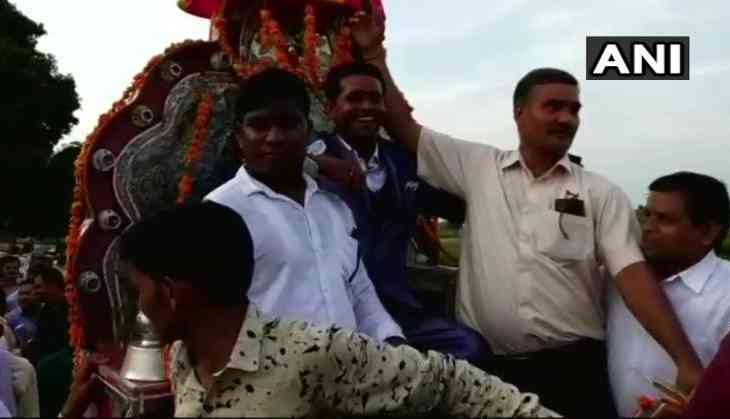 Defying caste prejudice, a Dalit groom took out his wedding procession peacefully in Thakur community-dominated Nizampur village of Kasganj district in Uttar Pradesh after 80 years.
The groom Sanjay Jatav took a historic ride on Sunday after he entered the Thakur community-dominated village in presence of a heavy police force.
The village has been in limelight for the past six months after local Thakur community allegedly threatened to disrupt the wedding.
The groom who hails from Hathras rode into the village on a horse-drawn buggy on Sunday to take away his bride Sheetal.
The local Thakurs opposed the wedding procession by Dalits and claimed that such things had never taken place in the village.
Speaking to ANI, the bride said, "Upper caste people in the village said that this has never happened and threatened to attack us. We are less scared as we have got police protection."
Additional Superintendent of Police (SP) Pavitra Mohan Tripathi said the police personnel will be alert in the village even after the wedding to avoid any unforeseen situation.
"There was no problem when the procession was being carried out. We have deployed sufficient force till the wedding ends. Our personnel will be alert in the village even after the wedding so that any unforeseen situation can be avoided," Tripathi said.
More than 150 police personnel along with Provincial Armed Constabulary (PAC) were deployed to avoid any untoward situation.
According to the district administration, the groom was received by the Kasganj Police on the borders of the two districts and from there he was escorted by the force till the village. Hence, amid heavy security, the wedding was concluded peacefully.
The district administration drew a map for the groom. "We have made a route from the bride's home to some 500 metres where they can take the horse. Further celebrations can take place at a farm," said District Magistrate RM Singh.
--ANI