Dal with just haldi, salt and burnt chapatis: BSF constable shoots a day in his life
Catch Team
| Updated on: 11 February 2017, 5:45 IST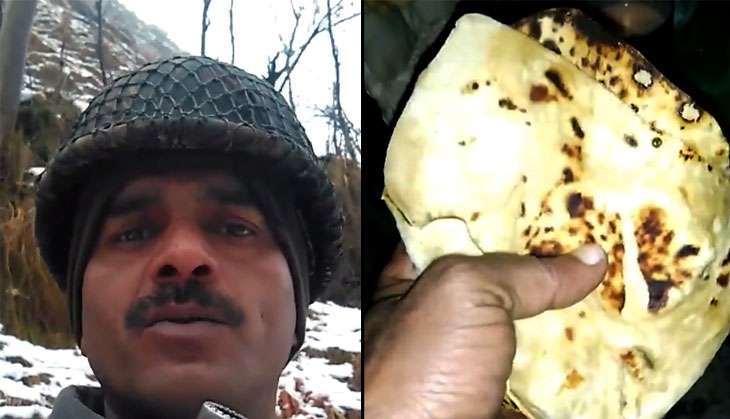 For a government that prides itself on the strength of its armed forces, a video shot by a BSF constable about his horrible work conditions must have come as a bolt out of the blue.
In the video, the soldier - Tej Bahadur Yadav - is seen accusing his seniors of selling the rations meant for constabulary.
In one video, Yadav shows burnt chapatis and dal, topped with just salt and haldi, which he claims is their evening meal.
Also read -2016 was bad for India's defence. Armed forces' morale at all-time low
In another video shot at what seems to be communal mess, he shows the food being prepared for the soldiers.
Yadav, while criticising his seniors, says that he doesn't think the government is at fault. He claims that all the governments provide enough rations for all the soldiers. "But the senior officers sell all of it...a probe should find out where this ration is going."
Perhaps, sensing a strict departmental action that may be initiated against him, Yadav says he doesn't know what will happen to him, "adhikaariyon ke haath bohot lambe hote hain..." but pleaded that strict action must be taken against the corrupt.
"We work in [geographically] hostile areas for 11 hours...what we get for breakfast is one burnt chapati and tea...what we get for dinner is dal, with just some haldi and salt in it, and chapatis. Tell me how do you expect us to perform our duties like this?" Yadav says in a video.
Yadav's videos, posted on his Facebook profile, attracted strong and sharp response from people. Some have blamed him for seeking needless publicity and some have gone on a government-bashing spree. Nevertheless his videos have got millions of views and have been shared thousands of times.
Edited by Aleesha Matharu
Disclaimer: Catch has not independently verified the videos.
More in Catch - Whistle blow: why OROP in the armed forces will be disastrous
Armed forces have accepted demonetisation: Air Chief Marshal Arup Raha