Curtailing freedom and vigilantism violate the Hindu way of life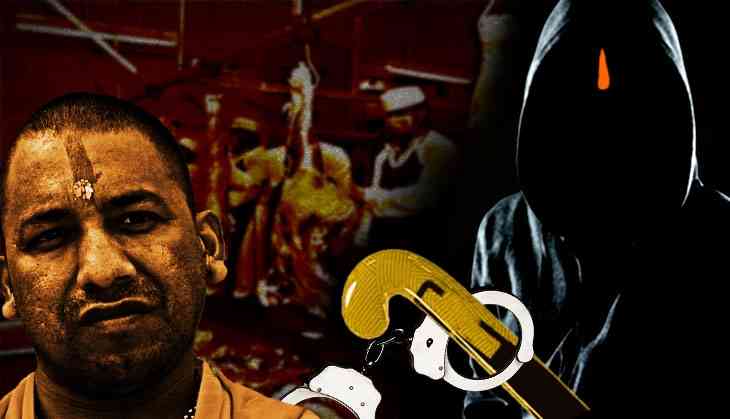 As I read about a group of vigilantes recently entering a restaurant in Greater Noida, which is in UP but is part of the National Capital Region, to demand that meat should not be on the menu during Navratri an old memory stirred. It was of an annual puja during Navratri or 'Devi ke Din' as we called it. The offering to Sharika Ma, the Durga roop we worshipped during this period, was mutton (goat meat).
After Sharika Ma's bhog the children of the house were given a couple of trays full of pieces of raw meat to feed the birds. So we took them on to the roof and soon kites would hover above us in the sky. We threw the meat pieces in the air and the kites would swoop in and snatch them.
As Kashmiri Brahmins whose ancestors had migrated more than two centuries ago from the Kashmir Valley, first to Rajasthan, then Madhya Pradesh and later, a century ago, in my grandfather's time, made our home in Allahabad, we were fully integrated with the city's milieu.
Only a few religious customs which our ancestors had followed in the Kashmir Valley remained – one being the puja of Sharika Devi during 'Devi ke Din' when mutton eating was the norm.
While mutton continues to be eaten during 'Devi ke Din' in my family in keeping with our being devotees of Sharika Devi, the practice of feeding the kites was not followed after my grandfather's passing away in 1968.
In Kashmir, the veneration of Sharika Ma continues and her bhakts continue to make the traditional offering of mutton to her. Let me also mention that many Kashmiri Brahmins worship Mahalakshmi in her Maharagnya or Tripursundari roop to whom the offering is, among others, of rice cooked in milk.
Naturally, her devotees are strict vegetarians during 'Devi ke Din'. Thus my mother's family who worshipped Maharagnya were vegetarians during this period.
Unity, diversity
These different traditions among Kashmiri Brahmins illustrate the very essence of our great faith: its eclectic nature, its absence of dogma, its freedom to pursue the path a person or group chooses.
Indeed the curtailing of intellectual freedom and spiritual or cultural coercion violates the Hindu way of life. These values and principles are embedded in the Hindu consciousness.
Hence, whenever a section of the Hindus seeks to aggressively impose its views, like the group that entered the Greater Noida restaurant, it erodes, perhaps unknowingly, the principles of the Hindu faith.
Let me shift tracks. As a diplomat, I have come across representatives of some countries who insisted that their customs should be observed whenever they were invited as main guests. Thus they insisted that alcohol should not be served even if it was a custom for the host to do so and that of other guests.
It is one thing for a good host to take the sensitivities of his main guest into account and quite another for the guest to insist that his way should be obligatorily observed for religious reasons.
That has never been the way among the Hindus even though they naturally expect that their hosts would take care of their sensitivities.
The UP mandate
Let me shift tracks once again to the UP government's decision to close illegal abattoirs and unregulated, illegal shops selling meat. Health and environmental reasons have been mentioned in support of the decision. These are valid concerns. Besides, illegal activities cannot be supported.
UP Chief Minister Yogi Adityanath met the representatives from the meat sellers and exporters association a few days ago. After the meeting UP Health Minister Siddarth Nath Singh said, "Though there won't be any let off in the clampdown on illegal slaughterhouses, the CM said officers would be asked to act responsibly. This government won't act against people on the basis of religion, caste or colour."
It is reassuring that Yogi Adityanath clarified that the measures being taken against the meat trade are not to target any particular community, but only illegal slaughter houses. However, what it has done has caused difficulties to a very large number of people belonging to the economically weaker sections of our society.
There should be no compromise with the peoples' health and the environment but the livelihood of people cannot be overlooked without causing deep distress and risking alienation.
Therefore while the law has to be followed, this matter cannot be allowed to drift. Arrangements have to be made to ensure that meat sellers can legally carry on their trade.
Evoking Gandhi
It is also important not to impose dietary preferences. Will the Gujarat Chief Minister Vijay Rupani's comment that he wants to turn Gujarat into a vegetarian state now become an objective of the state? In this connection, the Chief Minister invoked, among others, Gandhiji's name.
While Gandhiji was a strict vegetarian and wrote about the merits of a vegetarian diet he also stressed that, "... a man over scrupulous in diet is an utter stranger to Ahimsa and a pitiful wretch if he is a slave to selfishness and passions and is hard of heart".
For Gandhiji, an objective of vegetarianism was human health but also that it taught self-restraint and self-denial. Will the chief minister focus and preach these values too? There may be large numbers of people who are vegetarians in Gujarat but should their tradition and dietary choice be that of all?
There would be no harm though in focussing on a scientific basis on the merits and de-merits of different kinds of diet and leaving the choice to the people.
None of this means that laws to ban cow-slaughter, where they exist, should be diluted. For centuries the cow has a place of reverence in the hearts of an overwhelming number of Hindus almost all over the country. Besides the constitution too acknowledges the special place of cattle and directs that the slaughter of cows and calves and other milch and draught cattle should be prohibited.
However, no one can have the license to attack those suspected to be engaged in illegal acts regarding cows.
Such vigilantism has to be firmly dealt with as the government has assured it will do. The enforcement of the law has to be by the authorities charged with those responsibilities.