Crime in Bihar: Has Nitish Kumar lost sight of his own state?
Catch Team
| Updated on: 10 February 2017, 1:48 IST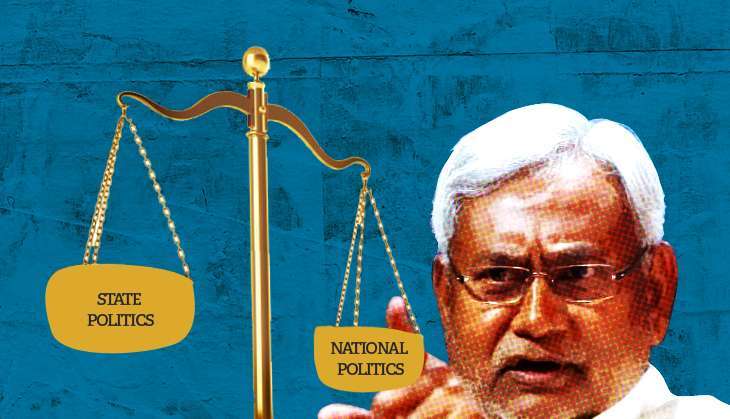 On 18 June, Bihar Chief Minister Nitish Kumar was on a visit to Jharkhand's Palamu district. He had come to district headquarters Daltonganj to address a rally on liquor prohibition, his favourite subject these days. Bolstered by the presence of a large number of women braving the scorching heat, Nitish spoke for over an hour. His speech concluded with the declaration that he would soon be in Ranchi to participate in a similar programme.
His words came good as Jharkhand's former chief minister and Nitish's new-found ally Babulal Marandi organised an event in Ranchi on 27 June. It was some sort of a convention on issues related to mass migration.
Also read - Bihar's Nirbhaya? Not quite. Motihari gang rape never took place
Nitish reached the city on the assigned day. He was scheduled to speak at Marandi's event after participating in a meeting of Eastern Zonal Council presided by Union Home Minister Rajnath Singh.
The whole city was adorned with posters and banners to welcome the Bihar CM. However, just as he was attending the Eastern Zonal Council meeting, a news emanating from Bihar proved to be a fly in the ointment. It closed the possibilities that Nitish was hoping for in his next appointment.
A senior IPS officer Chandrika Prasad, serving as DIG (Deputy Inspector General) of Saharsa range, went on record to claim that he was receiving threatening calls from an extortionist asking for Rs 20 lakh and half the share of his post-retirement benefits.
The gravity of the matter compelled Nitish Kumar to return to Patna. The scared DIG was transferred to Muzaffarpur. Lalu Prasad ridiculed the officer by asking what kind of a DIG is he if criminals feel free to threaten him for extortion. "Has he earned too much money so that the extortionists are targeting him?" Lalu asked. Obviously, these remarks were seen as trivialising the issue.
The dust had barely settled in this matter when Nand Kumar Rai, Lalu's own MLA from Muzaffarpur's Baruraj constituency, lodged a complaint at Motipur police station alleging that he had received an extortion call for Rs 10 lakh on the night of 25 June.
Nitish was busy monitoring action in the DIG's case when a new political development in Patna came as a fresh trouble to him. The JD(U) supported candidate Manju Devi defeated RJD-affiliated contestant Sunita to become Zila Parishad president. This led to a tussle between the workers of both the parties.
The alleged involvement of former JD(U) MLA Usha Sinha and her husband Lalkeshwar Prasad Singh in the topper scam had come as a setback for the state government. The mistreatment of one of the dubious toppers Ruby Rai by the police at the time of her arrest further dented the government's reputation.
The agitation by the students of the Patna Art College had turned the intellectuals of the state against the government. To add to the woes, the alleged apathy shown by the police in Motihari gang rape case was adding fuel to the raging debate over the deteriorating law-and-order situation.
Similarly, the alleged Janata Darbar run by Siwan MP Shahabuddin from jail, the murder of journalist Rajdev Ranjan, the misdeeds of the purported education mafia run by Vaishali's Vishnu Rai College are other incidents that have harmed the government's credibility.
The pattern
Many senior journalists in Bihar enumerate several such controversies to point towards a pattern. They wonder whether it is a coincidence that whenever Nitish Kumar ventures outside the state to expand his political base, an incident surfaces in the state to undermine his performance. Every such happening is giving negative publicity to Nitish Kumar's efforts to present himself as an alternative to Modi at the national level.
Patna-based journalist Pushyamitra links several such events to the Chief Minister's recent visits to UP, Jharkhand and Maharashtra. From the murder of two engineers in Darbhanga to DIG's extortion case, from firing at a doctor's house in Samastipur to the killing of BJP leader Vishweshwar Ojha in Bhojpur, from allegations of rape of a minor girl on Nawada MP Raj Vallabh Yadav to road rage incident involving Gaya MLC Manorama Devi's son, Pushyamitra relates the spate of criminal incidents to Nitish Kumar's endeavour to create a pan-India political ground for himself.
In Pushyamitra's opinion, the concurrence of such crimes with Nitish Kumar's political maneuvers might be a coincidence, but is nonetheless unfortunate for the chief minister.
Political analyst Prof Naval Kishore Chaudhary believes Nitish Kumar needs to take the situation more seriously. Chaudhary says the Chief Minister should now understand that he needs to focus his attention on the affairs of his home state. In Chaudhary's view, while Nitish Kumar is searching for a role in national politics, Bihar is slipping away from his hands.
Another political commentator Mahendra Suman agrees with Chaudhary's viewpoint. According to Suman, Nitish Kumar is free to do whatever he likes, but he cannot hope to do well in national politics without addressing the issues at home.
Perhaps the only consolation for Nitish Kumar lies in the fact that the BJP has failed to capitalise on all these issues. Leader of Opposition Prem Kumar alleges that Nitish Kumar is busy in national politics while his alliance partner Lalu Prasad is bringing back 'jungle raj' to Bihar.
Senior BJP leader Sushil Kumar feels Nitish Kumar is silent in the face of the rising crime graph because he is helpless before Lalu. Modi says the chief minister is coining slogans like 'Sharabmukt Bharat (liquor-free India)' and 'Sanghmukt Bharat (RSS-free India)' to divert public attention and he would be well-advised to work for 'Apradh mukt Bihar (crime free Bihar)' before anything else.
All other BJP leaders echo the same sentiment on dotted lines. Their adhering to the same rhetoric is proving to be a respite to the government.
Gyaneshwar Vatsyayan, who has closely observed the pattern of crime incidents in Bihar, does not subscribe to the view that the crime rate has suddenly gone up under the current dispensation. While agreeing that such incidents have done no good to Nitish's image, he argues that the incidents of crime have consistently increased during the past five years.
Vatsyayan maintains that the rising morale of criminals reflects the loosening grip of Nitish over his own administration. He points out how Nitish Kumar had managed to put the state back on track with the help of the same administration during his previous tenure. Now, it has come to a situation where the state DGP puts forward a strange defence by stating that even the rule of Lord Rama was not free of crime.
Govt response
Meanwhile, JD(U) leaders insist the Chief Minister is taking every possible action to maintain law-and-order. Senior party leader and state minister Shravan Kumar reminds that Nitish Kumar has taken prompt action in every high-profile case of crime and this is all a chief minister can do.
Shravan Kumar's claim is not wrong. Nitish has taken prompt action after every major crime. He has not even shied away from suspending his own party MLAs and sending many powerful persons to the jail.
However, the truth remains that he has not put in even half of the efforts in striving for a crime-free Bihar as in pitching for a 'Sangh-mukt' and 'Sharab-mukt' Bharat. Political analyst Mahendra Suman believes Nitish is under the false impression that his model of liquor prohibition is a unique initiative and he is flaunting it all across the country.
In Suman's view, Nitish Kumar is harping on a single-point agenda, just as he had done with the issue of special status to Bihar during the UPA regime. Bihar didn't get special status and Nitish eventually ended up in the Congress-RJD camp.
More in Catch - Crime figures slide 27 per cent in Bihar since ban on liquor
Here's why Lalu-Rabri era is known as jungle-raj in Bihar