CIC strikes again, directs CBSE to disclose Smriti Irani's school records
Catch Team
| Updated on: 11 February 2017, 5:46 IST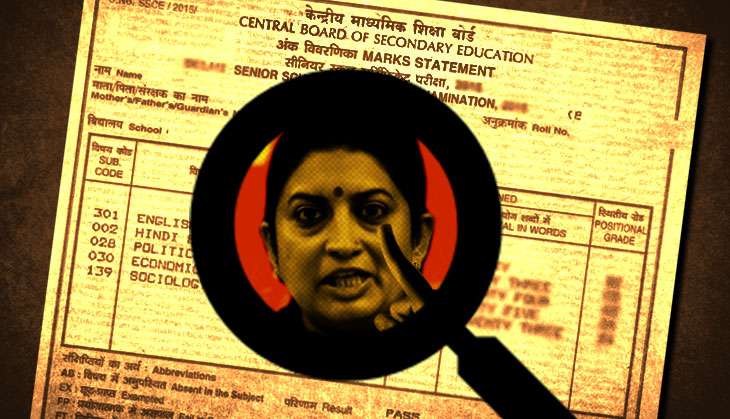 Less than a month after ordering Narendra Modi's educational qualifications to be made public, the Central Information Commission Wednesday asked for the disclosure of Textiles Minister Smriti Irani's degrees. Incidentally, both directives were passed by Information Commissioner M Sridhar Acharyulu.
Acharyulu ruled that the Central Board of Secondary Examination allow inspection of Irani's class 10 and class 12 records. He rejected the CBSE's contention that the records constituted the minister's "personal information", and asked Irani's office and the Holy Child Auxilium School, Delhi, her alma mater, to provide her roll number or reference number to the CBSE.
Also Read: PM Modi's degree: Information Commissioner MS Acharyulu loses MHRD after making DU records public
It was Acharyulu who had ruled, on 21 December, that Delhi University allow inspection of all records of 1978, the year Modi supposedly got his degree. Soon after, Acharyulu was suddenly divested of the charge of the HRD ministry. Chief Information Commission RK Mathur had, however, allowed Acharyulu to keep charge of the CBSE separately, according to a media report.
Though the commissioner had said this was neither removal nor dismissal but "an internal reallocation of work", he has since posted on his Facebook wall a series of media reports questioning the move, without offering comment.
In Irani's case, Acharyulu ruled that after a public representative has declared his/her educational qualifications, the voter has a right to verify it. Since Irani is an elected MP and holds a constitutional office, she is a public authority as defined under the RTI Act. She must, therefore, have submitted an affidavit declaring her educational status. "The information to be furnished under a statute can't be claimed to be given in fiduciary capacity," Acharyulu ruled.
The CBSE had also contended that the records pertained to the years 1991 and 1993 and since they were yet to be digitised, the board will have to sift through voluminous material to look for it. The CIC rubbished this argument, however. "The PIO cannot make RTI applicant to wait until the digitisation of 1991 records. They have to adhere to 30 days timeline as per the RTI Act to provide information sought," the order said.
Also Read: For trust and integrity: why Modi must come clean on his degrees