Get a mine in 12 hours: Rs 45,000-crore scam surfaces in Rajasthan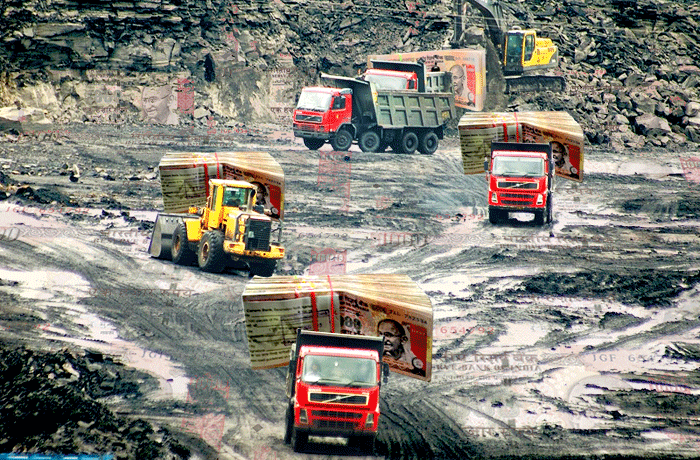 What\'s the scam?
The Rajasthan govt leased out 653 mines between 30 October 2014 and 12 January 2015
The mines were spread over 1.4 lakh bighas of land, worth over Rs 45,000 crore
The Vasundhara Raje govt allegedly violated the policy of allocation through auctions
The allocations were in violation of a policy that the Centre had released on 30 October itself
How was it was rigged?
Individuals are not allowed to lease more than one mine
Some individuals allegedly formed companies overnight, while others applied in the names of family members
In Jaisalmer district alone, many similarly-named companies have been allocated multiple mines
Some applications were cleared within 48 hours, while one clearance took just 12 hours
Cement firms were given large swathes of land without environmental clearances
Barely out of the woods after facing calls for resignation over her links with Lalit Modi, Rajasthan Chief Minister Vasundhara Raje appears to be headed for trouble once again.
This time, the charges against her government are about an allegedly fraudulent allocation of leases for 653 mines, spread over 1.4 lakh bighas of land (approximately 22,500 hectares), worth over Rs 45,000 crore.
The Raje-led Rajasthan government issued prospecting licences/mining leases for these 653 mines between 30 October 2014 and 12 January 2015, in violation of the established policy of allocation of mines through auctions. These mines are spread over 20 districts of the state.
There are at least 15 major minerals in these mines. These include iron ore, mica, silica sand, limestone, gypsum, quartz, feldspar, soap stone, red ochre, ball clay, china clay, siliceous earth, white clay, calcite, and a few others.
Here's an indication of the supposed scale of illegality: in the 68 years since independence, a total of 3,106 mines were allocated for major minerals in the state. However, in this case, in a nine-month period between April 2014 and January 2015, as many as 1,449 mines were allocated.
Companies set up overnight
According to established policy, one person cannot be allocated more than one mine of a major mineral, but there is no such limit for a company. To make the most of this provision, some people formed companies overnight, while some submitted several applications in the names of various family members.
Jaisalmer tops the list of districts where mines were allocated. This district used to have only 17 mines of major minerals, but now over 250 mines have been allocated. About 90% of these are for silica sand.
A company called RIBS Consultants has got 14 mines here, while RBI and Traders Pvt Ltd has got 12. Jai Karni Infra Minerals has got 11, Jai Krishna Minerals and Jai Virat Minerals have got seven each, Jai Karni Earth Minerals has got six, and Keystone Mines Pvt Ltd four.
The similar names of many of these companies seem to indicate that they were set up in a hurry.
Bhilwara district occupies the second spot, with the allocation of 115 mines. A company called Systematics Project Solutions has received five mines. Similarly, Shubham Mines and Minerals has received four mines in Rajsamand district, while Saksham Pvt Ltd and Sampatti Pvt Ltd have got two mines each in Udaipur.
A total of 73 mines were allocated in Rajsamand, 50 in Ajmer, 38 in Udaipur, 24 in Bikaner, 21 in Chhittorgarh, 20 in Barmer, 18 in Karoli, 13 in Sirohi, 11 in Pali, five in Jalore, four in Pratapgarh, three in Nagaur, three in Jaipur, two in Alwar, and one each in Bharatpur, Kota and Sikar.
Centre released auction policy on the same day
What is particularly shocking is that the Union government had released a detailed policy for allocation of mines on 30 October, the very day on which the Rajasthan government made the first seemingly fraudulent allocation.
The policy specifically said that "no prospecting licence or mining lease could be granted without prior issuance of notification in the official gazette, on the state government's website and other means of wide publicity inviting applications". The Rajasthan government did not follow these guidelines.
The opposition Congress party has alleged that the Raje government willfully violated this policy and committed illegalities by not taking prior approval from the Centre before issuing Letters Of Intent for the prospecting licences/mining leases.
The Raje govt is alleged to have fraudulently allocated 653 mines between Oct 2014 and Jan 2015
It also alleged that prior notifications were not published in any official gazette, government website, or public advertisements, inviting applications for the grant of prospecting licences/mining leases.
Further, neither exploration data nor details of available minerals was published. Nor was the mining area notified.
Gone in 12 hours
The Congress has also alleged that the Rajasthan government seemed to be in a tearing hurry to allocate the mines. As many as five of the 11 mines allocated in Karoli district were allocated within 48 hours. One mine was allocated in less than 12 hours from the date of application.
The party furnished glaring evidence of another case, in which one Amit Sharma of Ajmer applied on 8 January 2015 and was granted a Letter Of Intent just four days later, with two successive gazetted holidays in between. Essentially, the entire case was processed in one working day.
A block of limestone mines spread across 9.89 square kilometres in Nimbahera, Chhittorgarh district, was allocated to Emami Cement Limited "without the grant of environmental clearance from the Centre, the submission of a progressive mines closure plan, the deposit of a security amount for grant of lease, or even the deposit of keenness money".
Another company, Lafarge India Private Limited, was allocated 8.32 square kilometres of limestone mines in Jaisalmer.
Shree Cement Company was allocated 9.12 square kilometres of limestone mines in Jaisalmer district while Wonder Cement Limited got 7.91 square kilometres of limestone mines in Nimbahera, Chittorgarh.
The Congress has demanded the immediate sacking of Raje, her colleagues in the state cabinet who were behind these allocations and officers of the state government. The party has also demanded a Supreme Court-monitored CBI inquiry into the case.
(With inputs from Rajasthan Patrika)