'Quit journalism or leave this place': the choice before reporters in Bastar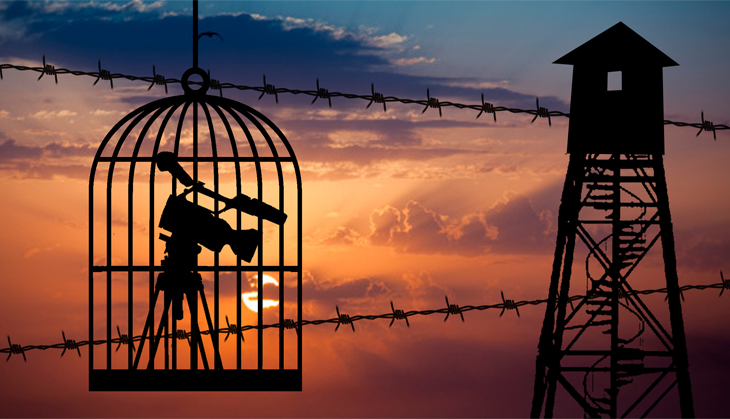 State of the scribes
Journalists are facing the worst existence in Bastar ever
Police have openly threatened them
Media houses are unwilling to back their scribes on the ground
More in the story
Listen to what journalist in Bastar have to say
How bad is the situation out there?
Speak to any local journalist from Bastar and you'll understand why Reporters Without Borders called India 'Asia's deadliest country for media personnel, ahead of both Pakistan and Afghanistan.' The media watchdog in an earlier report had equated the working conditions and risks involved for a journalist reporting from Chhattisgarh, to those reporting from Syria, Somalia and Mali. In the last six months alone, five journalists in Bastar have been jailed, some of them have alleged police torture, and five more expecting similar persecution are 'on the run'. Several journalists, and lawyers whom Catch spoke to for this story, said conditions for journalists in Bastar have never been so bad. Journalists are now being threatened publicly by officers of the state. Kamal Shukla, editor of a Bastar based newspaper, Bhumkal Samachar, says he was openly threatened by Bastar IG, SRP Kalluri.
Shukla was part of a panel organised by Amnesty International in the capital on Monday, to talk about how the state had systematically attacked journalists, lawyers and activists, to put Bastar in a virtual blackout zone.
"He said we've found a video of yours talking to Maoists and that's enough to put you in jail under Chhattisgarh's special public security act for a long time. So you either quit journalism or leave Bastar."
Shukla added that the police also approached him through a 'senior editor based out of Raipur' and offered him a bribe of Rs 1 crore to keep silent.
Working conditions
Most of the stories from such conflict zones like Bastar are reported by freelance reporters, whose working conditions are remarkably bad.
Media houses, for a pittance, depute a local person as an 'agent'. The agent is supposed to collect advertisement revenues for the paper, distribute copies and report stories. And the agent is never on company payrolls, which means that media houses can wash their hands off them if he or she finds themselves in trouble.
One reporter who works in interior Sukma said that he had to print an ID card himself when the company he works for didn't give him one, so that Maoists don't suspect him to be a state agent and kill him.
"I travel from Dornapal to Chintagufa at least once a month. This is the road where hundreds of people have been killed or abducted. Maoists can pick me up anytime suspecting me to be a state spy. But what do I have to show that I'm a reporter? Improvised IEDs go off on this road all the time, where will my family go if I get blown up in one. The newspaper hasn't even got me insured."
In the crosshairs
It's not just the State that journalists in Bastar have to be wary of.
This is what a fact-finding team of the Editors' Guild of India found, after their visit to Bastar:
'There is a sense of fear in Bastar. Every journalist who is working in Bastar feels that he/she is not safe. On one hand, they have to deal with Maoists who are becoming more and more sensitive about the reports appearing in the media and on the other hand, the police wants the media to report as and what they want.'
"Even when Salwa Judum was at its peak", says a journalist based out of Dantewada, "we reported against atrocities committed by state forces and the militia raised by them, fearlessly. But in the last six months we've faced the sort of pressure that we've never felt before."
One journalist who had worked for many years in Geedam, Dantewada area, says that to understand what journalists are facing here one needs to read about the Sai Reddy case.
"In 2006 police arrested him for being a Naxal sympathiser and disturbing peace in the area. He had spent six months in jail, apart from other police harassment and torture. Then in 2013 the Maoists bumped him off for cooperating with the police."
The Maoists had killed Reddy within months of executing another journalist Nemi Chand Jain for similar reasons.
The recent, unprecedented, repression by the State of their colleagues in this area has suddenly reminded local reporters of dangerous conditions in which they're working.
"If you do a story on the lack of amenities in a village, police thinks you're helping the Maoists's cause and suspect you of being their agent. If on the other hand, you ignore Maoists' leads and go just by police claims you come into the cross-hairs of the other side," said another journalist based out of Dantewada.
So what's happening, as a result of all this, is that reporters aren't going out these days and are just rewriting press releases.
"And in a way we're also losing out on a lot of stories. Undoubtedly we get a lot of stories from their sympathisers or from Maoist cadres themselves. Like the case of Tadmetla that we got from them. Now such atrocities may still be happening but because of this pressure we're not able to report them. But it's better to side with the police because they will only beat us and throw us in jail. Maoists are going to behead us."
In March 2011, a group of SPOs and CRPF men had allegedly burned down houses of 300 families spread across three villages in Tadmetla area.
Journalists say that while police don't intimate them personally, they spread the atmosphere of fear by calling them often and asking their location, harassing their family members and of course, by arresting them.
"I had done a story about how the wife of a senior officer was illegally drawing salary of a doctor without reporting for work. Within a day my brother was shifted out and raids were conducted on shops run  by our family," said a Geedam-based reporter.
Lately police have also asked the state public relations office to supply them with names of all the journalists affiliated with them. The reason for doing this is clear.
"Stringers like us are not registered anywhere. Only senior bureau people are registered with this office. So when the police asks for this list it means that they can take action against us anytime and make excuses that we had no proof of being journalists as they did in case of recently arrested journalists."
In such situations, this reporter said, even newspapers side with the police out of fear and the journalists are left stranded with nowhere to go.
One editor, who like all other journalists Catch spoke to, withheld his name while talking about an incident where one journalist he knew was picked up by the police.
"All the days when this journalist under me was in police custody I was dying with shame. There was nothing I could do. At times we feel so helpless, and the worst is that we can't tell anyone. Bastar is, as I've told some people, a place of the dead. Everyone's dropping off here like vegetables. Those who are not dying aren't exactly living either."
The business of arresting journalists started last year. When Somaru Ram, Santosh Yadav and Yagya Dutt Kashyap were picked up from Darbha. All were arrested on charges of being Naxal sympathisers.
Another journalist Animesh Pal was also arrested on charges of entering a girls' hostel.
While Dutt is out, the rest are still in jail.
This year Prabhat Singh and Deepak Jaiswal were put in jail on various charges. Despite the charges against them being laughably weak, as their lawyer Xitij Jain says, their bail applications have just been rejected by the magistrate and sessions courts.
"I couldn't believe that they were denied bail. What ludicrous charges! 67 (A) for that WhatsApp message which wasn't obscene at all. And they were denied bail because the judge felt that their conduct wasn't like proper journalists'. This is the first time journalists have been arrested in Dantewada but it's a worrying beginning."
Edited by Anna Verghese