Cash crunch, falling prices: Chhattisgarh farmers dump tomatoes on road in protest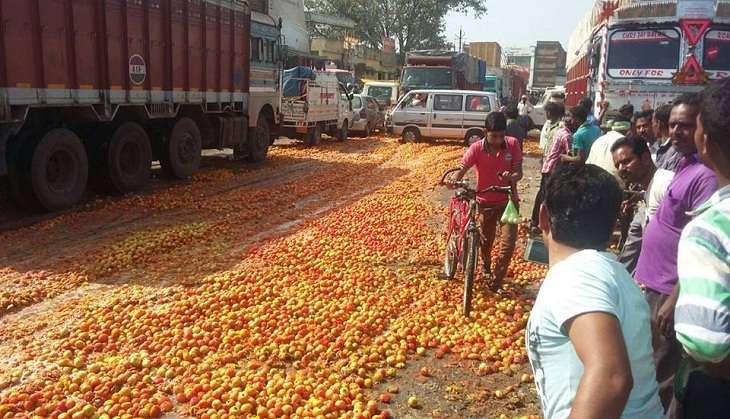 Buoyed by a bumper crop after many years, tomato farmers in Chhattisgarh's Jashpur were keenly waiting for the harvesting season. However, their hopes of earning good money this season have been dashed.
As a result of the note ban, the wholesale price of tomato has dropped to 50 paise per kg. And even at Rs 50 per quintal, there are no takers for the crop. Furious, Jashpur's farmers dumped thousands of quintals of tomato at Indira Chowk in Pathalgaon village and ran tractors over them. Some farmers have been compelled to feed their tomatoes to the cattle.
Also Read: Bundelkhand farmers on note ban: We survived the drought but Modiji broke our back
Jashpur, blessed with a favourable climate and soil quality for tomato cultivation, is famous for its tomatoes, whose quality is matched only by a few varieties grown in parts of Karnataka and Tamil Nadu. This season, over 4,000 farmers of this district planted tomatoes on 4,120 hectares of land.
Since the tomato trade is mostly cash-based, the cash crunch has led to a drastic drop in prices. Their protest at Pathalgaon is proof that the farmers here are running out of patience.
The plight of farmers in surrounding areas is no different. "We are trying to do business with the old currency. Old Rs 500 and Rs 1,000 notes are being accepted in the market here. But exchanging these notes at banks is proving to be a tedious task," said Shudharam Bhagat, a farmer from Pandaripani village.
Ansay Bhagat, of Bagbahar village, lamented. "We are not getting the right price for our hard labour. Our pockets are empty despite a bumper crop this year. It appears there is a famine of currency notes. We are not able to pay even for transportation charges."
Lal Sav, a tomato grower from Farsabahar, chipped in, "The government should formulate a plan for procurement of tomato as it does for paddy and maize. Our tomatoes are rotting. Most farmers here will starve if some solution is not found, and soon."
Also Read: Before Modi banned Rs 500, Rs 1000 notes BJP was busy investing in real estate
Still, Jashpur's Collector Priyanka Shukla was reluctant to tie the suffering of farmers directly to the note ban. "Prices are low because of over-production and decrease in demand. We have instructed local bodies to exempt farmers from local taxes."
"The farmers are at a loss to understand how they will meet the expenses for the next year," said Pawan Aggarwal, head of the Congress District Committee. His party has sent a memorandum to President Pranag Mukherjee demanding Minimum Support Price for tomato and the procurement of the produce by the state government.
All this exacting a heavy social toll, pointed out Rajkumar Gupta, a farmer leader. Jashpur's poor people, he claimed, are being preyed upon by human traffickers. "The Adivasis here had invested a lot of hope in this year's crop. They had hoped it would improve their circumstances to some extent. One can understand their anger if they are not able to sell the produce even after paying for transportation," he said.
Meanwhile, not a single senior leader or official has so much as reacted to the tomato farmers' suffering and protest busy as they are with celebrations of the 13th anniversary of the Raman Singh government.
Also Read: Farm to factories, brick kilns to cane crushers. Demonetisation pinches all