Care to listen Netaji? This is how people feel about your birthday bash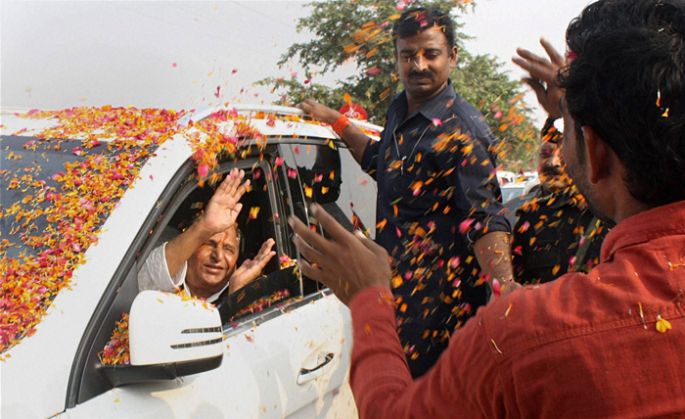 The ruling Samajwadi Party celebrated its patriarch Mulayam Singh Yadav's 76th birthday on 22 November in grand style.
About a lakh people reportedly attended the bash at Athletics Stadium in his hometown Saifai in Etawah district. The guests were regaled by AR Rahman and Hariharan.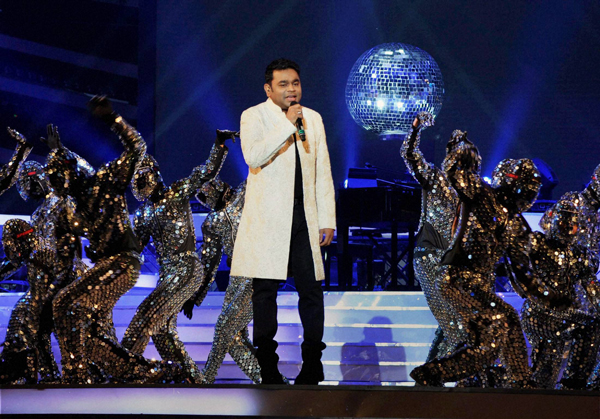 This is the same SP, mind you, that has long ridiculed BSP chief Mayawati for her extravagant birthday celebrations. In 2009, the party derided her birthday as "Thhoo Thhoo Diwas", an abominable event.
Not that it didn't have reason to. Mayawati, as chief minister, was notorious for turning her birthday bash into a display of ostentatious wealth.
Also read - Have a happy b'day netaji. Indian democracy will pay for it
She once wore a garland of currency notes worth several lakh rupees. And a legislator of her party, Shekhar Tiwari, was accused of torturing to death MK Gupta, a government engineer, for refusing to fund Mayawati's birthday celebrations.
Not surprisingly, many people are livid with Mulayam and his son Akhilesh Yadav for spending a fortune on the bash. Particularly when two-thirds of the state - 49 of 75 districts - is reeling from drought, and farmers are suffering.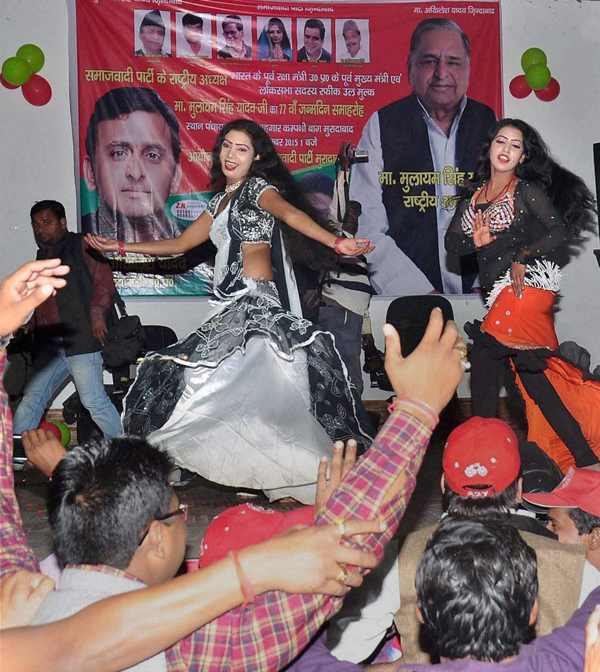 Ravi Shukla, social activist, Sharda Nagar, Kanpur
"How can Mulayam Singh Yadav be called a 'son of the soil' that he claims to be? Can a 'son of the soil' have such grand birthday celebrations?"
Mulayam has long branded himself as a "son of the soil", a mass leader who rose through the political ranks by the dint of hard work, and not inherited privilege. To his followers, he is Netaji.
"Show me another son of the soil, a farmer who can celebrate his birthday in such a fashion."
"Also where did Mulayam get the money for the celebrations from? Only people with illegal wealth can splurge so much on birthdays. By celebrating his birthday in a garish manner, Mulayam is only giving an impetus to corruption."
"Mayawati got exposed with the killing of that engineer. The SP is yet to be exposed. That's only the difference between the two parties."
Robby Sharma, land rights activist, Govind Nagar
"The SP has betrayed his voters. The government declares two-thirds of the state's districts as drought-hit. And then it spends millions on its leader's birthday celebrations. What does that mean? Isn't it a mockery of the the drought-affected peasants who are on the verge of starvation?"
"The poor people who had voted for the SP will definitely feel cheated."
"Mulayam calls himself a socialist leader. Do social leaders spend so much on birthday celebrations. Is this the meaning of socialism, which he claims to follow?"
Virendra Singh, mall executive, Lucknow
"He could have celebrated his birthday in a simple way. The money wasted on the celebrations could have been used for the upliftment of the poor."
Vishwajeet Singh, advocate, Lucknow
"The state machinery was misused to celebrate the birthday. Shouldn't we know where the money for the event came from?"
Karnapriya Chauhan, central government employee, Rasulabad
"The Samajwadi Party must say from where did it get the money for the bash. Was government money used for the event?"
Also read - Samajwadi Party suffers major setback in UP Panchayat polls
Vineet Sharma, unemployed graduate, Lucknow
"The money should have been spent on the development of the country. The overall situation of India is very bad. Poverty is rampant. Students are unable to study due to poverty. Mulayam should be aware of these things."
Ajay Singh, private firm executive, Kanpur
"There are so many problems in this state, riots are taking place again and again. But the government is busy celebrating the birthday of its leader."
Sunil Pathak, retired college teacher, Kalyanpur
"Mulayam time and again boasts of his humble beginnings and his socialist roots. Now AR Rahman is performing at his birthday bash. Is this socialism? Would Ram Manohar Lohia approve of this?"
MORE AT CATCH - Mulayam sheds his ideals, fields son of Ranvir Sena founder
#DadriLynching: why Akhilesh Yadav needs to take the blame
Bloody record: Is 'secular' SP more communal than the BJP?