By the book: how 3 jailed Jaipur blasts accused are changing their lives
On the evening of 13 May 2008, Jaipur's markets were bustling with people after a sweltering day. Then, just as the clock ticked ten past seven, Manak Chowk was rattled with two powerful explosions. It was just the beginning of the bloodbath as nine bombs went off at seven locations across the city. The pink city was turned red within 15 minutes.
The blasts left 63 people dead and 216 injured. Indian Mujahideen claimed responsibility for the carnage. Of the dozens of suspects who were detained, five remain behind bars, two are in a jail in Gujarat while three are awaiting the completion of trial in Jaipur Central Jail.
Also read: Census 2011: India's Muslims are no better today than a few decades earlier
The three in Jaipur, however, defy the stereotype of "radicalised terrorists". Unlike other inmates, Mohammed Sarvar Azmi, Shahbaz Hussain and Salman spend most of their time reading books on law and science. They are fond of reading English newspapers and writing diaries in Urdu. The jail staff leave them on their own for the most part and communicate with them only when they are to be produced in court.
They have been kept in the same barrack since their arrests at different times between 2008 and 2010. The barrack is guarded round the clock. All of their activities are closely monitored by CCTV cameras.
Patrika
Right turn
Azmi is said to be the smartest of the bunch. His father is a maths teacher and he himself has a B.Tech degree. He was arrested in 2008 from Ujjain. Well versed in Hindi, English and Urdu, Azmi reads three English newspapers daily, and is a voracious reader of Urdu literature. Last year, he completed a degree in Human Rights from the Indira Gandhi National Open University. Sources inside the jail said Azmi can often be found discussing human rights with jail staff and fellow inmates. He has gained enough confidence to argue his case in court.
Well read
Taking a cue from Azmi, Salman is pursuing a three-year bachelor's degree in tourism. He is set to complete the course by the end of this year. A devout Muslim, he never misses Namaz. Like Azmi, Salman is a regular reader of English newspapers and prefers to speak with his fellow prisoners in English. Also, a jail staffer said, there is hardly any Urdu book in the jail library that Salman has not read.
Before Shahbaz was arrested in August 2008, he ran a coaching centre that "prepared Indian students for studying in Bangkok and Singapore". Like his two co-accused, he is proficient in Hindi, English and Urdu. He has "special interest in science".
Also read: Pune blasts: HC acquits Himayat Baig of terror charges. Blow for Maha ATS
Shahbaz was initially lodged with Pakistani prisoners but was shifted with his co-accused after he protested. Shahbaz is said to have read most of the books on science in the jail library.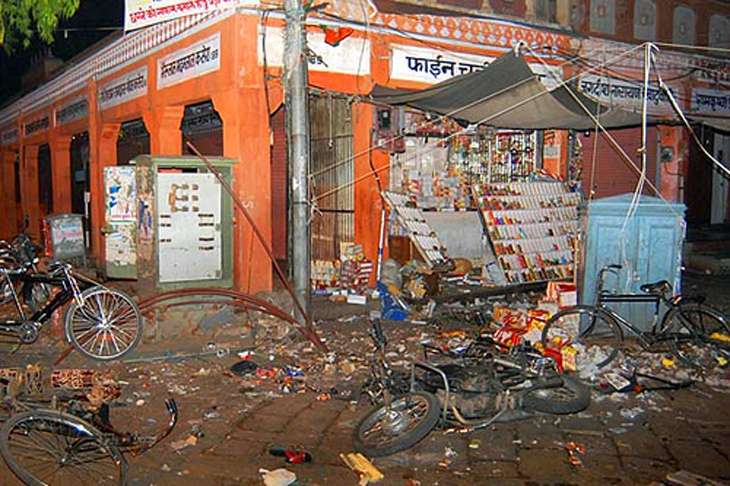 Patrika
On their own
According to jail officials, Azmi, Shahbaz and Salman are kept separated from other prisoners. They have developed a close friendship as they are taken together to court. They also help each other in performing their daily tasks and mostly prefer to dine together. They are given food before or after the other inmates to ensure their security.
According to the public prosecutor Dinesh Sharma, the three men are "well aware of their rights as undertrials", and they often present strong arguments during court proceedings.
The defence lawyer Paikar Farooq encourages their academic activities. "To know about prisoners' rights and court procedures is a good thing," he said, adding that they have "developed sound legal knowledge".
The three men don't "shy away from writing to the judges about hardship or mistreatment, if there is any". Azmi, for instance, "fought to get fans installed in the barracks". He wrote to the judge demanding a fan. The judge acceded to his request and ordered the jail authorities to give him one. The jail staff provided the facility to not only Azmi but, according to the officials, "more than 100 fans were fitted in the entire barracks".
Also read: 2008 Malegaon blast: NIA officer Suhas Warke threatened me, says Rohini Salian