Bundelkhand farmers on note ban: We survived the drought but Modiji broke our back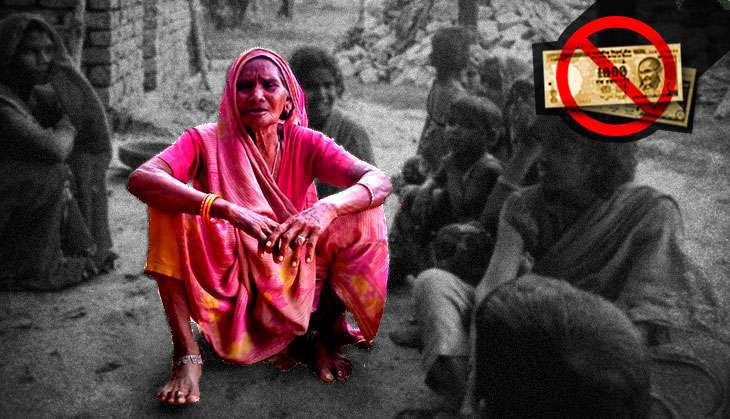 Bundelkhand has long been reeling under drought. Although the rain gods have finally shown mercy to the impoverished region this year, the woes of the people living here are far from over.
Manikpur tehsil in Bundelkhand's Chitrakoot district has frequently been battered by drought, hailstorms and floods in the past several years but the people here, as elsewhere in the region, have learnt to bear the calamities. They don't have a choice.
Also Read: Farm to factories, brick kilns to cane crushers. Demonetisation pinches all
However, never before have they encountered a crisis of man's own making. The demonetisation exercise - extolled by the Narendra Modi government as a game changer for the economy - has only multiplied the troubles of these people.
"We somehow managed to survive the drought, hailstorms and floods. Now, we are faced with the wrath of Modiji's decision. The government has broken the back of farmers just before the rabi crop season. Was the prime minister not aware this is the sowing season for us? We are losing the best period for the cultivation of wheat," lamented Sushil, a farmer in Manikpur's Giduraha village.
No money for seeds
According to Sushil, the farmers are not getting seeds from the local block office. The shopkeepers are not ready to accept old currency notes for seeds or fertilisers. "The banks too won't lend us money under these circumstances. What are we to do now? The delay in sowing is proving costly for us. Around 80 per cent land of our village is still uncultivated. We have not been able to sow wheat even though it's nearly the end of November. There's no hope for the near future," he said.
"What is a farmer going to do? Suicide? How will we feed our families during the year? How will we make ends meet? There is no bank in this village. The nearest one is over 25 km away in Manikpur. This is why all farmers in here keep their money in cash," Sushil added.
Mounting death toll
Giduraha village was turned into an isolated island during the floods early this year. It remained cut-off from the entire tehsil for months. The village comes under the Ranipur Wild Life Conservation Centre, around 25-30 km from Manikpur tehsil. Most people here are either Kol Adivasis or Christians, and earn a livelihood through farming or labour work. There was an outbreak of diseases after the flood water receded. There was hardly a family without the sick.
Giduraha and surrounding villages have witnessed four deaths, allegedly as a result of demonetisation. Two of these have occurred in Giduraha. Siyawati, a 35-year-old Kol Adivasi woman died this week. She was suffering from TB, but her family reportedly couldn't buy her medicines as no pharmacy would accept the old notes.
Also Read: People can die for any reason. Don't blame note ban: BJP's Keshav Maurya
The concept of plastic money is alien to the people here. When told about debit cards and Paytm, Mukul, a farmer, said, "We have no idea what these things are." He said nobody in his village knows about cashless transactions.
Unsurprisingly, Mukul is enraged by the government's decision. "Which farmer was hoarding black money? What was the urgency to take such a decision during the harvesting and sowing season? The weather is finally benevolent to us after many years. We were hoping for a good crop. But the note ban has ruined everything," Mukul complained. "It seems this country doesn't bother about farmers or their crops. Couldn't they have done this in February or May-June?"
"We'll have to use the wheat stored in our homes for consumption as seeds. We used to till our fields thrice, but now the seeds are being sown after only one round of tilling. We have no option as it is necessary to sow the seeds in the very season," he added. "The crop doesn't understand demonetisation."
No banking facility
Banking is a luxury for most villagers in Manikpur. There is a single bank to cater to over a dozen villages. Now that the note ban has forced them to go to the bank, it has become an unpleasant experience. "Some days ago, I went to the bank. I stood in the queue the whole day. Yet I did not get any money. I have not gone back since. It costs us Rs 40 to visit the bank. There are few modes of transportation. There is only one lorry that comes in the morning and returns in the evening. The labourers are facing even greater difficulty. They aren't finding work," Mukul said.
Sushil chipped in, "Nobody in our village has seen the new notes. Some people are saying these notes look like toys."
Also Read: Modi's note ban is a monumental failure: Manmohan Singh