BJP paid crores in cash to buy land in Bihar before note ban. Amit Shah authorised deals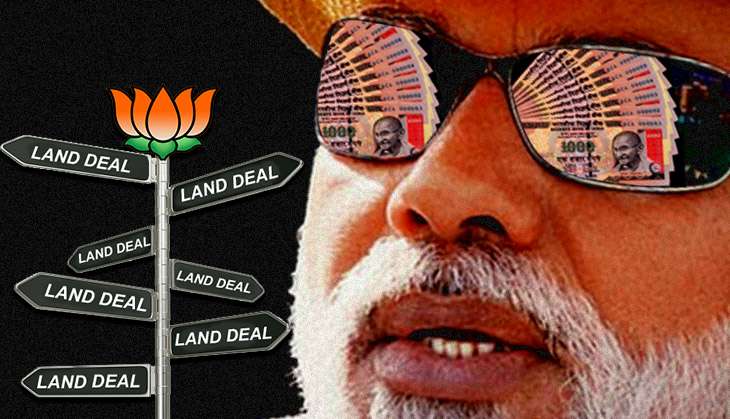 On 25 November Catch published a story on the BJP's land buying spree in Bihar before Prime Minister Narendra Modi's note ban. In response to the expose, the BJP claimed that all the transactions were in white.
Also Read: Before Modi banned Rs 500, Rs 1000 notes BJP was busy investing in real estate
Reacting a few hours after the story was published, senior paty leader and former deputy chief minister of Bihar Sushil Modi had said that loans had been taken out to purchase these lands.
"BJP provides every details of its spending to the Income Tax; any purchase of land is through cheque/RTGS not cash," he had said.
It turns out that these claims were false.
Documents accessed by Catch from Bihar's revenue department show that BJP paid over Rs 2 crore in cash to buy properties just before Prime Minister Narendra Modi announced his demonetisation policy on 8 November.
The deeds of five properties show that Rs 2.07 crore was paid in cash to buy land parcels in Bihar.
These transactions adding up to Rs 2.07 crore have been authorised by none other than BJP president Amit Shah himself. Catch has accessed the letter bearing his signature authorising these transactions.
The properties have been bought by Sanjeev Chaurasia, member of the Bihar Legislative Assembly from Digha and general secretary Bihar unit; Lal Babu Prasad, vice president BJP's Bihar unit; and Dilip Jaiswal, treasurer, Bihar BJP.
Amit Shah's letter instructing Bihar BJP treasurer Dilip Jaiswal to purchase land
These are some of the details of the properties
Sitamarhi
Deed of land purchased in Sitamarhi by Sanjeev Chaurasia, on being authorised by Amit Shah
Arwal
Deed of land purchased in Arwal by Sanjeev Chaurasia, on being authorised by Amit Shah
Kaimur
This land deed from Kaimur clearly says that the payment was made in cash
Kishanganj
Deed of land purchased in Kishanganj by Dilip Kumar Jaiswal, on being authorised by Amit Shah
West Champaran
Deed of land purchased in West Champaran by Lal Babu Prasad, on being authorised by Amit Shah
The deals
Sushil Modi had also reiterated BJP's line on demonetisation, about it being very secretive to the point where nobody except for the PM and a handful of individuals knew about it. "Not even the Finance Minister knew about this policy," Sushil Modi had claimed.
Catch had earlier accessed deeds of 10 properties that had been bought by BJP in Bihar between September and October this year. Some of these properties had been bought in the name of BJP president Amit Shah.
Sanjeev Chaurasia, member of the Bihar Legislative Assembly from Digha, who had also purchased land on behalf of his party, had confirmed that the party had bought land in the state till as late as the first week of November. Chaurasia had claimed that the land parcels had been bought recently not just in Bihar but elsewhere in the country as well.
He had also not denied the party paying cash to buy properties. "Alag alag tareeke se paisa aata hai' (Money was sent through different methods)."
Catch had through documents shown how crores worth of properties in prime locations in Bihar. Land was acquired in cities and towns such as Madhubani, Katihar, Madhepura, Lakhisarai, Kishanganj and Arwal.
The size of the plots acquired ranged from 250 sq feet to about half an acre. Their values range between Rs 8 lakh to Rs 1.16 crore. The costliest land parcel was bought at Rs 1,100 per sq feet.
The latest set of documents only deepen scepticism about Narendra Modi's demonetisation policy. Congress, Aam Aadmi Party (AAP) and Janata Dal (U), reacting to the last story done by Catch, have already asked for independent probes.
Questions have already been raised about whether BJP leaders in Punjab and Bengal were aware of demonetisation in advance, and whether they tried to park party money before large denomination currency notes were declared illegal by Modi.
Reports had emerged about BJP's West Bengal unit cashier making cash deposits of as much as Rs 3 crore just before demonetisation plan was announced. The deposits were made to a savings account (No. 554510034) named Bharatiya Janata Party, West Bengal with Indian Bank's Central Avenue branch in Kolkata.
Similarly Punjab BJP leader Sanjeev Kamboj had on 6 November, two days before the policy was announced, tweeted images of Rs 2000 currency notes saying with caption 'Reserve Bank #RBI to issue Rs 2000 currency note in India soon.' Questions were raised about how a BJP leader had got his hands on Rs 2000 notes before the public was even made aware of it.