Binayak Sen, Big Pharma: what was Dr Saibal Jana really jailed for?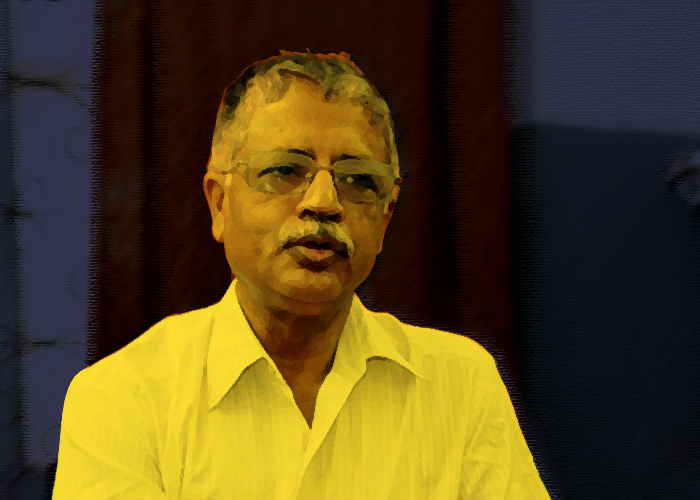 Saibal Jana looms over Dalli-Rajhara, a nondescript mining town in interior Chhattisgarh, 130 km from the capital Raipur. The frail, bespectacled doctor looks down blankly from several large billboards, handcuffed and being led away by a policeman.
"Is it Dr. Saibal Jana's crime that he has served people instead of making money from his hospital? How is treating poor labourers and farmers an offense?" asks one of the billboards, put up to protest the doctor's arrest, on 16 March, for an incident from 24 years ago. He was released on bail last Saturday.
While the townsfolk are relieved at his release, they are furious he was arrested in the first place. Jana is the chief physician at Dalli-Rajhara's Shaheed Hospital, which he founded along with Binayak Sen and local farmers and miners in 1981. The hospital has since come to be known in these parts for never returning a poor patient.
Also read - Umar, Anirban say they are proud of sedition charge
"The Adivasis revere Jana Sahab like God . The government had sent our God to jail. But for how long can one keep a god behind bars. They had to free him," says Bholaram Sahu, a tea seller outside the hospital.
While Jana was in jail, his friend and classmate from National Medical College, Kolkata, Dr. Dipankar Sengupta, looked after his patients at the hospital. He says, "Treating poor people is not a crime by any definition. However, in today's Chhattisgarh, anything can happen. Anybody can be arrested on any charge."
Jana's colleague at the hospital Dr. PD Lalwani is outraged at the manner of his arrest. "As per the law, no senior citizen can be handcuffed at the time of arrest. We cannot understand why the police treated a learned doctor like a hardened criminal."
Durga Bai, Jana's domestic help for 15 years, shares the sentiment. "The government must tell us what Dr. Jana's crime is," she demands.
But why was Jana arrested?
Sudden arrest
The doctor arrived in the Maoist-dominated Dalli-Rajhara in the early 80s, inspired, his associates say, by the labour rights leader Shankar Guha Niyogi who had started a major liquor prohibition campaign in the area. Once here, he started working with Niyogi, travelling to far flung villages to motivate the people to quit drinking alcohol.
On 1 July 1992, the steel companies in Bhilai fired 4,000 workers for trying to unionise. In protest, the Chhattisgarh Mukti Morcha, or CMM, mobilised thousands of workers to organise a "Rail Roko" movement.
The then Madhya Pradesh government - the state of Chhattisgarh would be carved out eight years later - announced to send the labour minister Kailash Joshi to negotiate with the protesters. But when his visit was cancelled at the last moment, the protestors lost patience and clashed with the police.
Dr Saibal Jana has worked at Shaheed Hospital every day for 23 years. How was he was absconding?
The police fired at the agitators, killing 16 of them and wounding hundreds. Jana was at the spot providing medical help to the injured. He reportedly got into an argument with some policemen who were hindering his team's work. For this, he was booked, along with 57 other people, for obstructing public servants from discharge their duty.
Jana and his fellow accused kept attending court hearings as the case dragged on for 24 years. On 16 March, the doctor - along with CMM leaders Janaklal Thakur, Basant Sahu, Sheikh Ansar and Meghnath Sahu - went to a court in Durg for yet another hearing.
There, Jana was suddenly told he had been "absconding" for a long time and would, therefore, be jailed. Before he could recover from the shock, Jana was in handcuffs.
Ulterior motive?
Jana trashed the police's allegation that he was a fugitive. "I have got any summons proclaiming me an absconder. I have been participating in every training programme of the state' health department. How would I have done that if I was running from the law? What was the police doing all these years?"
Several local activists laughed at the "wild allegation", pointing out that Jana has been working at the hospital every day for the past 23 years. They believe he was just "humiliated" for his long association with Binayak Sen.
'What is Dr. Saibal Jana's crime? That he served people instead of making money from his hospital?'
It was, some activists explained, part of a "well-planned conspiracy to muzzle dissent in Naxal areas" of Chhattisgarh. Others like Jeet Guha Niyogi, the president of Jan Mukti Morcha, saw it as an effort to shutter Shaheed Hospital. Echoing Niyogi, CMM chief and former MLA Janaklal Thakur said "a powerful pharmaceutical lobby was behind the arrest as Dr. Jana always prescribes cheap medicines".
"The Raman Singh regime has tried to terrorise the people working on the ground on issues of public concern by sending Dr. Jana to jail," concludes senior CMM leader Sheikh Ansar.
More in Catch - Kovan is not alone: 5 times the State misused sedition