Bhindranwale is a poster hero, has no play on ground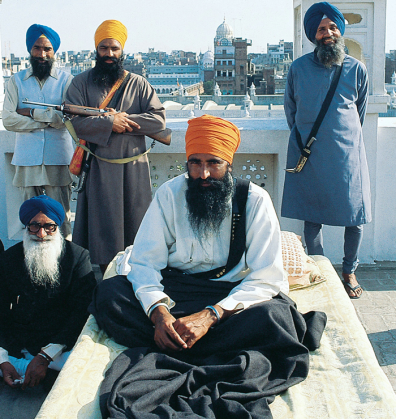 The sentiment
Jarnail Singh Bhindranwale, the Khalistan icon, still excites Sikh passion, 31 years after his death in Operation Bluestar.
Jammu and Amritsar recently saw protracted riots over the tearing of his posters.
The reality
There is no real separatist mood on the ground.
Punjab politics has moved on. The Congress, the party responsible for Bluestar, was voted into power in 2002. It may win again in 2017.
The SAD, self-appointed custodians of Sikh identity, won in 2012 on governance, not identity politics.
The Akhal Takht and SGPC - spiritual authority of the Sikhs - take pains to assert terrorism has no place in their religion.
The caveat
The state must provide closure and justice to victims of Operation Bluestar and the 1984 anti-Sikh riots in Delhi.
This task should be entrusted to peoples\' commissions rather than official ones.
The destruction of the Akal Takht during Operation Bluestar - launched to flush out Khalistan leader Jarnail Singh Bhindranwale and his supporters - caused deep fissures in Punjab's politico-religious landscape. A decade of anguish and vengeance, repression and violence, followed.
Thirty-one years later, a different dynamic has gained ground.
The transformation wasn't sudden but a process of incremental change. The shift began in the 1990s and, over the years, hardened positions have given way to sober reflection and many schisms have dissolved in the harsh light of shifting norms.
Voices glorifying Indira Gandhi and Rajiv Gandhi's role in the assault on the Akal Takht and its fallout became feeble and apologetic.
Khalistan and Bhrindanwale fade...
Yet, the sentiment personified by Bhindranwale isn't dead. Less than 20 years after he garrisoned it, the Akal Takht conferred martyrdom upon him.
Earlier this month, on the anniversary of Operation Bluestar, Sikhs took to the streets in Jammu and Amritsar to protest the tearing of Bhindranwale's posters.
Such sentiment, however, is hardly mainstream. In the past two decades, people's engagement with political parties in Punjab has changed fundamentally.
The Congress, long held responsible for Operation Bluestar, was voted to power in 2002 and may again win in 2017.
The Shiromani Akali Dal, the self-appointed custodian of Sikh interests, managed to win the 2012 election on the promise of good governance and development, rather than on a Panthic agenda.
Leaders of the Shiromani Gurudwara Prabandhak Committee and the Akal Takht, the supreme temporal and spiritual authority of the Sikhs, assert every chance they get that terrorism has no place in their religion.
Indeed, Operation Bluestar itself has come to symbolise the necessity of respecting religious symbols rather than divisiveness, religious dominance and assertion of a theoretical Sikh state.
...but the sentiment lives
Still, the separatist Sikh identity is alive, and quite vocal. But it's nurtured more by the local identity architecture - in Jammu, Canada, US, Germany, Britain - than by an overarching ideology.
For example, the tearing of a poster of Bhindranwale in Jammu sparked violent protests, but the same act in Ludhiana went without incident.
Similarly, while Bhindrawale T-shirts and posters are identity markers outside Punjab, within the state these are just fashion statements, not a call to the ideology represented by the 'icon'.
Yet, the sentiment will find fertile minds for some time to come, and perhaps even thrive, for Indian politics has yet to master the art of closure.
The state has long shied away from fixing responsibility for creating conditions that led to Operation Bluestar. It has instead resorted to offering apologies without accountability.
It has also lacked seriousness to bring to justice people responsible for Operation Bluestar and the genocide of Sikhs in Delhi, setting up committees and commissions that lead nowhere.
Looking ahead
It's disturbing that Punjabi society has not even thought of setting up a peace memorial in memory of victims of the decade-long terror that followed Bluestar.
The demand for a monument to victims of the 1984 anti-Sikh carnage is welcome. Indeed, it should be extended to include victims of communal riots since Partition. It would be prudent, in fact, to set up a national monument to victims of communal politics to serve as a reminder and a warning.
It's also about time we bury the politics of inquiry commissions. The task of assigning responsibility for riots, massacres and fake encounters should be entrusted to a people's commission. This will bring accountability to political discourse.
Any process of closure should focus on delegitimising and disincentivising violence and delivering restorative justice. Reconciliation is an obvious goal.
For long, our purblind identity politics yielded space to the extremist fringe to appropriate competitive religiosity, the tragic consequences of which are still apparent in Punjab.
The results of the 2012 state election, however, proved that people would much rather prefer secular and development politics. This should alert the ruling Akali Dal not to turn to divisive politics to overcome anti-incumbency in 1917.
Akalis, of all people, should know that the first victim of extreme politics is moderate politics and political leadership.