Beyond the pictures: how Varanasi suffered to make Abe-Modi aarti a visual feast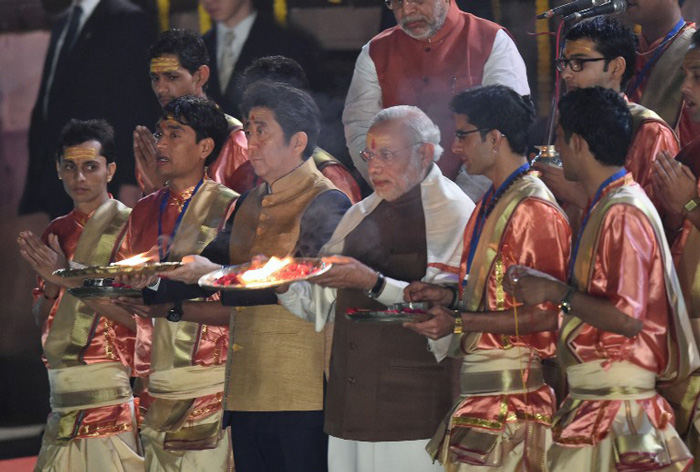 The show
Narendra Modi took PM Shinzo Abe to an aarti in Varanasi
To ready the city for the visit, people were put through hardship
The message
Modi portrays himself as one in tune with India\'s spiritual tradition
\'Here is Abe. He\'ll give us bullet trains, Achhe Din are coming\'
More in the story
Sarnath is just outside Varanasi. Given Japan\'s Buddhist heritage, why didn\'t Modi take Abe there?
How the PMs\' visit deprived hundreds of people of their bread and butter?
It could have been a movie set, so decked up was Dashashwamedha Ghat in Varanasi Saturday evening. It was hosting Narendra Modi and Shizo Abe for an aarti.
The city had perhaps never seen such an event. Two prime ministers in attendance along with Governor Ram Naik and Chief Minister Akhilesh Yadav, nine priests instead of the usual seven and 35 traditionally-attired women performing the rituals on an exceptionally clean ghat drowned in flowers.
Also read - Keep your nuclear power, Mr Shinzo Abe. We can do without a Fukushima
Abe, wearing tripunda on his forehead, took pictures of the aarti with his phone and shared them with Modi. They sat under canopies decorated with flowers and bronze bells, and talked about the holy Ganga and the holy city.
To make this visual feast happen, however, the common folk of Varanasi had been to endure much hardship.
For several days, the city's normal life had been disrupted as arrangements were being made for Modi and Abe's visit.
A city on pause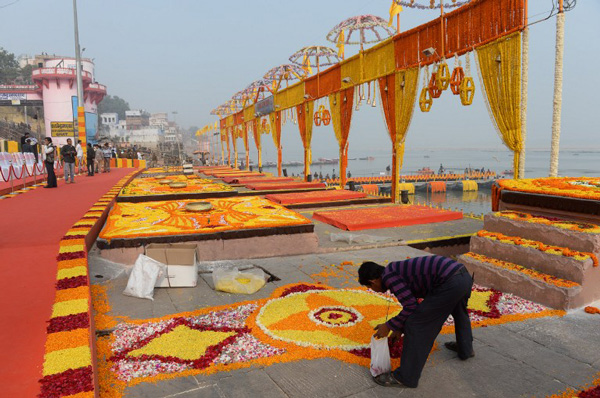 Roads were relaid and repaired - but only those the prime ministers were to take - while police and security forces were out in full force, patrolling and frisking people.
Shopkeepers lost business while roadside vendors were removed altogether. Hundreds, if not thousands, of people who have been make a living for years selling flowers, sweets, fruits and vegetables along the prime ministers' route were forced to stay away.
"It feels like curfew. Our businesses have been badly affected. It looks like a cantonment here," said a local person who lives near the Vishwanath temple, adding, half in jest, "Even monkeys are not allowed to move around."
Modi's message in Abe' Varanasi visit: See, I got him to give us bullet trains, Achhe Din will come
But why did the government go to such lengths to organise the aarti? For several reasons, personal, political and diplomatic.
Modi has been portraying himself as a man of faith, who is in tune with - or, indeed, an inheritor of - India's ancient spiritual tradition. It plays well with a large section of his supporters.
When Modi went to Japan last year, Abe took him to visit the ancient Buddhist temples of Toji and Kinkaku-ji. The 8th century temples hold a special place in the historical and cultural imagination of Japan. By taking Abe to Varanasi, the world's oldest living city, Modi was returning the diplomatic courtesy.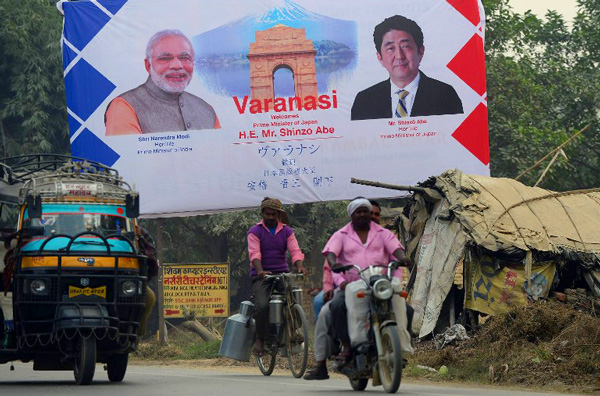 There was a message for the domestic audience as well. When Modi was campaigning for his own election from Varanasi in 2014, he had promised to develop the city to the standards of Japan's Kyoto, one of the world's most developed cities.
The city, however, hasn't seen much "development" since Modi won. So, by bringing the Japanese prime minister, he was trying to assure his constituents he hasn't forgotten the promise. See, he seemed to be saying, here's the man who is going to give us the bullet train. Achhe Din will come to this city, and to the country, just be patient.
Getting the message right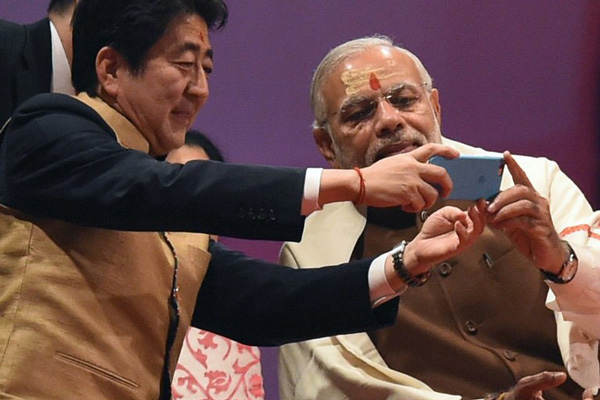 Another message was to the Hindutva brigade. But it was not in where Modi took Abe, but where he didn't.
When the plan for the Varanasi visit was being discussed, and given Modi's visit to Buddhist temples in Japan, many expected Modi and Abe would also go see the world's oldest Buddhist Stupa in Sarnath, which is on the outskirts of the holy city.
Also read - Japan PM Shinzo Abe arrives in India: Bullet train, civil nuclear deals among top agendas
Sarnath is where Buddha gave his first sermon after attaining enlightenment. It was a major centre of art, culture and learning during the Mauryan period, and later as well.
Given Japan's Buddhist heritage, why didn't Modi take Abe to Sarnath, which is just outside Varanasi?
Sarnath, incidentally, is also home to a famous Japanese temple, as well as a Tibetan university, which is one of the important centres of Buddhist studies in the world.
Modi didn't take Abe to Sarnath. Instead, he opted for the Dashashwamedha Ghat aarti, which isn't even an old tradition. It began in 1991. In the end, the show on the Ganga came across as over-the-top as the one on the Sabarmati witnessed by Chinese President Xi Jinping in 2014.
And beyond the few cosmetic touches, the show didn't do Varanasi any good. If anything, the overly-decorated ghats and freshly tidied roads only served to show the sad reality even more starkly. Varanasi has reason to feel cheated, again.
More in Catch - What political vendetta! Congress looks more like a spoilt brat
Vidrohi, the last people's poet in Hindi, departs
December 6: Ram Mandir, a commitment or convenience for the BJP?