Beefed up BJP, weak SP: Is Dadri heading for Muzaffarnagar 2.0?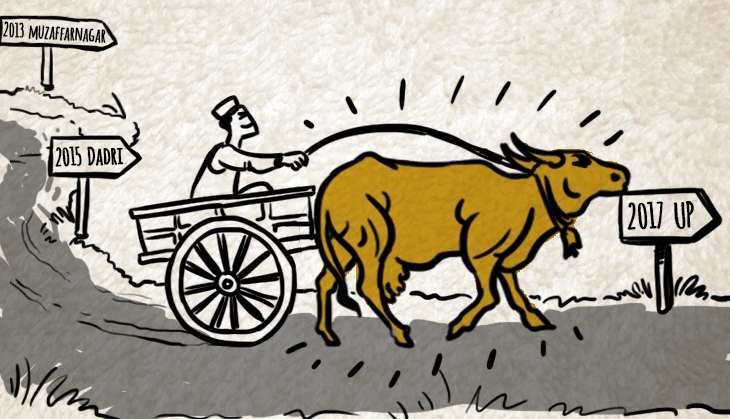 The threat
300 people have gathered at the temple in Bishara, demanding \'action\' against Akhlaq\'s family for eating beef
They have threatened a Mahapanchayat if their demands aren\'t met in 20 days
Same tactics
Muzaffarnagar riots were also preceded by a similar Mahapanchayat
BJP leader Sanjeev Balyan is leading the charge
More in the story
The politics behind the tensions
Why Muzaffarnagar-like riots may not happen
There is a deep sense of foreboding about the temple in Bishara, Dadri. It was from here that the call for Mohammad Akhlaq's lynching was given. It was here that a few days later Sangeet Som, a BJP MLA who is also an accused in 2013 Muzaffarnagar riots, called for 'action' against 'cow killers'. And the family of Akhlaq, he said, was one of them.
Now after 9 peaceful months, 300 villagers gathered at this temple, defying prohibitory orders, demanding action within 20 days against Akhlaq's family, for slaughtering a cow. Local leaders from among the 300 strong gathering threatened to call for a 'Mahapanchayat' if their demands were not met in time.
Also read - No remorse: villagers in Bishara say 'beef-eating' Akhlaq deserved to die
Last week, the test report of the meat samples picked up from the spot where Akhlaq was lynched, were released. According to Mathura forensic laboratory, which conducted the tests, the meat belonged to 'cow or its progeny'.
Since the test report was made, BJP leaders - including Union minister Sanjeev Balyan - have spoken about the innocence of the accused who allegedly murdered Akhlaq, and the guilt of Akhlaq and his family members for killing a cow.
At some other time perhaps these communal outbursts from the Hindu Right could be dismissed as mere political opportunism. But with the Uttar Pradesh Assembly elections less than a year away, and the bogey of cow slaughter being brought up again, there are reasons to be watchful.
Parallels with Muzaffarnagar
Muzaffarnagar was compared to Dadri right after the mob lynched Akhlaq to death, for allegedly slaughtering a calf and consuming it. The area seemed to be on the edge. And it was no one else but a BJP leader - Sangeet Som - who made this comparison with an unambiguous tone of threat.
Within a week of Akhlaq's murder, when an alert had been sounded in all nearby areas, Som arrived in Bishara, and in a clear threat to Muslims announced, "kanoon kanoon ki tarah kaam kare. Warna, ham pahle bhi muhtod jawab de chuke hai aur aage bhi denge [the law should act as law. Otherwise, we have given a strong reply in the past and would do that in future as well]".
There reference to the Muzaffarnagar riots - in which 69 people were killed, 59 of who were Muslims, and 50,000 people were displaced - was not lost on anyone including the villagers who cheered for him that day.
Soon after, an outfit connected to controversial BJP lawmaker Yogi Adityanath, offered to distribute guns to Hindus of Bishara village.
Now another BJP leader, Sanjeev Balyan, who is also an accused in the Muzaffarnagar riots case, has tried to incite local Hindus against Muslims in the area.
"Akhlaq couldn't have eaten the full cow all alone. The meat would have gone to 20 families there. It's time to track them down and ensure justice is done to the other side," Balyan was quoted as saying by the Economic Times.
Incidentally, one of the accused in Akhlaq's happens to be the son of a local BJP leader.
There is a clear parallel in the circumstances between the 2013 Muzaffarnagar riots and the Dadri lynching.
The Muzaffarnagar riots played a key role in polarising the Hindu sentiment in Uttar Pradesh, which gave the BJP and its allies 73 seats out of Uttar Pradesh's 80 seats in the Lok Sabha elections. The riots took place less than a year before the elections.
Both incidents took place under the watch of the Samajwadi Party government. The SP's own leaders are accused in the Muzaffarnagar riots. There is enough evidence to show that the UP government did not act against the people who were inciting communal tensions, in time.
And in both cases Sangh leaders drummed up local support on this issue - by claiming that a police force under "Mullah Mulayam" will never be fair to them.
Even in the case of Dadri, Sangeet Som was able to come to Dadri and incite Hindus against Muslims as UP government continued to look away.
The Hindu Right is now threatening to hold a Mahapanchayat, the same forum which is said to have been used to mobilise the community in the Muzaffarnagar riots.
The actual trigger of killings in Muzaffarnagar was an uncontrollable crowd that assembled in Nagla Mandaur Village in Jansath Tehsil, UP. Despite clear intel warnings, the UP administration allowed the Mahapanchayat of thousands of people from 40 villages, to assemble.
Political impact
The report by Mathura's forensic lab provides BJP with the same ammunition that it had in UP in 2013. And again it won't mind occupying the same space from which it achieved a historic victory. The rest of the parties - SP, BSP and the Congress - will now be put in the same, awkward position as before.
These parties, while having to tread carefully to not hurt Hindu sentiments on the issue of cow slaughter, will also have to attract the Muslim votes. But there is some hope that Dadri this time won't go the way of Muzaffarnagar.
That's because the non-BJP parties now know from experience that riots and polarised opinion will not help them. This time they may be thankfully be trying to do something else - like preventing the situation from deteriorating further, for instance.
More in Catch - 'I will become a Hindu, but don't hurt my family': Muslim pradhan in Dadri
What's the beef? Human life treated like a piece of meat, over a piece of meat